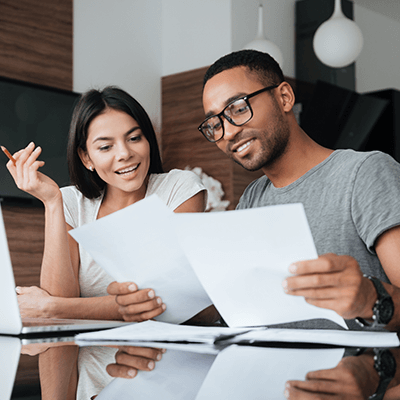 Together
Do you buy houses for cash?
.
We're by your side to help with the finances when you're buying quickly
Why choose Together?
Vast Experience

With over 45 years' experience in lending under our belts, Together knows the industry inside and out. Which means we can often lend when other lenders struggle to.

Dedicated Support

We understand your business is fast-paced. That's why we give you a dedicated Business Development Manager as your accessible point of contact within our business.

Pre-Approved Credit Facility

If you buy property regularly, we'll look into the possibility of giving you a pre-approved facility - so you have the peace of mind that funding is available before you offer.**

Range of Options

We have a wide range of refinancing options for purchases made below market value**
Mortgage key facts
0.90%

Rates from 0.90%/month*

85%

 Borrow up to 85% of the property's value

£26k-2M

Borrow from £26,000 to £2m
Looking for finance?
Our Quick House Sales finance can be used by professional property buyers to rapidly purchase a wide range of standard-construction residential property, including HMOs, multi-let units, and properties with defective titles.
Who we are
Established in 1974, Together is one of the lending industry's best-kept secrets. Each year, we help countless individuals, property investors and businesses to achieve their goals, with a range of finance options.
And because we've been doing this for more than 45 years, we know the industry inside out. Which means we can often lend when other lenders struggle to.
Common questions
Here are some common questions about our quick house sales finance. Don't see your question answered?
Get in touch with us today
and we'll be happy to help.
How does it work?
This loan lasts up to 12 months, and interest is charged monthly – so the sooner you pay it back, the less it will cost you.
You'll need to repay the loan in a lump sum. But until you do, you'll only make the interest payments each month.
If you're refurbishing the property before selling it on, we could even extend your loan to cover some or all of the costs.
Can you work to my deadline?
We'll work quickly to provide the loan you need within your 7, 14 or 28 day completion deadline, and any fees can be rolled into what you've borrowed.
On qualifying properties, we also use automated valuation technology to let your purchase proceed without the need for a site visit or additional cost – saving both time and money.
If it's a straightforward purchase for under £500,000, we're happy to share the same legal team too. To keep things fast and simple, of course.
How much could I borrow?
We could lend you up to 85% of the property's purchase price (assuming that you are buying the property below market value), with the loan representing no more that 70% of the total value of the property. The exact amount you can borrow depends on your situation and value of the property (or properties) you're using to secure the loan, so please contact us to discuss your individual situation.
How quickly could I borrow?
This often depends on your specific situation, as well as how quickly the other parts of the chain can move. But you'll see from our case studies that we're no strangers to turning things around in as little as 36 hours.
If you've got a completion deadline that can't move, we'll do our best to work with this in mind. Because we know that time is often of the essence for these transactions; it's why we empower our team to make decisions, and give you the fastest possible answer when you need it the most.
What fees will I pay?
For this product, we charge an Arrangement fee, and – depending on the loan you take – you may have to pay an Exit Fee if you repay the loan before the end of your term. There may also be Legal fees.
We charge a Redemption Administration Fee when you 'redeem' (i.e. fully repay) your loan, to cover costs associated with closing your account and removing our charge from your property.
All of these fees can vary, so we'll ensure that the fees that apply to your particular loan are clearly explained before you sign on the dotted line.
Other fees and charges may be applied to your account during the life of your loan, in relation to the management of your account (for instance, if you fall behind on your monthly payments). These are all explained in our Tariff of Charges.
What refinancing options do you offer?
We know you probably intend to sell on the property and properties you're buying. But did you know you could refinance the purchase with longer-term borrowing instead? If you're interested in finding out more, talk to us about our Buy to Let mortgages.
Ready to talk?

Our friendly team are ready to help. Book a callback today by filling in our enquiry form.


Enquire today