Hear from Hassan Ahmad
.
15 year journey at Together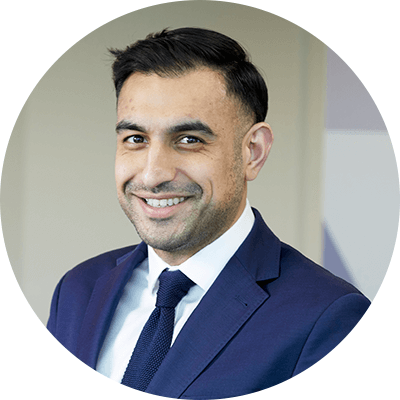 I started studying at Manchester University in 2007, and lasted about three lectures before I quickly decided it wasn't for me! So I started looking for a company that would help me gain a qualification in Chartered Accountancy, and give me the opportunity to learn whilst I earned. Luckily, I found a perfect match in Together.
How has your role changed since joining Together?
I started as a Finance Admin Clerk within the Finance Operations team. After around 18 months, an opportunity arose to work under our Chief Financial Officer, mainly dealing with daily liquidity – which would later be known as the Treasury department.
Together was a much smaller organisation back then, so I was able to take on a number of responsibilities, including management accounts, regulatory reporting, and credit risk. I was able to gain all of this experience while studying to become a Chartered Accountant, which gave me a really good understanding of how everything works in a real-life business.
In the years that followed, as our loan book increased and our business grew from 250 colleagues to over double that, we needed to secure more funding. So the natural progression for me was to move away from daily liquidity management into raising funds for the business across different debt instruments – forming the Debt Capital Markets team within our Treasury department.
Can you tell us a little about your role now and the skills you've developed?
I'm now a Debt Capital Markets Director, and there are two key parts to my role:
The first is very data-driven and involves working on financial models, structuring of debt instruments, and cash flow modelling – all of which has allowed me to develop in-depth knowledge of the Debt Capital Markets and gain valuable modelling skills.
The second part of my job is almost the complete opposite! After all the technical stuff, the hard part is to actually get investors on board. So I spend a lot of time at conferences, networking events, and meetings with all types of investors and banks, explaining our business and ensuring they have every reason to invest.
Where do you see yourself in the next five years?
I'm really enjoying working in Debt Capital Markets, and there's still so much to learn! I can definitely see myself continuing to grow within this division, and hopefully one day I'll be up to the challenge of heading up and expanding the team.
How would you describe the Together culture?
Even as we've grown, Together has remained a very friendly and family-orientated business. We're encouraged to spend lots of time together, and we have regular social events that you can bring your partner, friends, and children along to.
I'd also say that we're rather ambitious at Together, thanks to the beliefs and objectives which unite us and the many experienced and passionate colleagues who work here. You'll never find yourself short of someone to inspire you, or to encourage you to give your absolute best.
What tips would you have for someone joining Together?
Given that we're such a sociable bunch, my advice would be to make the time to get to know your colleagues, and get your personality across!
At Together, we're just as committed to helping you reach your personal goals as we are about reaching our objectives as a business. So if there's something you want to achieve, whether that's a qualification or a particular project you'd like to be involved in – all you need to do is ask!