Hear from Marc Goldberg
.
Apprentice to CEO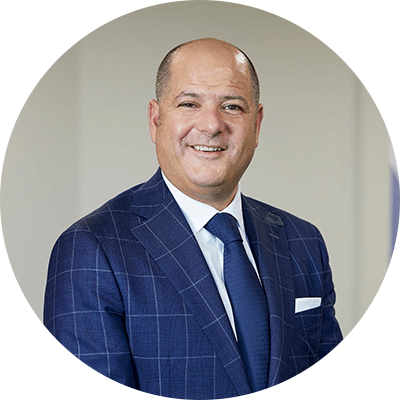 I joined Together over 30 years ago as an Office Junior, when we had only 12 employees in total.
I've always had a keen interest in the property market, and I was eager to see what went on behind the scenes of the buying process. But it was Henry Moser, our Founder and CEO, who ultimately attracted me to the business. I was instantly drawn to his ambition and expertise, and I felt I could learn a lot from him. Which I have done, and a great many other people for that matter!
Since joining Together in 1989, I've done nearly every role imaginable. I've run out for tea and coffee, I've been a driver, a processor, a collector, and an underwriter – all of which has given me a deep understanding of Together, and the intricacies of running a business.
And I believe that's what has put me in a strong position today to be able to take our business forward, and offer our colleagues the same opportunities that I've had to support their own development.
Can you tell us a little bit about your role?
As Commercial Chief Executive Officer (CEO) at Together, I look after the unregulated side of our organisation, focusing on enabling positive outcomes for our customers, partners, and the business.
An important aspect of my role is to keep challenging convention, and to continue pushing us to become the best we can be. And a huge part of that is being available to develop our people, and offering colleagues the opportunity to think outside the box.
My personal goal is for every colleague to recommend Together as a place to work, and for every customer to recommend Together as a place to borrow money.
What have you learned, and what qualities do you need to do your job well?
Some of the biggest lessons I've learned throughout my career have been through making mistakes. I'd rather try a new idea that doesn't work, than have the mind-set of 'that's the way things have always been done around here'. And I want to give other colleagues at Together that same freedom to make decisions and put their own ideas forward. So I'd say being a positive and proactive problem solver is a really important quality for me, as is remaining open to learning when things don't go to plan.
I also think relationship building is a really valuable skill. The ability to understand people and what drives them is something I've developed throughout my time with Together, and I still make sure to pick up the phone to those partners and customers that I've met over the years.
And now that I've become CEO, it's important that I build these connections with our colleagues as well. I'm a firm believer that respect is something that's earned, not forced. And I want our people to feel comfortable expressing their ideas, or any challenges they're facing, with me.
How would you describe the culture at Together?
Our culture has always been really unique. We genuinely care about our people, and we like spending time together.
We're lucky to have a great office which lets us work together closely and collaborate often. And we have some amazing, company-wide events each year – such as our Christmas party and Summer bash – which give us the chance to celebrate our achievements together.
And we have regular awards and recognition schemes throughout the year to thank our colleagues for outstanding work, long service, or just for helping each other out.
What would you say to someone interested in joining Together?
Together truly provides an opportunity to reach your career potential like no other. And we're always on the lookout for talented individuals who are eager to learn and work hard, and want to help us as a business learn too.
We've got some amazing roles available, whether you're an experienced professional or you're just starting out in your career. I'm also really passionate about our Apprenticeship and Graduate Schemes, which offer you the chance to move around the business and develop your skills tremendously in a short amount of time.