Hear from Shannon Riley
.
Working hard to get the most out of others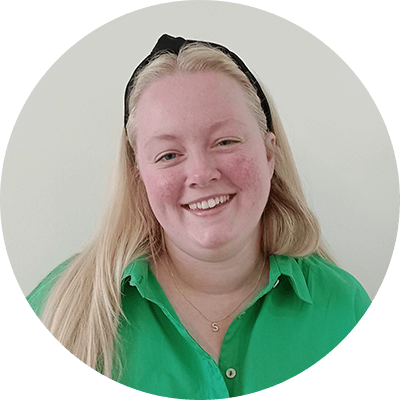 My role is Customer Account Management Team Leader. I work in a core team in Personal Finance that is first point of contact for a customer and deals with anything from customer services to collections. We're what we call a 'stepping stone team', which means we have to know a bit about everything!
We have links to the Residential Underwriting department, Legal and more, so we have to know a lot about the business, as we get really varied requests. My role involves looking after the team, people managing, and handling inbound and outbound call campaigns.
Can you tell us a bit more about your team, what are your specific challenges?
A lot of people start their Together career journey in our team, then progress internally to all sorts of different areas such as Financial Crime, Legal, and Commercial Finance. It's a positive thing, as there are brilliant opportunities for people to gain experience and move on, which makes me really proud, as I always support people's ambitions. I like helping them think through their options, even if they want to move elsewhere, as long as they're happy that's great.
Lots of customers were unfortunately in arrears following the COVID pandemic and the subsequent economic climate, so people needed more support than ever, so that was a challenging time. Because we're a regulated business we need to make sure training is consistent, so our new starters go through general onboarding training, then we go through some in-depth things like how to manage interest rate increases. There's a lot to learn and take in over a short time, especially if you don't come from mortgage background.
What qualities do you need to do your job well?
You've got to be really adaptable – processes change a lot, which is good for our customers. Priorities change week on week, so you need to be organised so you can roll with the challenging moments, e.g. when calls are queueing, and perhaps the team is unexpectedly short of some team members, you need to be resilient, realise that it will pass, keep going and don't give up! Also, look at feedback as a gift and an opportunity to learn and make the customer experience even better. And celebrate small wins!
What attracted you to the business?
Some people I knew from the business I used to work at in Cheadle had moved to Together, so I was aware how well the business was doing in the specialist lending area, that it's a well-branded company, and a bit about what the business offers in terms of benefits and opportunities. Together was really growing, and the fact that people want to stay speaks volumes. The way that we treat our staff makes you want to stay no matter what.
How would you describe the culture at Together?
Together is truly unique. We know that our department is not a typical call centre, but we know that it's set up in a way that works best for our customers. Some people in the team have been here for many years and have worked their way up. It says a lot about the company that people come in every day and stay in the same area a long time, it shows we're doing things right! I've worked in my team from the start of my career at Together, and I have no desire to move elsewhere! I've never known a company that invests so much in its people.
An example of this for me was when a colleague went on maternity leave, a leader saw something in me and offered me a secondment to cover their more senior role. When they returned I went back to being an Agent, but with new skills under my belt. Some people wouldn't go back to their original role after a secondment, but for me I was glad to as I was grateful for the experience I'd had.