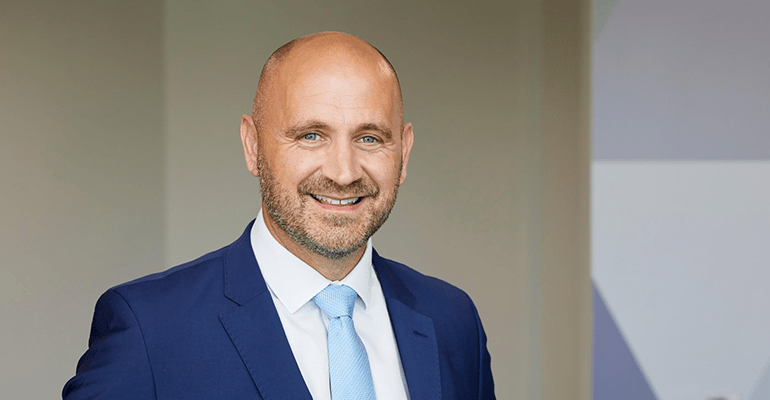 Alex Bodie talks scooping an award for social housing initiative
.
Together are delighted to have won the Business Moneyfacts award for Innovation in the SME Finance Sector for our social housing funding initiative. Alex Bodie, our recently appointed Head of Social Housing, explains what this achievement means to him and for Together's customers.
Can you tell us how your career started and what's led you to head up such an important initiative?
"I started my banking career immediately after leaving university, and over the years I've worked for a number of high profile finance providers across a variety of asset finance and commercial banking roles.
"I really enjoyed this journey and picked up a great deal of experience, developing strong relationships with a wide network of clients along the way. However, after 20 years in the mainstream lending market, I felt ready for a new challenge.
"I favour having a conversation over rigid processes, and I was itching to be more flexible in the way I supported my clients. I was also really keen to get involved in more exciting and important projects which the banks didn't have as much of an appetite for at the time.
"For me, this passion stemmed from visiting a client of mine who owned a manufacturing and scrap metal firm. They were committed to rehabilitating people who'd been released from prison, and supported them with new roles to get them back on the career ladder.
"I came out of that site visit feeling really inspired with a new-found determination to support more projects with a great story and purpose behind them. That's when I decided to join Together Corporate who are truly entrepreneurial, relationship-led and excited about funding many different opportunities."
How has your role transformed since joining Together in 2019?
"Three years ago I joined Together to grow our dedicated corporate arm supporting property entrepreneurs and professional introducers in the high-net-worth space.
"Our business has always valued building long-term relationships with our customers; we're empowered to make straightforward decisions and go the extra mile to make things happen – an approach I found incredibly refreshing.
"One of the first transactions I was involved in at Together actually came from a Housing Association reaching out to me on LinkedIn asking if we could fund one of their upcoming developments. Their proposal really interested me and we agreed to support the project, following which I decided to do my own research to learn more about the sector and the opportunities within it.
"As a business, we're keen to bring a wealth of expertise and understanding to every deal we're involved in, and we've certainly got a lot of experience with specialist property finance (nearly 50 years in fact). That's why we've spent more than 12 months researching the sector and speaking to different professionals – namely specialist lawyers, debt advisers, housing associations and the Regulator of Social Housing – to ensure we understood the market and the needs of our customers before launching our funding for social housing proposition.
"This award for innovation means so much to me and the team in recognition of all the work that's gone into this project so we can get things right for our clients."
Can you tell us more about the award?
"Each year at the Business Moneyfacts awards, our industry comes together to celebrate service and product excellence across a great number of respected commercial finance organisations.
"From the moment I heard we'd been short-listed as finalists for this award I felt an enormous sense of pride, both for our incredibly hard-working team, and for our customers whom we're helping to accelerate the delivery of social and affordable housing.
"To have won this amazing accolade, particularly in such a significant category, is a great achievement and represents the start of an exciting journey for us into the social housing funding sector where we can really make a difference to people's lives."
What's next for Together's Social Housing Initiative?
"As Britain's housing crisis continues to hit the headlines, we know there's strong demand for affordable homes and inclusive communities. We think we've got a lot to offer those providers by making access to vital funding as straightforward and smooth as possible.
"We've always been committed to professionalism in everything we do, and our expertise is something our customers have told us they really value – particularly in the commercial finance side of our business. After taking the time to understand both 'general needs' and 'supported' housing, we can give these customers that same confidence that we understand their ambitions and we're the right lender to help them come into fruition.
"Born from our company's purpose and vision, our Social Housing Funding is in its infancy but with the support of this award, we're hugely committed and motivated to help provide affordable housing in the areas that need it most.
Over the next few months, we'll be focusing on building the right team and personally reaching out to new clients to discuss their funding needs."
All content factually correct at the time of publishing.
Articles on our website are designed to be useful for our customers, and potential customers. A variety of different topics are covered, touching on legal, taxation, financial, and practical issues. However, we offer no warranty or assurance that the content is accurate in all respects, and you should not therefore act in reliance on any of the information presented here. We would always recommend that you consult with qualified professionals with specific knowledge of your circumstances before proceeding (for example: a solicitor, surveyor or accountant, as the case may be).
Lending decisions are subject to an affordability/creditworthiness assessment.
Any property used as security, including your home, may be repossessed if you do not keep up repayments on your mortgage or any other debt secured on it.