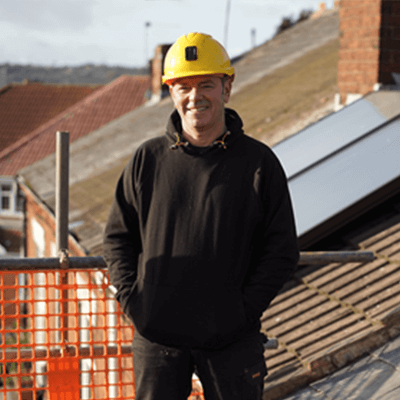 "They amazed themselves with what they could achieve"
.
Simon O'Brien talks growing up in a flipping-mad family, buying at auction, and all things Great House Giveaway.
Turning a ramshackle old building into a tip-top family home may seem like a breeze but some of the show's contestants have had their work cut out for them, says expert Simon O'Brien.
"If it was easy to do – and make money – everyone would be doing it," insists the presenter and actor. And he's speaking from experience having punctuated a successful TV career spanning four decades with a passion for restoring derelict homes.
The famed fixer-upper was still a teenager when he brought his first house – a large but run-down Victorian villa in his home town of Liverpool – with a nest egg he'd saved up from his first acting job playing Damon Grant in long-running soap, Brookside.
"The house had no roof or floor. It was just a shell," he says. "I used my limited knowledge from seeing what my parents had done to our homes and learned on the job. I spent the next couple of years doing it up.
"I've done about eight projects in all but have only kept one of them - the first one I did - and I still live there now with my family," says Simon, now 55, adding: "The joy for me is taking a rundown old property that's about to fall down and breathe new life into it; to make it look splendid again, before selling them and looking for the next one.
"And having a project on the go, means that I've got something to get stuck into during those quiet periods and as another revenue stream for me."
So his parents were into property? Yes. In a big way, says Simon. "They had four kids and the idea in their heads that we would all have our own bedrooms and our own space.
"They weren't wealthy, so the only way they could do that was by buying semi-derelict big old Victorian houses and do them up themselves. There were rooms that we weren't allowed to go in because they had no floors!
"They would slowly do up the house and then, just when we got to the point where we had a lovely family house, they would move into an even bigger and more derelict property and start the process all over again."
Although Simon buys his properties in all manner of ways, there's the chance of finding that "hidden gem" at auction he says.
"It's usually the one that's right at the back of the auction catalogue, because it has no roof or whatever. Those are the kinds of properties I like!"
However, it's not just about the type of property but often involves keeping your nerve in the auction room. "The advice I give on the show when buying at auction is not to get carried away," Simon says. "It is about money, not pride. You see people suddenly get into a bidding war because they decide they want the property and don't want to lose face against a rival bidder. They think 'I'm going to get this property no matter what it takes'. However, you've got to keep your emotions in check and, if you can do that, known what your budget is – and stick to it – you'll do OK.
"When the bidding starts, you can get quite nervous thinking about why nobody else is bidding on a certain lot. But it could be simply the case that everybody else in the room already has the properties they want and had spent up."
He advises people not to worry about walking out of an auction without having bought anything.
"There are often 300 people in the auction room and you have maybe 30 lots, so not everyone is going to get what they want – there's always a next time," he says. "And don't you dare pay over the odds just to get a property you like.
"I suppose one of the other main lessons is; don't just look on the first page of the auction catalogue. There could well be a couple of hidden gems that even experienced property developers miss."
In The Great House Giveaway, the contestants use a pot of more than £3million – provided by Together – to buy their auction properties, and get to keep any profit they made.
Simon says the new series "turned out to be an absolutely by-the-book on what to do right, and what people can get very wrong, in their first time renovating property.
"I've got years of experience in renovating and have done many property programmes but this is the first one I've ever done where I've been asked to bring my tool kit. It was a breath of fresh air to be able to help people in a very practical and hands-on way, as well as offering my advice."
He says it was "fantastic" to see some contestants make good money but, on the flip side, "absolutely dreaded" the day when he had to deliver the news if they'd made a loss, after working for six months on their projects.
"It is a very real series and I don't think there's ever been anything like it on TV."
So what's Simon's key piece of advice for anyone wanting to emulate the success of the show's first-time renovators?
He says: "Every time you fill a skip, not only will that cost you money, but everything dumped in that skip will have to be replaced, again at a cost. So the less you rip out of the property, the more money you can make. On the show, we saw contestants ripping out kitchens when there's nothing wrong with them – all they needed were new surfaces and new doors.
"In one of the houses, they were determined to rip out all the old architraves, sills and skirting boards because they thought they 'looked old', so they belligerently ripped them all out and dumped them in a skip. It cost them £1,500 to replace them all and that ate into their profit."
He says the more handy trades you have the more money you can make, adding that some of the Great House Giveaway contestants "amazed themselves" with what they could achieve by the end of filming.
"There was one contestant, a retired lady, who told me that she couldn't build a wall," says Simon. "She'd never done anything like that in her life. Of course she could do it, she just didn't believe it until we told her how to do it. It's amazing the skills people can pick up with a little advice and direction."
He adds: "An awful lot of people come along with the enthusiasm but very little knowhow and it's been great to watch their journey. With a bit of guidance from the team, they really surprised themselves at how practical they can be, and that really comes out in the series."
All content factually correct at the time of publishing.
Articles on our website are designed to be useful for our customers, and potential customers. A variety of different topics are covered, touching on legal, taxation, financial, and practical issues. However, we offer no warranty or assurance that the content is accurate in all respects, and you should not therefore act in reliance on any of the information presented here. We would always recommend that you consult with qualified professionals with specific knowledge of your circumstances before proceeding (for example: a solicitor, surveyor or accountant, as the case may be).
Lending decisions are subject to an affordability/creditworthiness assessment.
Any property used as security, including your home, may be repossessed if you do not keep up repayments on your mortgage or any other debt secured on it.