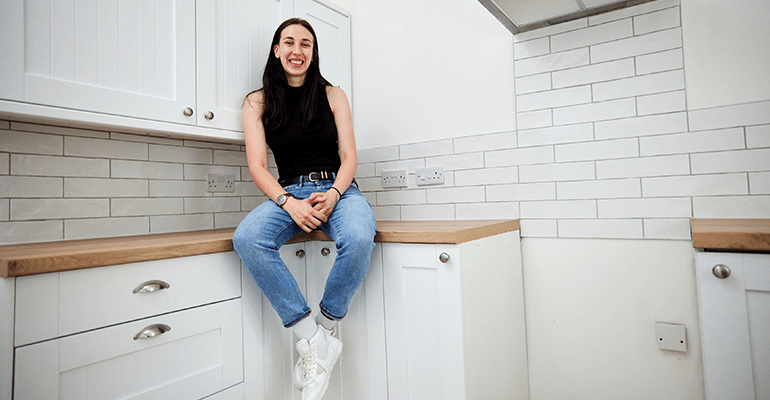 Two strangers transforms Oldham house at auction in Channel 4's The Great House Giveaway - just hours after meeting
.
The trials and tribulations of property renovation are returning to our screens as a new series of Channel 4's BAFTA award-winning show The Great House Giveaway launches from October.
The show challenges two strangers who are not homeowners to renovate a property bought at auction within a set budget and in just six months - if the project is successful, they both get to share the profits, or the house goes back to auction.
Buying homes at auction is becoming an increasingly popular way for people to find their forever homes.
Cheadle-based auction finance specialist, Together has seen a 30% increase in people buying their homes at auction as an alternative route to moving up the property ladder.
Presenter Simon O'Brien gave Naomi and Terry-Ann, who met just hours before the renovation, three houses to choose from before they went ahead and put a bid on the 'two up two down' terraced property in Greater Manchester.
Naomi, who is a plasterer by trade, said when they picked the house in Royton, Oldham, she had no clue where it was. She added: "It's one of those places I've heard of, maybe driven through, but never been to. It was quite a nice area though, not too far from where I live in West Yorkshire."
The plasterer described the renovation as 'quite straightforward' adding that the surveyors report helped her to identify what needed to be done.
She said: "It was kind of standard work that was needed, no major horror stories. When I first saw the house I definitely had a vision straightaway. I knew it was going to be newly plastered obviously.
"Even though I was fairly confident in my skills, I had never done a project of this size before, and I hadn't really dabbled in trades other than plastering.
"I still wanted to be very hands on and wanted to do as much of the work myself as I could. For example, I was plumbing in the bathroom myself and it was a case of going on YouTube and trying to figure out how to do it."
One of the project's major renovations was to the roof, which Naomi said was in really poor condition. However, in true DIY style, she and her dad tackled the massive job themselves.
She said: "It's interesting because you push yourself and then you do it and then you feel better and you can do it again. And it was just a great confidence builder. Every week, I was just gaining more and more confidence as I managed to tackle the issues.
"Since being on the show, I've taken on a couple of roofing jobs as well, some chimney stacks and things."
Thanks to her time on the program, Naomi and her wife are planning to build their dream home from the ground up. Naomi says she loved the renovation process and she wants to use her new found skills to create the home that she and her partner will spend the rest of their lives in.
She said: "Originally, my wife and I wanted to buy a house straight away and do it all again but now we've gone in a completely different direction. We want to buy some land up in the Scottish Highlands and create our own home up there."
Despite their differences, Naomi and Terry-Ann were able to transform the house from a run-down 'two up, two down' in to a modern family home.
But did they have a buyer and walk away with a profit?
All content factually correct at the time of publishing.
Articles on our website are designed to be useful for our customers, and potential customers. A variety of different topics are covered, touching on legal, taxation, financial, and practical issues. However, we offer no warranty or assurance that the content is accurate in all respects, and you should not therefore act in reliance on any of the information presented here. We would always recommend that you consult with qualified professionals with specific knowledge of your circumstances before proceeding (for example: a solicitor, surveyor or accountant, as the case may be).
Lending decisions are subject to an affordability/creditworthiness assessment.
Any property used as security, including your home, may be repossessed if you do not keep up repayments on your mortgage or any other debt secured on it.