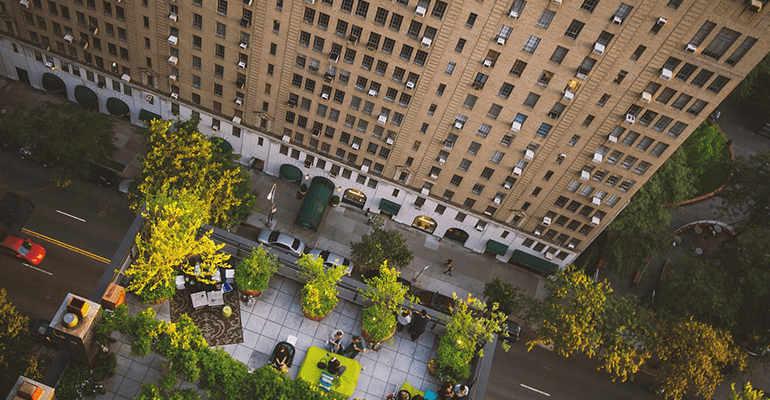 Building the Future: Greening the city
.
Tune in to any property renovation programme where the emphasis is on improving your home (as opposed to your bank balance), and you'd be forgiven for thinking that the world and his wife were installing bi-fold doors at the back of their homes.
It's just one part of the trend in indoor/outdoor living that's been gathering pace for some years. While gardens once may have been left as a patch of turf, they're now regularly being designed as an 'outdoor living room', enabling people to spend more time outside and enjoy the physical and mental health benefits of gardening.
And it's not just renovators who are configuring homes this way. Conroy Brook are one luxury home builder that has responded to this trend by configuring kitchens, dining rooms and gardens as a single 'through' space. These flexible, open-plan layouts are typically flooded with light and may be especially suited to families, because they enable parents to mind children playing outside while cooking or entertaining guests.
That said, it's surely not just families who crave this flexible, indoor/outdoor lifestyle. Maybe reflecting this generation's emphasis on self-improvement and wellness, research published in 2017 revealed Millennials actually love gardening, and spend more than their parents on plants.
So what do you do if you're living in a high-rise flat?
This is the dilemma facing many Millennials today. City-centre living is booming, and this is being driven by young, affluent people, drawn in by the appeal of walking to work and proximity to nightlife. Many of these city centre homes are smart new high-rise apartments.
Why? Urban building space is hard to come by and expensive, so builders are routinely maximising their investment by building skywards; the NLA'S Tall Buildings Survey 2019 claims there are more than 500 towers of 20 or more storeys currently in planning in London alone, 90% of which are residential.
So there's an obvious tension that exists when you love plants and gardening, but live in a high-rise flat: in a study of people under 25 by The Student Room, 75% of respondents said they love plants but do not have the space.
However, with so many flats going up, residents have plenty of choice and developers must work hard to set their properties apart – which may be one of the reasons builders have started integrating communal roof gardens into their designs. In fact, they've become so commonplace that green rooftops in London now cover an area larger than Hyde Park.
Estate agent Buildington now claims that "a communal roof terrace on top of a building has recently become one of the most popular amenities for residents buying new homes in London".
It's easy to understand their appeal to environmentally-conscious young Brits. Rooftop gardens benefit from all-day sunshine and contribute towards cleaner air, as well as providing additional insulation.
Although there is clearly an additional cost associated with creating an accessible roof space, the added appeal may make it a worthwhile investment for housebuilders.
All content factually correct at the time of publishing.
Articles on our website are designed to be useful for our customers, and potential customers. A variety of different topics are covered, touching on legal, taxation, financial, and practical issues. However, we offer no warranty or assurance that the content is accurate in all respects, and you should not therefore act in reliance on any of the information presented here. We would always recommend that you consult with qualified professionals with specific knowledge of your circumstances before proceeding (for example: a solicitor, surveyor or accountant, as the case may be).
Lending decisions are subject to an affordability/creditworthiness assessment.
Any property used as security, including your home, may be repossessed if you do not keep up repayments on your mortgage or any other debt secured on it.