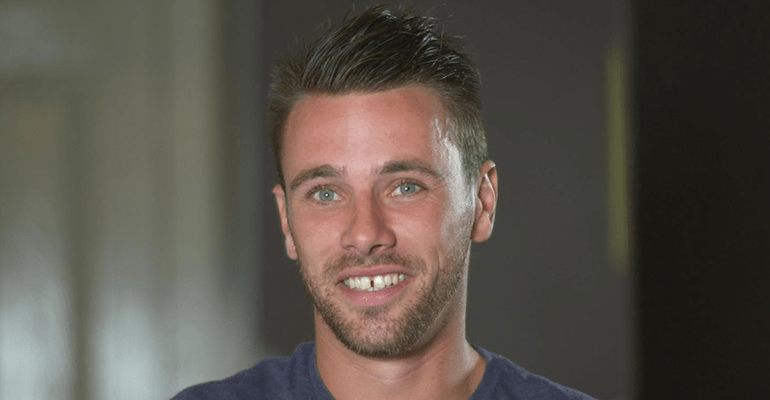 "Challenging and rewarding" – contestant Aeron shares his experiences of The Great House Giveaway
.
26-year-old Aeron signed up to The Great House Giveaway in a bid to raise the deposit he needs to buy his first home. Day-to-day, he works as a maintenance manager for a local riding school, and helps the school's owners with looking after their investment property.
Before the show, Aeron had been living on-site in a caravan and later moved into a flat, also provided by work. The insecurity of knowing that his home is tied to his job – and not earning enough to save a deposit – was a major motivation.
We asked Aeron about his experiences of renovating a three-bed, ex-local authority property in Gorton, Manchester alongside total stranger Rachael.
What did you hope to get out of taking part?
I've always wanted to do a house up and sell it, both for the money and for the experience of managing a renovation project. I had hoped to make enough profit to maybe start another renovation by myself.
What was the biggest challenge you faced throughout the process?
Managing all of the assorted trades. We had to choreograph timings so they started on-site at the right point, and only when we were ready for them. Juggling my work life at the same time was just the icing on the cake!
If you could give one piece of advice to someone starting a similar project, what would it be?
Decide on the work that you're doing and plan your budget first. And if you're working with someone, agree what each of you will do, to ensure you only do jobs that need to be done.
Is there anything you'd do differently if you started again?
If I were going into a similar project now, I'd make sure I had more free time from work. And knowing what I know now, I'd definitely plan the job differently.
What's your plan now off the back of the experience?
The show has changed my life. I now have the knowledge, experience, money and confidence to do another project.
I'm looking to start my next project in the next six months. But this time, I think I'll do it for myself as a long-term investment that I rent out. That said, I want to be certain I've added value to the property in case I decide to sell it on. I might even do a new-build if I can get the right land!
All content factually correct at the time of publishing.
Articles on our website are designed to be useful for our customers, and potential customers. A variety of different topics are covered, touching on legal, taxation, financial, and practical issues. However, we offer no warranty or assurance that the content is accurate in all respects, and you should not therefore act in reliance on any of the information presented here. We would always recommend that you consult with qualified professionals with specific knowledge of your circumstances before proceeding (for example: a solicitor, surveyor or accountant, as the case may be).
Lending decisions are subject to an affordability/creditworthiness assessment.
Any property used as security, including your home, may be repossessed if you do not keep up repayments on your mortgage or any other debt secured on it.