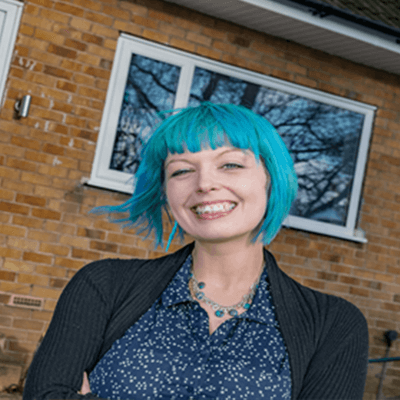 "Challenging. Exhausting. Affirming."
.
We sat down with Kate to discuss her experience of renovating a semi-detached 1960s former bungalow in nearby Horsforth.
What motivated you to apply for the show?
Renting is costly, and doesn't leave much scope for saving for a deposit. When I saw the opportunity, I jumped at the chance to own property after resigning myself to the fact I would be renting for the rest of my life. I'm almost 40 now and ideally want to be mortgage free by the time I retire.
I had hoped that the show could ultimately give me a home – a new start, with more security. Not mention a few new skills and some extra confidence!
What was the biggest challenge you faced throughout the process?
Trying to get good-quality, reliable tradespeople involved – I was amazed how many didn't even turn up to quote, or follow up with a quote if they did. We even had people cancel on the day they were due to start works. If you find a good electrician, plumber or roofer, hang on to them for dear life!
It was also a huge challenge (both mentally and physically) trying to get everything done, whilst also working full-time and taking care of things at home.
If you could give one piece of advice to someone starting a similar project, what would it be?
Try to do as much of the work yourself - you will be amazed at what you are capable of.
Also don't instantly pay full price for anything; there are so many nearly-new bargains to be found online. If you have to buy new, don't be afraid to haggle!
Finally, look after yourself and get a good support network. You'll be surprised at the toll it will take on you physically, mentally and emotionally.
Is there anything you would do differently if you started again?
I'd get stuck in sooner. We delayed instructing vital works as we were too keen to get better quotes. We ended up paying what we were initially quoted anyway, just several weeks later! Time is money!
Has it changed your life in any way? What is your plan now off the back of the experience? Will you look to take on another project?
I'm back to business as usual now. I'm still in very much the same situation as before, and looking for other opportunities.
If I had the funds, I would definitely take on another project though – it can't possibly be as intense as this one, and I'm far better equipped to deal with it now! And it's reminded me though that if I put my mind to it, I can do anything.
If I apply that determination to the rest of my life, who knows where it will take me?
All content factually correct at the time of publishing.
Articles on our website are designed to be useful for our customers, and potential customers. A variety of different topics are covered, touching on legal, taxation, financial, and practical issues. However, we offer no warranty or assurance that the content is accurate in all respects, and you should not therefore act in reliance on any of the information presented here. We would always recommend that you consult with qualified professionals with specific knowledge of your circumstances before proceeding (for example: a solicitor, surveyor or accountant, as the case may be).
Lending decisions are subject to an affordability/creditworthiness assessment.
Any property used as security, including your home, may be repossessed if you do not keep up repayments on your mortgage or any other debt secured on it.