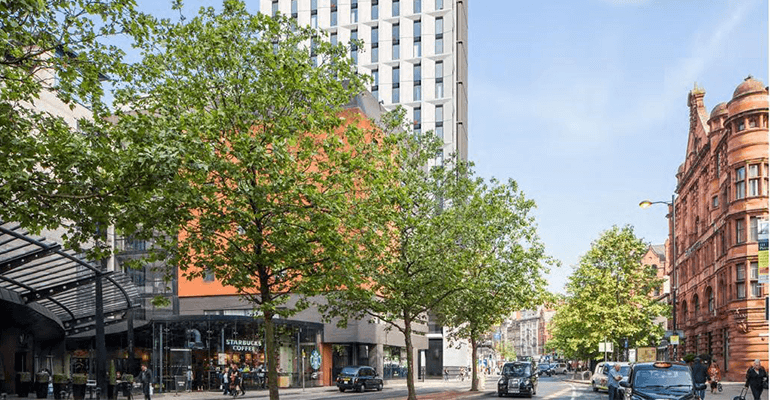 Customer Profile: Manchester's first Eco 'Hometel'
.
At Together we take pride in making our customers' ambitions a reality, whether that be moving home, buying their first house, growing their business or expanding their property portfolio. Bringing our customers' property dreams to life means a lot to us, but one recent funding in particular really stood out due to its sustainable proposition.
We were approached by Ice Cubed Property Finance, a York-based commercial adviser, to provide a short-term loan facility on behalf of Northside (Manchester) Ltd. Northside have entered into a joint venture with hospitality company Room2 to kick-start plans for Manchester's first fully-sustainable eco aparthotel tower.
Room2 previously opened the world's first net zero 'hometel' in Chiswick, West London, which is 89% more energy efficient than a typical UK hotel. Each room has its own kitchenette and it has a host of sustainable measures, including solar panels, recycled furniture, zero food waste and a green roof with 75,000 bees and wildflowers.
Michael Devanny, Corporate Relationship Director at Together, said:
"We're delighted to have been chosen as Northside's finance partner.
"Our funding has allowed them to purchase this site, including the former Union Bank, with the whole area an ideal location for business travellers and holidaymakers visiting Manchester. It will allow Room2 to press ahead with planning the city's – and region's - only whole life net zero hotel, meaning all carbon emissions from conception through to the building's end of life will be reduced and re-balanced to zero.
Paul Ellis, one of four directors at Northside (Manchester) Ltd, added:
"We're proud of the opportunity to bring forward the delivery of an iconic true carbon net zero tower alongside our partners Room2 with the continued trusted support of the Together team."
Tom Frank, director of Ice Cubed, said:
"This has been an exciting project to work on combining a client and lender to meet the aspirations of a new partner in the sustainable sector.
"We believe it's important that the long term use of the asset has a sustainable proposition, so it's great to see the lender, borrower, broker and operator all working together to the same sustainable goal." This success story is just one example of our commitment to sustainability and adding social value across the UK. Using our common-sense lending approach, we'll continue to make a difference.
All content factually correct at the time of publishing.
Articles on our website are designed to be useful for our customers, and potential customers. A variety of different topics are covered, touching on legal, taxation, financial, and practical issues. However, we offer no warranty or assurance that the content is accurate in all respects, and you should not therefore act in reliance on any of the information presented here. We would always recommend that you consult with qualified professionals with specific knowledge of your circumstances before proceeding (for example: a solicitor, surveyor or accountant, as the case may be).
Lending decisions are subject to an affordability/creditworthiness assessment.
Any property used as security, including your home, may be repossessed if you do not keep up repayments on your mortgage or any other debt secured on it.