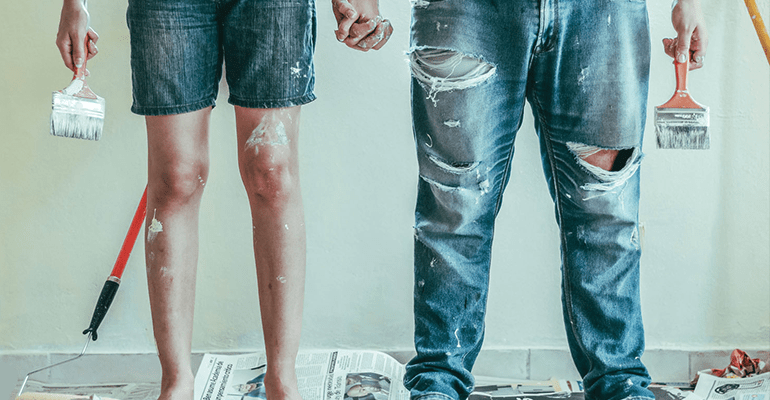 DIY disasters you can easily avoid
.
Boredom is a natural side-effect of self-isolation.
So if you're staring at the walls and tempted to do a little DIY while trapped indoors, there are some jobs around the house that are fine to tackle yourself. But others, if you get them wrong, can cause a major headache – or worse. And nobody needs a trip to A&E at the moment.
So, while you may have the confidence to try your hand at painting or putting up shelves, there are some jobs that may be best left until it's safe to get a professional in.
Whether you want to add value to your own home or are getting your property ready to rent out, make sure you do it right to avoid costs further down the line.
Bathrooms
If you're updating a bathroom like for like, you might be okay doing some minor jobs like replacing taps, hanging shower screens or tiling if you've done it before. But anything that involved changing more major items or replumbing may be best left to the experts. Leaks can cause huge amounts of damage to floors, ceilings and walls, affecting other rooms in the house too.
Bathrooms also tend to be a major selling point, so shoddy finishes and wonky tiles could put potential buyers and tenants off. If you're going for a complete bathroom makeover, factor professional fitting and finishing into your budget and borrow a little more if you're taking out a loan, as the extra spend could be well worth it to get the finish you want.
Kitchens
Like bathrooms, kitchens are a major selling point and are something buyers are unlikely to want to replace as soon as they move in. Making sure doors are hung properly, worktops are properly fitted and tiling is professional can make all the difference, as savvy buyers are sure to be on the lookout for anything that might cost them money.
A great kitchen can add real value to your property and can be classed as a capital investment if you're a landlord, so it's not something to be scrimped on. Safety is key too, as electrics, water and gas in close proximity can pose a serious hazard if not fitted and maintained professionally.
Electrics
If you've got some basic electrical knowledge, you might attempt changing a socket or a light switch, but anything more complicated needs to be done by a professional electrician.
If you're a landlord, you'll need to be able to show that your electrics are safe when a new tenant moves in, so it's worth getting the job done right in the first place – not only to keep tenants safe but to save you from significant upkeep costs further down the line.
Knocking down walls
While it might be tempting to take a sledgehammer to an internal wall to make a lovely kitchen/diner, don't do anything until you get a professional opinion.
Some walls can be removed without any structural work but supporting walls may need to be reinforced and you'll need properly drawn up plans and certification to show that any work completed complies with building regulations.
If your property is listed, any changes to the external structure will need to be agreed with your local authority and, in some cases, internal changes will need to be approved too, so don't start knocking anything about until you've done your homework.
All content factually correct at the time of publishing.
Articles on our website are designed to be useful for our customers, and potential customers. A variety of different topics are covered, touching on legal, taxation, financial, and practical issues. However, we offer no warranty or assurance that the content is accurate in all respects, and you should not therefore act in reliance on any of the information presented here. We would always recommend that you consult with qualified professionals with specific knowledge of your circumstances before proceeding (for example: a solicitor, surveyor or accountant, as the case may be).
Lending decisions are subject to an affordability/creditworthiness assessment.
Any property used as security, including your home, may be repossessed if you do not keep up repayments on your mortgage or any other debt secured on it.