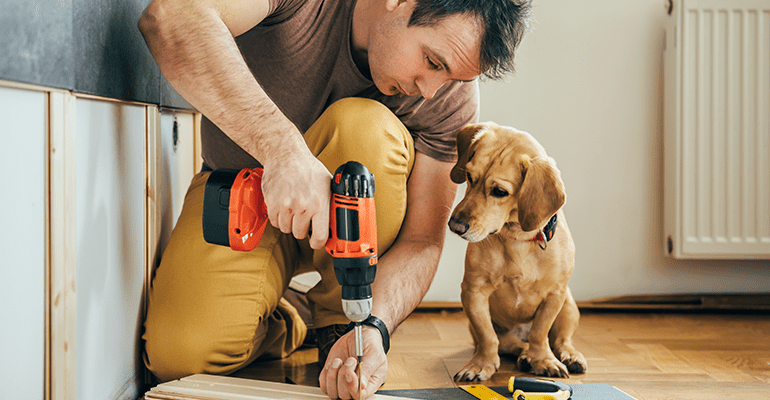 Five renovations that could improve rental returns
.
The growth in the number of rental properties available over recent years means renters can often afford to be a little more discerning in their choice of property.
Some renters are happy to pay over the odds for the most desirable or practical properties, and landlords can increase their rental income by making some shrewd improvements.
1. Focus on kitchens and bathrooms
The old adage says that that kitchens and bathrooms sell houses, so it stands to reason that the same should apply to rental properties.
Giving an investment property a bit of attention could help it rent out faster, and for a better price. A renovation doesn't have to mean a complete rip-out-and-replace affair. Landlords could:
Paint the walls.
Replace cupboard doors and countertops.
Replace tiling and steam-clean the grout.
Update door handles and taps.
... or any combination of the above.
Whatever they choose to do, they should ensure both kitchen and bathroom are sparklingly clean when it comes to viewings.
2. Add a conservatory
If the outside space allows, a conservatory could be a relatively inexpensive way of increasing the amount of living space available – especially for new-build family homes, which can sometimes prioritise bedrooms and leave the layout of the house unbalanced.
A conservatory also help to emphasise fashionable indoor/outdoor living, and act as a bridge between a kitchen or lounge and the garden.
3. Use light smartly
As a general rule, larger homes command larger rents. And since light can make a home feel larger, using it intelligently can boost income.
Depending on the layout of your property, landlords could approach this from several angles:
Roof lights and light tunnels can introduce natural light to dark spots and attic bedrooms.
Cleverly-placed mirrors can amplify the effects of natural light from existing windows.
Using higher-wattage lightbulbs in areas where it's impossible to introduce natural light.
Replace bulky curtains with blinds that can be fully opened during viewings.
4. Create an en suite
Dividing off part of the master bedroom to create a small en suite bathroom can make a property more appealing, especially to young professional sharers. In a two-bedroom property, this will give them a bathroom each.
While this in itself may not increase the rental price significantly, it could certainly make it easier to rent out – reducing void periods, and therefore contributing towards a larger overall rental income.
5. Refresh the garden
Outside space is the Holy Grail for some renters, so presenting a garden as both tidy and useful can help inflate the potential rental income.
Landlords needn't go to great lengths with expensive plants or water features, but 'zoning' the space can help potential tenants visualise their life there. Perhaps create somewhere with seating, and leave a portion of space open if your target tenants are families with children.
Remember that turf can make a garden more high-maintenance, so could be a turn-off for some renters.
Funding your renovations
You may already have the money you need to complete your planned renovations, but if not you could elect to take out a secured loan (or "mini mortgage") with us. Even if your circumstances would otherwise prevent you from obtaining credit, we may be able to help.
All content factually correct at the time of publishing.
Articles on our website are designed to be useful for our customers, and potential customers. A variety of different topics are covered, touching on legal, taxation, financial, and practical issues. However, we offer no warranty or assurance that the content is accurate in all respects, and you should not therefore act in reliance on any of the information presented here. We would always recommend that you consult with qualified professionals with specific knowledge of your circumstances before proceeding (for example: a solicitor, surveyor or accountant, as the case may be).
Lending decisions are subject to an affordability/creditworthiness assessment.
Any property used as security, including your home, may be repossessed if you do not keep up repayments on your mortgage or any other debt secured on it.