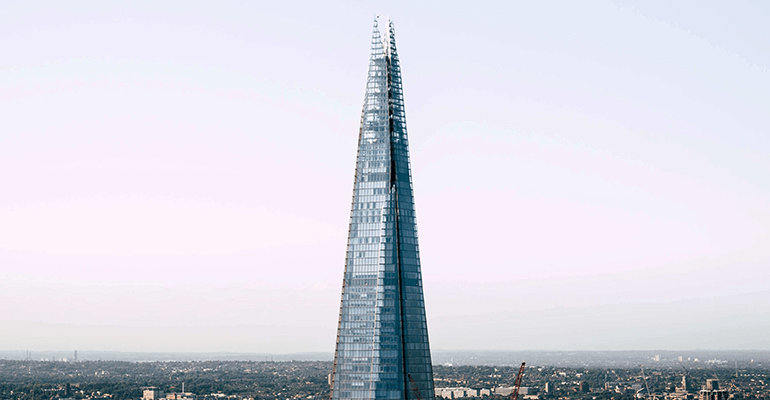 Future gazing: from office to apartment block
.
Why do we romanticise buildings from our past?
Ah, the good old days. Almost 18 months into a pandemic which has seen our lives change so dramatically, it's no surprise we've found ourselves reminiscing about what used to be: bustling bars and restaurants, nights out on the town and jetting off around the world.
As people, we've always had a cognitive tendency to idealise the past, and appreciate things which are no longer readily available. It's why we admire vintage cars, antique furniture, and you'll hear every generation say that 'music was much better in my day'.
As Brits, there's perhaps nothing we romanticise more than period buildings. Despite newer homes often boasting better efficiency, modern open-plan living, and the latest in smart technology, many of us still want to live in a home with character.
In recent years, we've seen many of the UK's historic commercial buildings transformed by developers into spectacular living spaces. Bradford's Conditioning House is one such example, with its original features and stonework forming part of the attractive apartment complex.
These old, former workspaces are now among the most in-demand residential properties, with Brits often willing to pay more for carefully preserved period features such as exposed pipes and brickwork. So it begs the question, could today's outdated workspaces become the next target of redevelopment?
Can commercial buildings work for residential use?
With the UK's cities suffering the largest housing shortages, and now potentially hundreds of office buildings lying empty, it would seem like the problem and the solution go hand in hand.
Offices typically benefit from large, open-plan spaces, and can be relatively easy to turn into separate apartments using lightweight partition walls. Ceiling heights in these buildings are also generally spacious, compared to the 2.3m minimum height for new build flats, which could be attractive to potential buyers and tenants.
These commercial properties should already contain essential services and systems such as lifts, plumbing and electrics, so new kitchens and bathrooms can often be easily connected. And the vast majority of post-War buildings aren't listed, so developers won't face some of the challenges they would converting an old mill, for example.
Since 2015, property developers have been able to convert offices into residential use without securing full planning permission, under a system called 'Permitted Development Rights'. And since then, an estimated 60,000 flats have already been built this way.
So far however, these conversions have consistently been on the receiving end of negative press. In a series of interviews by The Guardian, tenants of a converted office block in Essex claim their flats are cramped, cold, damp and isolating – and located miles away from the nearest schools, shops and amenities. One tenant even likened his building to an 'open prison'.
How then, could these spaces be better reused and designed for modern living?
Could 'vertical villages' be the future of towns and cities?
In places such as Singapore and Hong Kong, where city populations continue to rise, architects have reimagined the high-rise flat into something almost Utopian-like – creating desirable community living worlds apart from that of an 'open prison'.
Though developed primarily to tackle space shortages, these apartment blocks or 'vertical villages' could be the answer to a number of challenges brought about by the pandemic in the UK – including how to make our redundant offices vibrant again.
Vertical villages can encompass far than just a living space. The mixed-use buildings may include green outdoor spaces, thriving social hubs, gyms and café's – all within the same tall walls. Certainly the largest-scale example in the UK is London's 308m Shard, containing shops, offices, flats and restaurants – while performing as a significant landmark.
But as COVID-19 has shifted our priorities to more community-oriented living, we could start to see smaller versions of these developments popping up in smaller cities and towns across the UK. Local, collaborative working spaces may appeal specifically to creatives, small business owners and other professionals, who don't have a designated office to go to. Others may be drawn to more social or health amenities, such as contained gyms and garden terraces, which could go a long way to combatting loneliness and poor mental health.
Some Brits may also be attracted to a more sustainable way of life. Being able to potentially live, work, shop and socialise without travel could allow us to drastically reduce our environmental impact – and of course, living in a re-purposed building scores points in this department too.
And filling these deserted office spaces with people once again could also provide an opportunity to regenerate Britain's high-streets, and offer much needed support to local businesses and eateries.
Could we help?
With the right location and design, there's an exciting opportunity for developers and property investors to transform these office buildings into very desirable places to live.
As a specialist lender, we're flexible when it comes to the type of commercial or semi-commercial property you're looking to purchase – regardless of its structure, usage or valuation to learn more about your finance options – whether you're purchasing a commercial building, or you're looking to refurbish or convert a property – our team would be more than happy to talk through your circumstances.
Simply click here to get in touch.
Any property used as security, including your home, may be repossessed if you do not keep up repayments on your mortgage or any other debt secured on it.
All content factually correct at the time of publishing.
Articles on our website are designed to be useful for our customers, and potential customers. A variety of different topics are covered, touching on legal, taxation, financial, and practical issues. However, we offer no warranty or assurance that the content is accurate in all respects, and you should not therefore act in reliance on any of the information presented here. We would always recommend that you consult with qualified professionals with specific knowledge of your circumstances before proceeding (for example: a solicitor, surveyor or accountant, as the case may be).
Lending decisions are subject to an affordability/creditworthiness assessment.
Any property used as security, including your home, may be repossessed if you do not keep up repayments on your mortgage or any other debt secured on it.