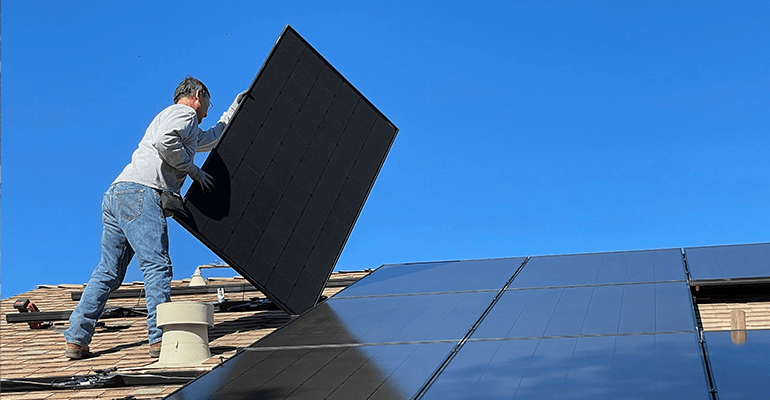 How bridging finance can support the UK's ESG targets: energy efficiency
.
Tanya Elmaz, Together's Head of Intermediary Sales for Commercial Finance.
"New government rules surrounding EPC ratings are due to come into effect in 2025, which will require landlords to take more responsibility for the energy efficiency of their rental properties.
"Anything which improves the conditions for tenants in rental accommodation and the positive environmental impact is progress. However, the impact this could have on landlords and their existing stock of underachieving properties is proving to be of concern to many.
"A large number of these properties – many of which are older, popular characterful buildings – could become too expensive to bring in line with the new regulations, which may see them at risk of becoming redundant. This poses a number of issues.
"Firstly, it would greatly impact the value of these assets and expected return on investment for landlords. This could affect their ability to keep up repayments on their buy-to-let mortgages if their income is depleted. Secondly, having unused buildings – particularly given the current shortage of housing in the UK – would actually be environmentally, economically and socially unsustainable.
"With 60% of the UK's current housing stock still rated D or below, the scale of the challenge is clear. In this blog, we explore how bridging finance can help landlords meet the Government's targets to support the sustainability and energy efficiency of the UK's rental properties. And why, for landlords and property investors, we're making access to finance as straightforward as possible."
Energy Performance Certificates: what do brokers need to know?
To help the UK achieve its carbon reduction targets and improve energy efficiency standards, the Government introduced the Energy Performance Certificate (EPC) almost 15 years ago. Whenever a property in the UK is sold or rented out, it must have a certificate showing its energy efficiency performance based on factors such as insulation, heating and how much energy it uses.
A property will get an overall rating on a scale running from A to G. A is the best, and G is the least efficient. Generally speaking, older properties have lower ratings because they lack (for instance) cavity wall insulation or double glazing unless these have been retro-fitted.
The proposed Minimum Energy Standards for rented properties will shift from an E rating to a C rating under the new rules, and making changes isn't optional. The new regulations will be introduced for new tenancies first from 2025, followed by all tenancies from 2028.
If a landlord's property is found to fall short of the required rating, they could face a fine of up to £30,000. Plus they'll have an unlettable property on their hands, which will mean a property standing empty – and a loss of rental income for the owner.
"Older properties have always been a favourite with buy-to-let landlords, whether it's two-up, two-down terraces offering the perfect first home for young professionals or larger Victorian villas prime for converting into houses in multiple occupation (HMOs).
"But where older properties may offer more room for development (and potentially a greater return on investment), new regulations around energy ratings may mean older rental properties suddenly look far less attractive to the landlord looking for a good return.
"While data shows that homes built before 1900 generally have an E rating or lower, all is not lost if your client does have older homes in their portfolio, or has their eye on a historic property. With a little time and money, older homes can be brought up to the required standard, and the improvements they make could even make their property more attractive to potential tenants.
"If they're adding to their portfolio and don't have sitting tenants, improvements that increase the energy efficiency of a property – like installing a new boiler and double glazing – can be lumped in with other renovation work and factored into any potential borrowing, all in one go. Plus, if they're considering liquidating some of their stock over the next few years, a property with a better EPC rating is likely to attract a better price and more attention from buyers who aren't up for renovating themselves.
"We're also seeing more first-time landlords taking an interest in older properties. Those currently renting in London, for example, might not have the deposit (or the income) available to purchase an expensive first home in the city, but can afford a property which is suitable to let further afield. We've experienced cases recently where these first-time landlords decide to purchase a property they can add value to (such as an older building with a low EPC rating) and let it out for a while, providing them with a second income and the opportunity to grow their deposit for their own home in London in the future.
"While insights suggest a lot of landlords are buying new builds which already meet the energy efficiency standards instead of holding out for a doer-upper at auction, there are challenges, in both availability and yield.
"Landlords buying off plan, or choosing an almost-new property that's ready to move into, are competing not only with other landlords but with private homebuyers who don't have an appetite for DIY, and will most likely pay a premium for the convenience. And with prices continuing to rise, it's unlikely that the yield on a new rental property will be as strong.
"Let's not forget we're talking about sustainability here too. Ensuring older properties are still usable and don't become redundant means these buildings aren't going to waste, which could potentially prevent more Greenfield land being built on. Furthermore, it means cities with a high supply of period properties – like the host of Victorian buildings which can be found around London, Leeds and Liverpool, for example – can remain vibrant communities for future generations to enjoy.
"According the latest research, landlords cited the cost and accessing the right finance as some of the biggest barriers to achieving a C rating across their existing portfolio. Many have also raised concerns over the loss of rental income whilst work is being completed.
"Making less intrusive improvements, like adding cavity wall insulation or switching to LED lighting, could provide one solution. It would mean your landlord clients don't have to uproot existing trustworthy tenants, whilst moving in the right direction towards hitting the 2025 requirements.
"However, making the necessary changes to rental accommodation can still be costly – particularly as research puts the average upgrade bill at £6,000 to £10,000 per building.
"Whether your client is looking to do some general upgrades and include energy efficiency measures into the cost, or need to do a whole raft of improvements just to bring their property up to scratch, short term funding like a bridging loan could prove the right solution.
"Securing a bridging loan against a rental property, or another property in their portfolio could allow them to make the necessary investment (if they'll need less than 12 months to complete the required work). After they've made the improvements, and potentially increased the value of the property, you could help them refinance onto a new buy-to-let mortgage.
"Our specialist underwriters and intermediary team will work closely with you or your packager to understand their circumstances and make a common-sense lending decision.
"If you're keen to learn more about funding for EPC requirements, whether bridging or a term product, we're here to help. Simply talk to your packager or get in touch with our friendly team of experts."
Get in touch
For professional intermediary use only.
All content factually correct at the time of publishing.
Articles on our website are designed to be useful for our customers, and potential customers. A variety of different topics are covered, touching on legal, taxation, financial, and practical issues. However, we offer no warranty or assurance that the content is accurate in all respects, and you should not therefore act in reliance on any of the information presented here. We would always recommend that you consult with qualified professionals with specific knowledge of your circumstances before proceeding (for example: a solicitor, surveyor or accountant, as the case may be).
Lending decisions are subject to an affordability/creditworthiness assessment.
Any property used as security, including your home, may be repossessed if you do not keep up repayments on your mortgage or any other debt secured on it.