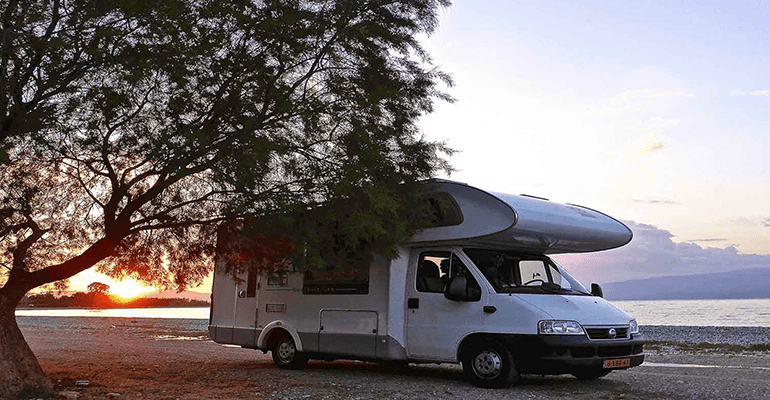 How to finance a motorhome
.
With the prospect of overseas travel looking increasingly unlikely for many in 2021, it's hardly surprising that UK holidays are enjoying something of a boom. While we Brits compete over a limited supply of holiday cottages, and seaside B&Bs are making hay while the sun shines, some may instead be looking at a motorhome as a means of getting away often.
Head onto AutoTrader and you might find a basic, used motorhome for less than the price of a week in Spain during the school holidays. But if you're shopping for something brand new, with all the luxury and reliability that entails – and who could blame you after the last year? – the cost can stretch to six figures.
That's a huge sum, and comparative to a holiday property in some parts of the UK. But there's understandable appeal: no Stamp Duty penalties, no council tax - and the fact you can travel anywhere with a road, including overseas (eventually, at least!).
So if you're spending as much on a vehicle as you might on a property (and assuming you don't have that sort of money lying around), how do you pay for that? There are a few options.
Hire purchase (HP)
This kind of agreement sees the secured loan against the vehicle, and your motorhome dealer will typically have a finance provider who they can connect you with.
You'll need to put down a deposit, and you then pay the balance of the purchase price over a number of years. When you make the last payment, you own the motorhome outright. It's a lot like a mortgage on a house in this regard.
Your interest rate is agreed at the start of the term and is fixed for the duration, so your payments will never change. In general, you can spread the cost over a period up to 10 years – although if you're buying a used motorhome, you may find that the term you're offered is reduced.
As the loan is secured against the motorhome, the vehicle can be repossessed if you fail to keep up the payments.
Personal Contract Purchase (PCP)
This kind of agreement is most commonly used to purchase cars, although it's occasionally offered on brand new and nearly-new motorhomes too.
You'll put down a deposit, then make fixed payments for an agreed term – say, five years – with a balloon payment deferred until the end of the term. The size of the balloon payment will vary depending on the mileage limit you agree. You won't own the motorhome during the term.
Once the term is up, you have three options:
Pay the balloon payment and take ownership of the motorhome (either with cash or by another means, like an unsecured personal loan from your bank, for instance).
Trade-in the motorhome against another vehicle, using any equity (the difference between the balloon payment and what it's worth) towards the cost of the new vehicle.
Hand the motorhome back and walk away.
PCP agreements tend to work out more expensive overall than HP agreements (because of the balloon payment), but then again they typically offer cheaper monthly payments during the term – so might be an appealing option if you only want to own a motorhome for a few years.
Secured loan
This option is available to homeowners and is one of the products that Together offers.
Provided you have sufficient equity in your home (or any other property you own, for that matter), we can provide a loan that covers the full cost of the motorhome. You won't have to put down a deposit, and you'll own the motorhome outright from day one – so you'll be able to act as a 'cash' buyer, which could help you negotiate a better price with your motorhome dealer.
The loan is instead secured against your home or property, and you'll make monthly payments for the agreed term – which can be up to 30 years. It's technically a mortgage, so you may be able to choose to have a fixed-rate period initially, or opt for a variable rate from the off. This does mean your repayments can change throughout the loan, but whichever you choose, you may find that you're offered a lower interest rate than a HP or PCP agreement.
If you already have a mortgage on your home, you can still apply for a secured loan – and your existing mortgage won't be affected in any way. The secured loan will have its own rate and terms, and any mortgage fees can be rolled into your payments.
As the loan isn't secured against the motorhome and you own it outright from day one, this also buys you a degree of flexibility and freedom. For instance, if you learn that the motorhome lifestyle doesn't suit you after a while, you could sell the motorhome and buy a static caravan or canal boat with the cash instead – all without having to inform us.
Simply keep making the payments on time each month, and we'll let you get on with it.
Example
Let's look at a comparison, created using Blackhorse Finance's online calculator tool, buying a motorhome with a price of £60,000.
For ease of comparison, we've based all of these on a 10-year (120-month) term, and used representative APR % figures as given by motorhome retailers Marquis Leisure. The total amount repayable also includes any compulsory final payments (e.g. administration fees and similar), so may not tally exactly.
| Type of agreement | Deposit | Arrangement fee | Amount to finance | Monthly payment | Optional final payment | Representative APR | Total amount repayable |
| --- | --- | --- | --- | --- | --- | --- | --- |
| Hire Purchase | £2,000 | Nil | £58,000 | 120 @ £703.71 | Nil | 8.3% | £84,445.20 |
| Personal Contract Purchase | £2,000 | Nil | £58,000 | 119 @ £581.19 | 1 @ £20,500 | 7.9% | £89,961.61 |
| Together Secured loan (Variable rate) | Nil | £1,500 (i.e. 2%) | £61,500 | 120 @ £703.02 | Nil | 7.5% | £84,472.75 |
If you're interested in purchasing a motorhome using a secured loan, click here to read more.
Any property used as security, including your home, may be at risk if you do not keep up repayments on your mortgage or any other debt secured against it.
All content factually correct at the time of publishing.
Articles on our website are designed to be useful for our customers, and potential customers. A variety of different topics are covered, touching on legal, taxation, financial, and practical issues. However, we offer no warranty or assurance that the content is accurate in all respects, and you should not therefore act in reliance on any of the information presented here. We would always recommend that you consult with qualified professionals with specific knowledge of your circumstances before proceeding (for example: a solicitor, surveyor or accountant, as the case may be).
Lending decisions are subject to an affordability/creditworthiness assessment.
Any property used as security, including your home, may be repossessed if you do not keep up repayments on your mortgage or any other debt secured on it.