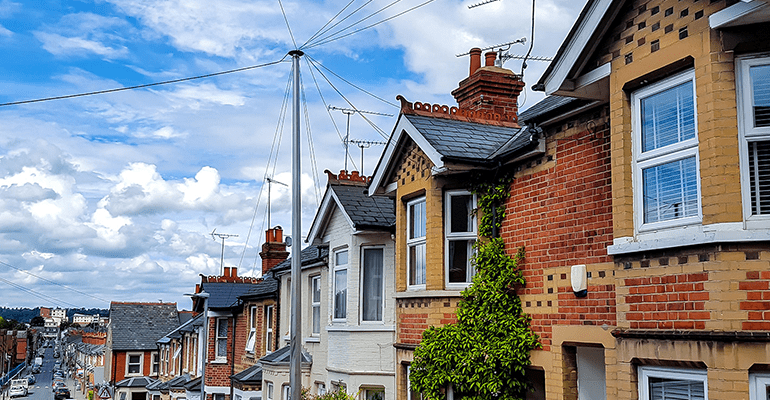 How to quickly fix a broken property chain with a bridging loan
.
Unless you're a first-time buyer, it's likely that any house you buy will be part of a chain.
A property chain describes a group of property buyers and sellers who are linked together because their purchase or sale depends on another somewhere along the chain. The chain begins with someone who isn't selling a home, only buying (such as a first-time buyer), and ends with a vendor who isn't buying a new home, just selling (such as an older parent moving in with family).
The 'links' in the chain are the people in between who need to both sell and buy a property.
How can a property chain collapse?
While a property chain might just include two people, it could involve many more which increases the odds of something going wrong; just one hiccup can trigger a major domino effect that could scupper the whole process.
A property chain can slow (or break) for a number of reasons, including:
• Somebody could simply change their mind about buying or selling a property.
• A property survey could show costly problems such as damp or structural issues.
• Somebody could have their mortgage application rejected, or the process could be taking too long.
• Gazumping could occur, which happens when a seller decides to sell to someone else for a higher price.
• Unfortunate life events, such as a divorce or a bereavement, could also mean a sale or a purchase doesn't go ahead.
To try and keep your property chain moving, be sure to stay in regular communication with the estate agents and solicitors, and act quickly on things like surveys. Making sure your mortgage application is progressing could also help you avoid any unnecessary delays.
How to fix a broken property chain
If you've found yourself in a broken property chain, there are a number of ways you could take control of the situation to try and avoid having your home purchases scuppered.
Option 1: Complete your sale and rent
If the purchase of your new property has fallen through, or is simply taking too long and you risk losing the buyers for your existing home, you may wish to think about completing the sale on your current home and moving in to rented accommodation.
There are a number of benefits to this. First, you'll have the cash available to move quickly when you do find the home of your dreams. Plus, you'll be an attractive prospect when you put in an offer, as you're ready to move when the vendor is.
Of course, moving into rented accommodation does have its downsides – you'll have to pack and unpack your life not once, but twice, plus rent can be more expensive than mortgage repayments. Just remember though, even though you've got nothing to sell, you could still be part of a chain - albeit at the bottom.
But it could give you some breathing space and take some of the stress out of securing your forever home.
Use a bridging loan to secure your dream home
If you've had a buyer pull out and fear you may lose your new home due to issues with timings, you could try a bridging loan. These secured loans typically last up to 12 months, and allow you to borrow the money you need to buy your new home, while waiting for some other money – usually from the sale of your current home – to come in.
We've got decades of experience getting bridging applications completed quickly – and much faster than a typical fixed-term loan or mortgage. This means a Together Bridging loans for chain breaks could get you the cash you need while waiting for longer-term borrowing to be arranged.
There are no monthly repayments on Together Bridging loans, so you won't end up paying for two mortgages at the same time. Instead, interest is charged monthly and 'rolled up' to be repaid in a lump sum, with the initial loan plus any fees and charges, on or before the end of the 12 month term.
If you do go with this option, it may be wise to wait until you've exchanged contracts before you sign on the dotted line for your bridging loan. We say this because if you get gazumped at the last minute, you'll still have a loan to pay off.
Learn more about Together's Chain Break Bridging loans, or speak to a finance broker who'll be able to explore all the options available to you.
All content factually correct at the time of publishing.
Articles on our website are designed to be useful for our customers, and potential customers. A variety of different topics are covered, touching on legal, taxation, financial, and practical issues. However, we offer no warranty or assurance that the content is accurate in all respects, and you should not therefore act in reliance on any of the information presented here. We would always recommend that you consult with qualified professionals with specific knowledge of your circumstances before proceeding (for example: a solicitor, surveyor or accountant, as the case may be).
Lending decisions are subject to an affordability/creditworthiness assessment.
Any property used as security, including your home, may be repossessed if you do not keep up repayments on your mortgage or any other debt secured on it.