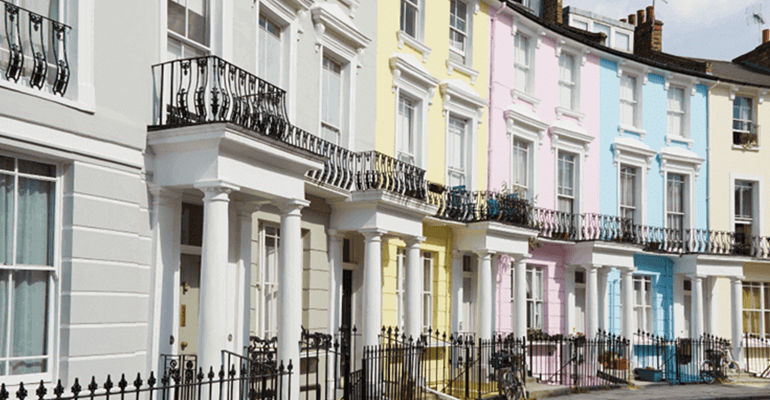 How to spot an up-and-coming neighbourhood
.
In today's Britain, house prices are often such that buyers are priced out of the most desirable areas. So you – and others like you – might be hunting for that next happening hotspot.
If you're an investor, you may be searching not only for a property you can add value to, but an area that could further your investment. And, of course, be popular among potential tenants.
With house prices still on the up, we're taking another look at this blog we first published in 2019, and discussing how to spot an up and coming area in 2021.
Solid housing stock
Online agent Strike have hit the nail on the head – young people do know where it's at! They suggest following the 20s and 30s to get an idea of the next happening neighbourhoods. These areas are often those with affordable, high-density housing that's suited to young professionals and other typical first-time buyers.
If you're after an investment property, look for areas with plenty of traditional terraces needing a little TLC to restore them to their former glory. These houses are typically right-sized for a young couple, providing a second bedroom for a home office or a small child.
Days on market
A new one to our list, comparing how quickly houses are selling across different areas is one way to find an up and coming spot. Take a look at Rightmove or Zoopla – if properties tend to be on the market for weeks rather than months, it's an obvious sign that an area is desirable. One of the only times we might recommend following the crowd!
Good schools
Areas with good schools are like nectar for families with money to spend, and arguably more attractive than ever once they re-open. This can both increase house prices and drive an improvement in local amenities, as cafes and restaurants spring up to serve the needs of these cash-rich mums and dads.
You can find Ofsted inspection results online. Each report is detailed and worth reading.
Look out for scaffolding
Though typically an unattractive sight, if a neighbourhood has lots of scaffolding and skips lining the streets, this could be a positive indication of rejuvenation and investment. It may suggest a number of things – that homeowners want to invest in staying put, or that other developers have already pegged it as the next desirable spot. If you discover these areas early on, you could bag a bargain before house prices start to catch up.
Improving public transport links
The expensive cost of running a car, combined with congested roads and pricey parking, may explain the widely-reported news that younger people are falling out of love with car ownership. Areas with strong public transport are therefore sought-after, thanks to the ease of access they provide to city centres and other areas of high employment.
You'd be forgiven for thinking the pandemic has made transport links into cities redundant. But the vaccine has brought new hope that life will return to some kind of normality this year. Even if we're not travelling to work as often, one article suggests we'll be hankering to get back to 'party-central' cities as soon as it's safe.
An announcement of a new line can transform the prospects for an area previously under-served by public transport, with an increase in demand for properties and – ultimately – higher house prices.
For instance, research by Lloyds Bank shows that from 2013 to 2015, house prices for properties on Manchester's tram network increased in value at almost twice the city's average rate (11% vs. 6%).
A high street with potential
Shops and restaurants tend to research an area extensively before opening up on the high street – likely even more so post-lockdown – so they may well have done the homework for you.
The emergence of niche retailers (think delicatessens, vegan cafes, and craft ale bars) can indicate local residents have disposable income. This is especially true of areas populated by young professionals and artsy graduates, which can morph into urban villages.
It's often a case that one particularly successful 'anchor' project can underpin the regeneration of an entire neighbourhood. An example is the Tobacco Factory in Southville, Bristol, which was saved from demolition in the 1990s.
These days, its home to a successful theatre, independent restaurant, and office space for small enterprises; the project has helped to transform this formerly deprived area into one of the city's most sought-after (and expensive) locales.
You can often find out about local projects online through community Facebook groups and so on. It may be that your chosen high street is at the very beginning of its journey, so look for potential. Tell-tale signs are plentiful footfall, wide pavements, and affordable units.
Close to other affluent areas
However, if these premium supermarkets and retailers already exist, it's possible the area has already reached its growth potential. Fortunately, this could mean surrounding areas might be next to climb the social ladder.
While you're keeping your eyes peeled for a local Waitrose, a recent Savills report suggests you should also be watching out for the next status symbol: the electric car. Their research found that on average, private ownership of electric vehicles and hybrids in local authorities with an average house price of over £500,000 are more than four times those seen where the average price is under £200,000.
So if the hum of an electric car has begun to replace the revving of a V8, it's a sign your neighbouring area is an affluent spot. And if you've got some of the other items we've mentioned on this list, it's an excellent indication that your area could be the next one on the up.
All content factually correct at the time of publishing.
Articles on our website are designed to be useful for our customers, and potential customers. A variety of different topics are covered, touching on legal, taxation, financial, and practical issues. However, we offer no warranty or assurance that the content is accurate in all respects, and you should not therefore act in reliance on any of the information presented here. We would always recommend that you consult with qualified professionals with specific knowledge of your circumstances before proceeding (for example: a solicitor, surveyor or accountant, as the case may be).
Lending decisions are subject to an affordability/creditworthiness assessment.
Any property used as security, including your home, may be repossessed if you do not keep up repayments on your mortgage or any other debt secured on it.