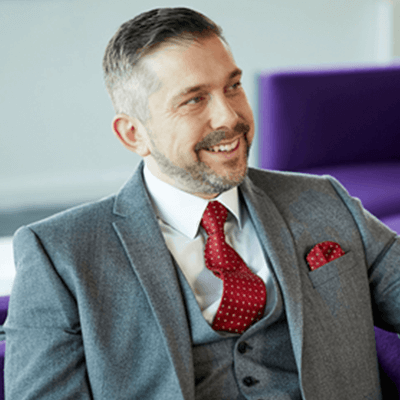 Auction expert Scott Hendry on week one of The Great House Giveaway.
"If it were easy, everyone would be doing it"
.
As auction experts, Together have been involved with the production of the show since its inception and provided the funds for the purchase and refurbishment of each project.
Airing weekday afternoons at 4pm and presented by actor and property developer Simon O'Brien, each episode pairs up two strangers to buy a property at auction and flip it within six months – keeping any profit they make for themselves. There's plenty of drama, from tight budgets to dodgy DIY, and of course some teams gel better than others…
There's lots to be learned about property development, too. We asked our resident auction expert, Scott Hendry, to share his thoughts.
Monday
Leeds girls Emily and Vikki broke the golden rule – going over their maximum budget in the auction room. But it was all worthwhile, with a comprehensive and high-quality renovation of a Victorian semi in Bradford.
Key to their success was bringing a previous loft conversion within building regulations, and adding an en-suite bathroom to the master bedroom. Adding an extra bedroom is a sure-fire way to add value, especially if you don't have to sacrifice much of the existing space to achieve it; the front bedroom is still a great size, even after extending the landing to facilitate access.
The high standard of finish meant the property went to sealed bids and a really substantial profit. Watch out for Emily and Vikki at future auctions – I suspect this may be the beginnings of a formidable professional relationship!
Tuesday
Beautician Rachael and riding school worker Aeron bought a 1940s end-terrace in Gorton, Manchester. Theirs was a big project, with a very dated and damp property that needed total gutting.
The pair did well to come away with a profit, but I think they realised fairly early on how difficult renovating actually is – especially if you're doing it around a full-time job. As the saying goes, if it were easy, everyone would be doing it. But it was a really smart choice to keep the original roll-top bath and introduce some antique-style fittings in the bathroom and kitchen, as it's these rooms that sell homes.
Wednesday
This episode featured Mike and Manaswi, who bought an attractive mid-terrace in the fashionable neighbourhood of Clarendon Park, Leicester. Already in good condition when it was bought for them by Simon O'Brien, they attempted more of a restoration than a renovation. They subsequently ran over budget, eating into their potential profit.
What they hadn't bargained for was a stuttering local market. Coupled with their firm six-month deadline, their tastefully renovated property ultimately sold for around 10% less than similar listings in the area had before – resulting in the series' first loss.
The pair may have had more joy had they won the detached 80s executive home in Hinckley, which sold just above their maximum bid. Freed from the distractions of period charm, this affable duo could have secured the profit their hard work so richly deserved.
Thursday
Thursday's renovators, Eva and Sam, couldn't see eye-to-eye and both walked away from their Rugby wreck renovation project. This house demonstrated that buying at auction means you don't always get the 'vacant possession' you expect when buying a house; it was full of junk, and they needed more than one skip to clear it.
After they handed back the keys, the necessary works were completed by Simon O'Brien's professional team and the project ran out of time. So the property went back under the hammer – and whoever bought it got a total bargain. It just goes to show some quality properties end up in the catalogue, for all sorts of reasons.
Friday
NHS workers Danni and Ceri took on a bungalow on Anglesey around their hectic work schedules – with more than a helping hand from Ceri's builder dad.
Buying right at the top of their budget didn't leave much room for profit, and unforeseen issues (notably finding asbestos in the ceilings) meant they walked away with relatively little for their efforts.
It's for reasons like this that I always recommend viewing an auction property before bidding. And read the legal pack!
Five more teams will be trying their luck this week. Tune in at 4pm to see how they get on.
All content factually correct at the time of publishing.
Articles on our website are designed to be useful for our customers, and potential customers. A variety of different topics are covered, touching on legal, taxation, financial, and practical issues. However, we offer no warranty or assurance that the content is accurate in all respects, and you should not therefore act in reliance on any of the information presented here. We would always recommend that you consult with qualified professionals with specific knowledge of your circumstances before proceeding (for example: a solicitor, surveyor or accountant, as the case may be).
Lending decisions are subject to an affordability/creditworthiness assessment.
Any property used as security, including your home, may be repossessed if you do not keep up repayments on your mortgage or any other debt secured on it.