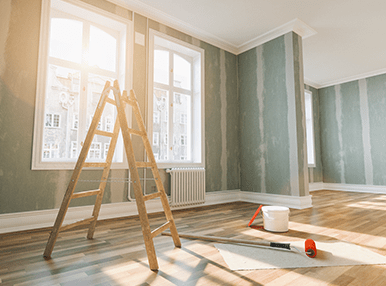 Is it worth renovating a buy-to-let property
.
If your buy-to-let property is in a decent state of repair and your tenants don't have any complaints, is it worth spending money on renovations? Here are four reasons why you might want to think about investing in your property even if you think it's fine as it is.
1. You could push up the rental price
If you're limited on space but an extra bedroom could push your property into the next rental price bracket, it could be worth considering adding a room. Most lofts can be converted to create an additional bedroom and work can be completed in a matter of a few weeks. But you don't have to add rooms to increase your rent. In areas where quality finishes are important, spending a little more to get the details right – for example, on a luxury bathroom rather than a standard fit out – you could find you can charge more per month, recouping your spend and increasing your profits in the longer term.
2. You could attract a different kind of tenant
If your property has two bedrooms but is in an area with good schools that's popular with families, adding an extra bedroom could help move your property out of 'single professionals and couples' into the 'families with kids' market. Or, if your property is in a prestigious area where high-end design is in demand, adding a high spec kitchen could be the thing that draws more affluent renters in. Always think about what matters most to the kind of tenants you want and plan your renovations with them in mind.
3. You could reduce your costs in the longer term
If your home is let over a long period, there are bound to be regular costs to deal with everyday wear and tear. But if you've got a changeover of tenants or are just starting out, it could be worth dealing with any nagging issues now to prevent costs further down the line. For example, making sure baths, showers and sinks are all properly fitted and sealed can prevent damage from leaks, while spending a little bit more to fit hard-wearing carpets that stand up to more wear than cheaper versions could mean you need to replace them less often.
Improving the energy efficiency of your property is also worth doing. While current requirements are to have a minimum EPC rating of E, this might change in the future so it's worth doing everything you can to make your property more efficient. Plus, insulation and well-sealed windows on doors will help lower your tenants' bills and make your house a more pleasant place to live.
4. You could increase the resale value
If you're planning to sell your property at a later date to cash in on any increase in value, it's worth investing a bit of cash in it while you have it. As with your own home, making improvements can not only make it a nicer place to live, it can add to the overall value too. Extensions, kitchens and bathrooms are good bets, though always do your sums carefully to make sure any improvements make sense financially.
References
https://www.telegraph.co.uk/property/landlord-guide/should-i-renovate-my-buy-to-let-property/
https://www.mortgageadvicebureau.com/expert-advice/buy-to-let/how-to-renovate-a-rental-property-to-reduce-future-maintenance-costs
All content factually correct at the time of publishing.
Articles on our website are designed to be useful for our customers, and potential customers. A variety of different topics are covered, touching on legal, taxation, financial, and practical issues. However, we offer no warranty or assurance that the content is accurate in all respects, and you should not therefore act in reliance on any of the information presented here. We would always recommend that you consult with qualified professionals with specific knowledge of your circumstances before proceeding (for example: a solicitor, surveyor or accountant, as the case may be).
Lending decisions are subject to an affordability/creditworthiness assessment.
Any property used as security, including your home, may be repossessed if you do not keep up repayments on your mortgage or any other debt secured on it.