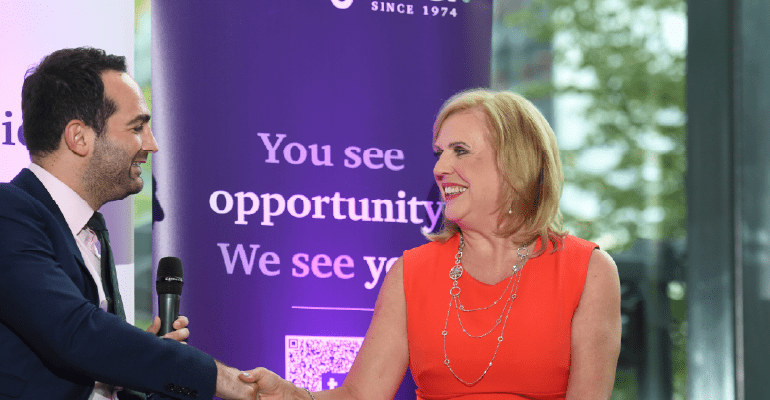 Together hosts Q&A with Dragon's Den Jenny Campbell
.
Manchester's very own Jenny Campbell is an ex-career banker turned business turnaround specialist and cash machine entrepreneur.
After leaving school at 16 to begin her working life counting cash in a bank branch, she climbed through the ranks to become one of the few senior female bankers at the time in the UK.
Following thirty years in the banking trade, Jenny left the corporate world in 2006 in pursuit of a new challenge - to turn around a failing cash machine business owned by her employer at the time, RBS.
She launched a major operational restructure of Hanco ATM Systems, turning it from a business that was making a huge loss in competitive markets to a thriving, profitable entity operating across Europe. She later went on to buyout the business from RBS and become the majority shareholder- later relaunching it as YourCash Europe Ltd.
The cash machine company quickly expanded to become a leading provider of ATMs to the retail market across Europe, handling millions of ATM transactions and processing billions in cash value.
Ten years on from taking the business under her wing, Jenny sold YourCash in October 2016 to a company listed on the New York stock exchange.
Previously awarded Business Woman of the Year, Jenny stays true to her favourite business motto- "live by corporate standards, but breathe like an entrepreneur".
At our recent Corporate Event, Elliot Vure, Sales Relationship Director at Together, asked Jenny about her career, her stint as a dragon and for some pearls of wisdom for budding entrepreneurs.
You mentioned buying Hanco during troubling times. How have you seen your own borrowing opportunities through times of economic uncertainty?
"Well, when I bought the business, the talks started in 2008 and it didn't complete until 2010. It was a torturous, torturous journey. There was no money to borrow at that time at all. It was all about getting investors in.
"We took that leap, but we couldn't borrow money anywhere. We were then stuck with a group of unruly stakeholders for two and a half years until I bought them out.
"We rebuilt the business then when the debt markets were bad. I say to my sons, now they're both entrepreneurs, and one of them property development, 'you have to be resilient as an entrepreneur. There are opportunities in these times and one person's challenges another person's opportunity'. You just have to make sure you've got backers like Together.
"But there are business deals to be done. Just make sure that you can afford them and you've thought about how you are going to finance them?"
Tell us a bit about your relationship with Together? How have we helped you to further your entrepreneurial ambitions?
"I cry and cry at the state of the high street banks these days. They've just lost the plot completely from when I was a relationship banker in the 90s.
"Therefore, that's Together's opportunity. And my journey with Together has been about being able to pick the phone up to a named person, for that person to come out to the site, to look at what we're trying to do, to negotiate face to face.
"So they're not just fair-weather friends. They're not computer says no. They are the old fashioned banking, if you like, and so that's got to be a lot of opportunity going forward for Together.
Your son also has inherited your entrepreneurial spirit, and we helped him start his journey. Can you tell us a bit about how we were able to help him follow his ambitions?
"So my son age 13, told me that he wanted to be an entrepreneur. I told him he still needed to do well in his exams but he wanted to be the next big thing in property development. So he went to university, did property, came out the other side, got on some management training programmes with some of the big builders and hated it.
"He started his own property journey back in 2018. Together funded on the first project, we're now on the third project but it's not been easy."
"He's always looking at ways to either scale up or expand what he offers for his next projects, and Together will be there alongside him as always."
Recently you did a stint on Dragon's Den where you invested in five different businesses. What about these businesses stood out to you which made you choose to invest?
"Dragon's Den was an enormous experience, which I don't regret at all. But they're are all startups at the end of the day, and nine out of 10, startups fail. So there are very few investments that you will pick off the top of the Den that, frankly, will make your return worth all the time that you spend on it. However, you do help them to get to the next level.
"I actually invested in 12 businesses on the two series. And most viewers think that when you shake on that deal, it completes on the other side, well, it doesn't. There are a number of factors on both sides that can mean the deal doesn't go forward.
"So then I took five deals forward and today I have one of those left, which is a local gin businesses. They did really well on the Den and they've continued to do well during the pandemic, where they turned their hand to hand sanitizer and were able to produce that quicker than any of the big corporations. So I'm sticking with them."
Today, as we endure another bout of economic instability, what advice would you give to anyone unsure of their future investments?
"That's a big question. I mean, property is tough at the moment, isn't it? However, there are bargains to be had so long as you can make that step financially. You've got to have a bit of money behind you and also know where you're able to raise money".
"You have to start small, and then build from there. Younger people who want to be entrepreneurs think they'll be age 30, a millionaire lying on a beach somewhere. That's what they think. And it's not like that is it?
"So my advice is to go out, get some experience and do your research. Go and work in an entrepreneurial business and understand how it got to where it is today. And maybe start your little business on the side while you earn some money."
All content factually correct at the time of publishing.
Articles on our website are designed to be useful for our customers, and potential customers. A variety of different topics are covered, touching on legal, taxation, financial, and practical issues. However, we offer no warranty or assurance that the content is accurate in all respects, and you should not therefore act in reliance on any of the information presented here. We would always recommend that you consult with qualified professionals with specific knowledge of your circumstances before proceeding (for example: a solicitor, surveyor or accountant, as the case may be).
Lending decisions are subject to an affordability/creditworthiness assessment.
Any property used as security, including your home, may be repossessed if you do not keep up repayments on your mortgage or any other debt secured on it.