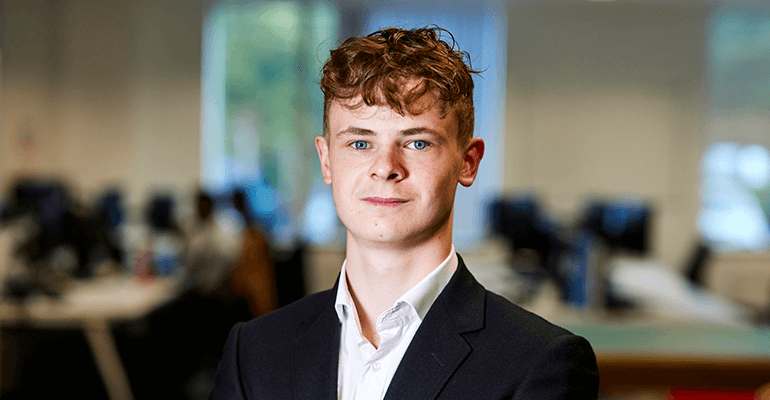 Meet the apprentice: Charlie Clarke
.
Charlie Clarke joined the Together Academy as an apprentice back in September 2022. Charlie now works in the Corporate & Professional team within the Commercial Finance side of our business. Here's what he has to say about Together Academy:
1. When you were looking at the various apprenticeships out there, what made you decide to apply to Together?
"After finishing school I was looking for a full-time job. I came across Together for the first time when I saw a LinkedIn post shared by Sean Williams (who heads up the department I now work in) expressing that Together were looking to hire an apprentice.
"I'd never heard of Together before but I knew I wanted to work within the property finance industry, so I had a look at the website. I initially resonated with our values and it was clear from the website and posts I'd seen on social media that Together really looked after their colleagues. I decided to reach out to Sean who put me in touch with Natalie Newton, the Academy Manager at Together, and the rest is history!"
2. Could you talk us through the recruitment process you had to go through?
"After applying to Together through LinkedIn, I sent over my CV, GCSE grades and predicted A-Level results to Natalie. We had a few chats about my background and my ambitions to ensure I was the right fit for the role and I was then invited into the head office in Cheadle to have a look around and meet the team.
"As soon as I walked in I knew this was somewhere I could see myself working; I was introduced to the Group CEO, Commercial Finance CEO and other members of the Exec team whilst having a tour of the building, which you wouldn't get at many places! The community feel instantly drew me to Together, making it stand out from everywhere else I had applied previously.
"I was thrilled to get the call to find out I'd been successful, and I still love it."
3. After joining the Together Academy and kicking off your role, was there anything that surprised you?
"During initial conversations I'd had with Natalie, she talked about the Together Academy network and how the graduates and apprentices are so closely integrated, and this was apparent straight away. We had a lot of training which I wasn't expecting, so that definitely helped me feel more comfortable in my role. I'm learning as I go and making more and more progress every day.
"I was also surprised at the constant exposure I have with members of the Exec. I speak to colleagues at all levels from around the business every day, and it's great to grow my internal network. I've also managed to attend several external networking events, meeting so many different people from across the finance industry."
4. Could you tell us about a project that you've worked on since joining the academy, where you feel you really made an impact to the business?
"That's one of the many great things about the Together Academy, we're often given the responsibility to work on projects that actually make a difference. One of the projects I've worked on since joining was based on our team's reporting, specifically around where our customer's applications were up to in the funding process.
"Using what I'd learnt from some of the Together Academy training, I helped to create an updated version of the report which clearly details the stage all of our customers' applications are up to, meaning we can easily find out how close the customer is to receiving their funds. This made a real impact to the wider team and means I'm able to regularly present the progress of our customers' applications."
5. What would your advice be to someone looking to apply to join the Together Academy?
"To work out if this is somewhere you'd like to work, take a look at Together's purpose and vision and the commitments they pledge to their colleagues, customers and the community. As well as the website, LinkedIn is a great place to start.
"I'd highly recommend Together as a place to work, they offer fantastic benefits including a generous bonus scheme, a great office to work in and everyone, from the Receptionists to the CEO, is so welcoming!"
Fast-track your career with Together Academy:
Our graduates and apprentices make a real impact on our business, not the coffee. Learn more about Together Academy and accelerated career development:
Find out more
All content factually correct at the time of publishing.
Articles on our website are designed to be useful for our customers, and potential customers. A variety of different topics are covered, touching on legal, taxation, financial, and practical issues. However, we offer no warranty or assurance that the content is accurate in all respects, and you should not therefore act in reliance on any of the information presented here. We would always recommend that you consult with qualified professionals with specific knowledge of your circumstances before proceeding (for example: a solicitor, surveyor or accountant, as the case may be).
Lending decisions are subject to an affordability/creditworthiness assessment.
Any property used as security, including your home, may be repossessed if you do not keep up repayments on your mortgage or any other debt secured on it.