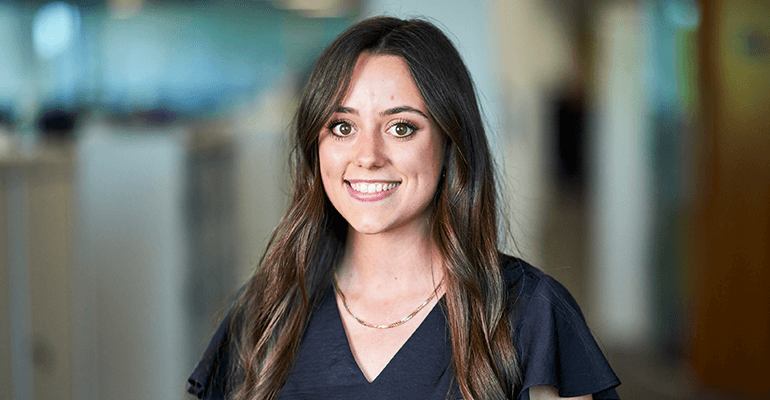 Meet the graduate: Annabelle Hulmes
.
Annabelle is a graduate here at Together and has been a part of the Together Academy for over a year. Here's what she has to say about the scheme:
1. When you were looking at the various graduate programmes available, what made you decide to apply to Together?
"Whilst I was studying at university, I did a placement year within the specialist lending industry working within the project management world. Although I didn't have a specific idea of what I wanted to do, I knew I wanted to stick with financial services due to the fast paced nature, so Together ticked all the boxes.
"After reading the job description of the Together Academy graduate scheme, it was evident that regardless of your role, you're guaranteed to gain knowledge of the entire business rather than just the role you're in, which is exactly what I was after.
"Together is in a great location with a nice office space, and they offer a brilliant benefits package, all of which contributed to my decision to apply. I could tell that I wasn't applying for just another admin graduate role and knew the job would be high profile with a lot of pressure, which is just what I was looking for at the time."
2. Could you talk us through the recruitment process you had to go through?
"After applying through the website, Natalie, the Academy Manager, gave me a call to have a chat about the programme and understand a little more about me. She told me that the role would be quite varied, but likely within the Change & Transformation area – which was right up my street.
"Shortly after I was invited to the assessment centre, but as it was during COVID, this was all done online. It was quite daunting to see that many faces on your screen, but at the same time, it was great to see how many people across the business were involved, from exec members to senior managers and even previous grads.
"It was a busy day; we did a problem solving task, an assessment to check our knowledge of the industry, individual presentations and then if you were successful, a final interview. It was intense, but enjoyable and I was already building relationships with colleagues in the business from that point on.
"The next stage was the social evening, where successful candidates were invited to the Together offices to network with various colleagues from around the business. Again, slightly strange experience as we were still social distancing at the time! But it was great to meet people face-to-face and get to know even more colleagues. My initial impressions were amazing, everyone was so friendly and it was clear the business have a passion for graduates.
"Shortly after the social evening, I received a call from Natalie to say I had been offered the position and accepted immediately!"
3. How has being part of the Together Academy accelerated your development?
"Having the constant support from Natalie since joining the business has been amazing, we have regular catch ups where we look at opportunities for me to develop and create an action plan to get there.
"We're also offered lots of training including presentation skills and more technical change management training. There's plenty of opportunity to learn about yourself too, through the use of different self-awareness and profiling tools."
4. Could you tell us about a project that you've worked on since joining the academy, where you feel you really made an impact to the business?
"Since joining the business, Together have transitioned to a new way of working in the project and change world. I've been hugely involved with the adoption of the Agile change methodology, which has been challenging as I had to learn the old and new ways! The department I sit in are central to the ongoing changes, so we had to understand how to work in an Agile way first, before working collaboratively to cascade this to the wider teams and drive the change.
"We're just over a year down the line now and it has been great to see the changes implemented, colleagues have been working much more collaboratively whilst focusing on delivering the value from the various initiatives."
5. What would your advice be to someone looking to apply to join the Together Academy?
"Be completely yourself. There's a lot of personality at Together so make sure you show yours! Have a willingness and openness to get involved in anything and learn as much as you can.
"I'd definitely recommend Together as a place to work, the graduate programme sets itself apart from any others I researched, so if you're thinking about applying, go for it!"
Fast-track your career with Together Academy:
Our graduates and apprentices make a real impact on our business, not the coffee. Learn more about Together Academy and accelerated career development:
Find out more
All content factually correct at the time of publishing.
Articles on our website are designed to be useful for our customers, and potential customers. A variety of different topics are covered, touching on legal, taxation, financial, and practical issues. However, we offer no warranty or assurance that the content is accurate in all respects, and you should not therefore act in reliance on any of the information presented here. We would always recommend that you consult with qualified professionals with specific knowledge of your circumstances before proceeding (for example: a solicitor, surveyor or accountant, as the case may be).
Lending decisions are subject to an affordability/creditworthiness assessment.
Any property used as security, including your home, may be repossessed if you do not keep up repayments on your mortgage or any other debt secured on it.