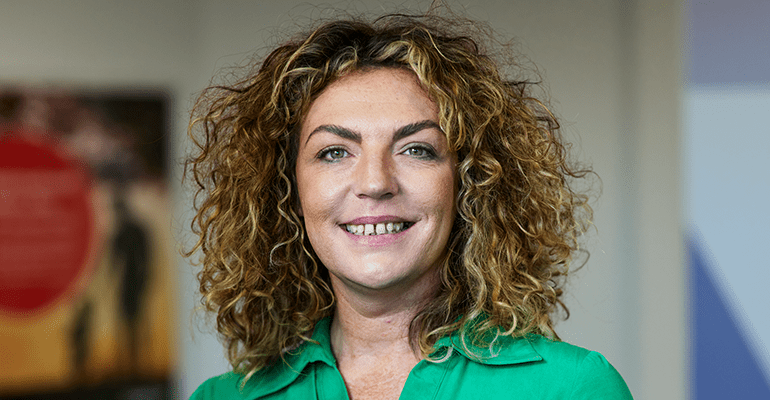 Meet the team – Emma Barker, Roving Underwriting Team Manager
.
Can you introduce yourself?
Hello, I'm Emma Barker, and I am Roving Underwriting Team Manager in the Personal Finance Underwriting team here at Together.
What's your experience of working at Together?
I've been working at Together for 21 years in total, starting in 2002. So I've seen the company go through a lot of change and development over the years. In that time I've worked my way up, completing a variety of roles within Personal Finance Underwriting, from an administration assistant to Roving Underwriting Team Manager. I feel as though this has given me a well round approach to my role.
What can you share with us about your role?
My role as a Roving Underwriter is such an important role to our brokers. We provide them with an enhanced level of service and act as a key point of contact across everything residential. Whether that's a new enquiry, support with an existing application, or underwriting applications to ensure they are ready for offer on submission. It's a role where we can help brokers and in turn help their clients.
Can you talk about a recent case study of a customer you've helped?
It is difficult to pinpoint one particular case, our role as Roving Underwriters is to review all applications from brokers, from those that fit our standard criteria to referrals. Our broker partners are important to us, and our role is to work with them to get applications to completion as quickly and as efficient as possible, not only does this help our brokers, but it supports an excellent customer journey.
In line with the market, we're seeing a rise in Second charge cases at the moment, below is a recent case.
Mr and Mrs Holroyd bought their property in 2016, which came with some land and an outbuilding. As they were both working from home more often, they wanted to renovate some space. They are both self-employed with three successful businesses between them, but combined with two historic defaults from 4 years ago, their bank was unable to help, this is where Together stepped in.
With our flexible criteria for income, we assessed their situation and were able to lend the funds with confidence, helping Mr and Mrs Holroyd create more space in their home.
Tell us about the types of people you can help?
Our role is to support our broker partners by helping them understand our criteria, processes and requirements. We can help all different types of customers, from self-employed, varying types of income, to helping a First time buyer onto the ladder through Shared Ownership.
What attracted you to working at Together and in particular financial services?
Before starting with Together I had a number of part-time jobs doing, everything from working in a pub to cleaning buses at night. I really wanted a career, but had no idea what I was good at. I came for an interview and really liked the idea of working in specialist lending. I thought it would be interesting and I was right! As soon as I started at Together I immediately felt like part of the family. Working here felt natural and it turned out I had a talent for underwriting.
What's key to building (and maintaining) strong relationships with clients?
Trust! I have spent a long time building relationships with our brokers and the most important thing is they need to trust that you are competent and have the knowledge and skills to support them.
Describe your job in three words
Rewarding, occasionally manic and always fun.
Tell us something that not many people know about you
I'm actually a photographer in my spare time. I love it as a hobby. Mainly landscapes and wall prints, and also creating artwork for framing. If you fancy seeing any – you can check out my work on Instagram at Emma Barker Photography.
What motivates you?
Getting things right first time for my brokers. There is nothing more rewarding than helping brokers and their clients reach their property ambitions.
What does a typical week look like for you?
Most weeks I will be spent traveling around the country visiting brokers. I spend dedicated time catching up with my team and spending time in the office with the underwriting team. In between that, I make time to manage a huge number of emails and phone calls!
Thanks Emma! We have a dedicated team of experts who are here to support you in realising your clients' property ambitions. Get in touch with us today.
All content factually correct at the time of publishing.
Articles on our website are designed to be useful for our customers, and potential customers. A variety of different topics are covered, touching on legal, taxation, financial, and practical issues. However, we offer no warranty or assurance that the content is accurate in all respects, and you should not therefore act in reliance on any of the information presented here. We would always recommend that you consult with qualified professionals with specific knowledge of your circumstances before proceeding (for example: a solicitor, surveyor or accountant, as the case may be).
Lending decisions are subject to an affordability/creditworthiness assessment.
Any property used as security, including your home, may be repossessed if you do not keep up repayments on your mortgage or any other debt secured on it.