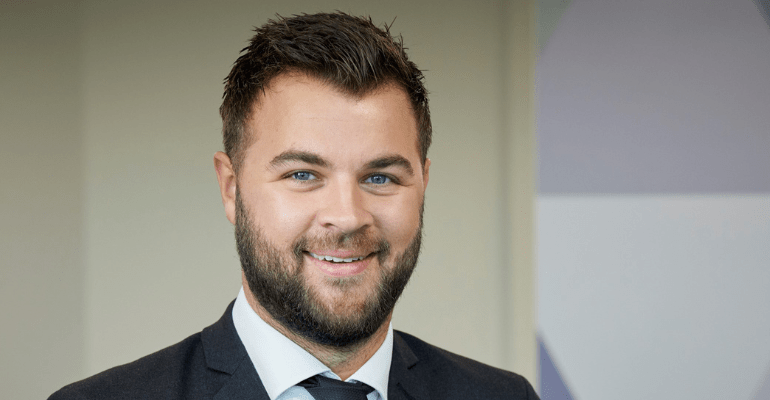 Michael Schofield – Commercial Underwriting Director
.
Can you introduce yourself?
Hello, I'm Michael Schofield, Commercial Underwriting Director at Together. I originally started as an apprentice at Together, over 11 years ago now, working in the underwriting department. Before starting at Together I had no experience of finance or even an office job! I was a chef and then worked in a factory loading wagons. Even though this is far from finance, it gave me good key skills and I developed a good work ethic to bring to Together.
What's your experience of working at Together?
Together is a vibrant, unique and fun place to work, and it's the people that make it for me. Those who work hard and treat our customers the way they would like to be treated, creates a good community to work in. Working at Together I've been given opportunities to develop and it's enabled me to work my way up. And now our brokers see me as a main point of contact for bridging and a trusted person to help them.
Can you talk about a recent case study of a customer you've helped?
Recently we helped a customer to complete on an auction purchase in just a couple of days. He'd been let down by a high street lender on a Buy to let application for an auction purchase which needed completing in 28 days.
We were able to help with a Bridging loan and progress the case at speed, and due to our flexibility around AVMs and dual representation, there was no need for a valuation and we only needed one firm of solicitors, saving the customer both time and money.
Tell us about the types of people you can help?
We can help many types of customer, from first time buyers to experienced property developers. Our common sense approach means we'll always look at the bigger picture to try and help customers with their property ambitions.
What attracted you to working at Together and in particular financial services?
I initially wanted to get some experience working in an office as merely an apprentice and after only a few days I was hooked! The fast pace office environment and the great people who work at Together is one of the reasons that I've stayed.
What's key to building (and maintaining) strong relationships with clients?
Service is a priority for us, being open and honest, doing what you say you'll do and brokers like to be kept up-to-date, whether it's good or bad news.
Describe your job in three words
Rewarding, fun and ever-changing.
What motivates you?
Building new broker relationships and maintaining the ones we have are my biggest motivators. For me, Together is the best specialist finance company in the country, and I enjoy nothing more than proving this time and time again.
What does a typical week look like?
I think the main reason I enjoy my job is that every day is different. Every application is different and every broker is different. Which means each day you don't know what might land on your desk, and that's what I love. It's a job where you're constantly learning, whether it's to changes in the market, or a new type of case. One thing is for sure every day is fun, time literally flies within underwriting.
All content factually correct at the time of publishing.
Articles on our website are designed to be useful for our customers, and potential customers. A variety of different topics are covered, touching on legal, taxation, financial, and practical issues. However, we offer no warranty or assurance that the content is accurate in all respects, and you should not therefore act in reliance on any of the information presented here. We would always recommend that you consult with qualified professionals with specific knowledge of your circumstances before proceeding (for example: a solicitor, surveyor or accountant, as the case may be).
Lending decisions are subject to an affordability/creditworthiness assessment.
Any property used as security, including your home, may be repossessed if you do not keep up repayments on your mortgage or any other debt secured on it.