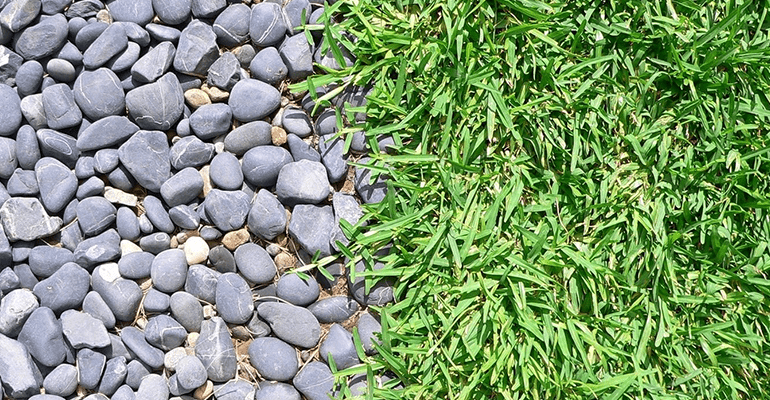 What does the post-pandemic British garden look like?
.
While many of us already found our green fingers last year, 2021 presents an opportunity to get creative and change up our outdoor spaces. We've got bigger aspirations and want more from our gardens, as somewhere to relax and socialise, and as a functional and practical space.
Before Easter, Together conducted an online survey* of 2,000 UK homeowners, to find out exactly how we're using (and how we'd like to use) our outdoor plots. Here's what we discovered.
Why are we spending more time thinking about gardens?
Most would agree that gardens have provided a much needed escape over the course of the pandemic, and many of our polled homeowners tended to concur. Of those we surveyed, 44% said they love their outdoor space, and invest time and money into the way it looks. Another recent report revealed that more than half of Brits spent 84 minutes longer in their gardens each month, compared to 2019.
Others have been left pining for something more, with 32% of our surveyed homeowners wishing they had the time or budget to give their garden a makeover. We've also seen a rise in shows like Your Garden Made Perfect taking over primetime TV, and lots of heated discussions online over design and style choices.
Either way, we Brits have gardens on the brain. And if Coronavirus cases in the UK remain under control as hoped, we should see social distancing measures relax in time for the summer months.
Right now though, we've already passed that 29th March milestone, allowing us to invite a few friends and family members to spend time with us outside.
So what does the average British garden look like?
Unsurprisingly, our survey revealed that gardens in the East of England and East Midlands are the most generous in size, while Londoners are the most likely to have a 'tiny' outside space e.g. a balcony or a patio.
However, 84% of the 2,000 homeowners we surveyed said their garden was of average size or above – meaning they had more than a paved yard. Half of our participants also described their garden as 'traditional' – think a lawn, seating area and border planting. Using these results, and the items our contributors said they had in their garden, we're picturing something like this:
At first glance, this all looks pretty predictable. But when we drilled down into the key demographics, we stumbled across a few interesting finds.
First of all, the 25- 45 age group are the most likely to have play equipment and or family-friendly garden, but were also the group most likely to have an outdoor bar! Now we're not passing judgement, but it might have something to do with months of home schooling… we'll let you draw your own conclusions on that one!
Our poll also revealed that Londoners were the least likely to have a traditional garden such as this one, and the most likely (at 18%) to have an outdoor space they'd describe as 'modern' – with little to no lawn, and lots of plants and architectural features. With London respondents also having the smallest space of the regions, perhaps they've been forced to get creative to get the most out of their gardens?
Looking at our other results, there does appear to be a correlation between the size and style of our participant's gardens, as well as age. Of the homeowners over the age of 65, 64% described their garden as 'traditional', compared to just 15% of 18-to-24 year olds across all regions. Similarly, 26% of over-65s said their garden was large, with 0% of 18-to-24 year olds able to say the same.
In addition to having the smallest gardens, Londoners and 18-24s alike are also the most likely to have larger and more expensive items like a pool. Compared to just 4% of our contributors on average, a whopping 16% of Londoners and 23% of 18-24s said they had a pool in their garden.
It's more than probable that most of these people are actually referring to a communal pool in their apartment building – with these groups the most likely to live in a flat. Regardless, 18-to-24s are twice as likely to have access to a pool over a shed (versus 60% of over-55s having outdoor storage), which suggests they value entertainment over practicality.
Buying and investing
When it came to buying their home, 20% of the homeowners we surveyed said the size/orientation/condition of their outside space was essential, a further 40% said it was very important, and 32% revealed it was a 'nice to have'. Only 9% weren't bothered by outside space at all. These findings are synonymous with that of Rightmove and Property Reporter, who concur that your garden could be the key to attracting a buyer and/or increasing the value of your home.
Gardens are just as important to those looking for a place to rent too, Rightmove revealed last year. 59% of renters placed access to a bigger garden at the top of their search criteria, with Rightmove urging agents to take more pictures of a property's outdoor space to attract tenants. If you're a landlord, or you're looking to invest in a buy-to-let property, be sure to keep the size and appeal of outdoor space front of mind.
What does the dream British garden look like?
With our gardens opening up again, some of us are feeling the pressure to impress – and shows like Your Garden Made Perfect are fuelling that fire. With the programme's homeowners spending upwards of £20,000, it appears we're more willing to spend than previous years to get what we want.
According to our results, younger people seem to have the most ambition, and are spending more on their gardens then their older counterparts. 15% of the 25-44 year old's we surveyed spent more than £1,000 on their gardens in the last year, while over-65's were the most frugal – with 55% spending less than £100.
The over-65s are also the least likely to have a dream garden, perhaps because this group are also the most emotionally connected to their space, and love their gardens already.
But if you're like many of our 2,000 polled homeowners, your dream garden might resemble something like this, with the following new additions:
At the top of British wish lists is the addition of a summer house. Whether that's somewhere to work, a shaded place to relax, or a hobby and crafting space, 20% of our contributors would buy a summer house above anything else.
Next up is the desire for established plants and landscaping – coming in at 17% of respondents – perhaps looking to switch up their traditional garden style for something more modern and urban.
It's clear that pubs have also been sorely missed, and in London in particular, with 10% of participants in this area putting an outdoor bar as their first dream big-ticket item. Online homeware retailer MADE recently revealed that searches for garden bars had gone up 122% in the last twelve months – with shoppers keen to recreate the experience from home.
13% said the item at the very top of their wish list was a swimming pool – despite the UK's less than reliable weather. For the less family-oriented and perhaps more romantic among us, 11% said their first addition would be a hot tub.
Almost one in five 25-to-34 year olds put an outdoor kitchen at the top of their shopping lists (more than any other age group), again suggesting the idea for outdoor family and friend entertaining space.
Could we help?
Some of these items are pretty expensive, and 32% of our homeowners said they didn't currently have the money to improve their gardens. However, almost a quarter (24%) are willing to borrow to make it happen.
According to our survey, 10% would borrow up to £20,000, and 6% would be willing to borrow over £20,000, increasing to 12% of 35-to-44s. This could be because this age group had more big-ticket items on their wish lists.
If borrowing seems like the right next step for you, there are a couple of options.
If you've got a mortgage, you might be able to remortgage and borrow a little bit more to complete your outdoor makeover.
Or, you may wish to consider a secured loan (also known as a 'second-charge mortgage'). This loan is secured against your home and will run alongside – but independent of – your current mortgage. It has its own rate and terms, so you could borrow over a shorter period than remains on your current mortgage, and potentially pay back less in the long-term.
*Survey of 2,000 UK homeowners conducted online on behalf of Together, March 2021.
All content factually correct at the time of publishing.
Articles on our website are designed to be useful for our customers, and potential customers. A variety of different topics are covered, touching on legal, taxation, financial, and practical issues. However, we offer no warranty or assurance that the content is accurate in all respects, and you should not therefore act in reliance on any of the information presented here. We would always recommend that you consult with qualified professionals with specific knowledge of your circumstances before proceeding (for example: a solicitor, surveyor or accountant, as the case may be).
Lending decisions are subject to an affordability/creditworthiness assessment.
Any property used as security, including your home, may be repossessed if you do not keep up repayments on your mortgage or any other debt secured on it.