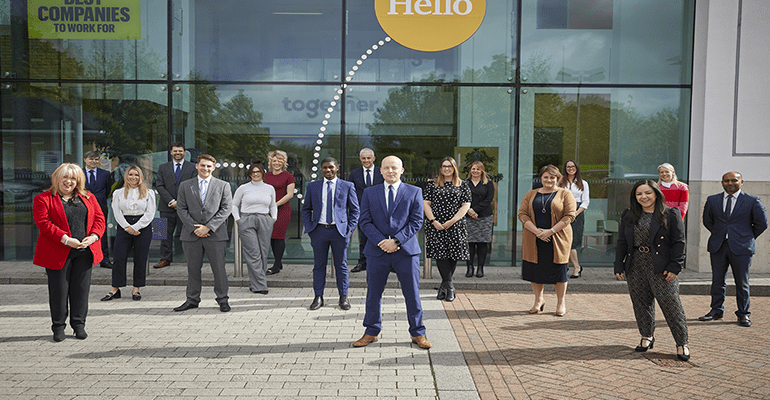 Together welcomes two new hires to restructured Intermediary Relations team
.
We are happy to share some changes to the team structure in our Intermediary Relations broker-facing sales teams to reflect recent changes to distribution, including the recruitment of Michelle Walsh and promotion of Kara Williams.
The department is now led by Sundeep Patel, and has been restructured so team members are aligned geographically rather than by job role, as they were previously.
Our 'South' team is headed by Tanya Elmaz, and covers the entirety of Southern England and South Wales. The team includes Lorenzo Satchell and Marlyen Edwards, who are Regional Account Managers – a role in which they're responsible for managing existing relationships on a day-to-day basis, as well as assisting in the development of strategic account plans to support growth and innovation. Lorenzo looks after London and the Southeast, with Marylen covering the south coast.
They are joined by two Business Development Managers - Sally Precious-Ward and Michelle Walsh, who also facilitate new business with packagers who use our services, as well as manage a panel of accounts. Sally's patch covers the West and Thames Valley, and Michelle – who is joining Together for a second time – covers South Wales.
Tanya explained: "I'm delighted to be welcoming Michelle back to Together. Her wealth of experience will prove a real asset to the team, especially given the huge opportunity that the affordable South Wales market presents to property investors – and, by extension, the region's mortgage industry professionals."
Tanya's counterpart across the North is Paula Purdy, whose team has a similar structure. James Briggs and Gary Lomax are Regional Account Managers for the Northwest and Northeast respectively, with Gary also picking up some accounts close to his home in Cheshire.
They are joined by Business Development Managers Joanna Elton, who looks after the Midlands and East of England, and Kara Williams, who looks after Northern England and Scotland.
Kara has been with Together for seven years and was recently promoted into this role. She said: "It has been a long journey, but definitely worth it for the experiences from which I have learnt. I have to thank the managers who have shown confidence in me and the support of my colleagues, it shows that Together really want people to progress".
Kara's former colleagues in the Telephony Relationship team continue to provide quick-fire guidance on cases on an ad-hoc basis. They're available 9am to 5.30pm, Monday to Friday, on 0161 933 7100.
Sundeep's department also includes Phil Quinn, who maintains relationships with networks and clubs. By raising awareness and improving knowledge of the specialist lending market, Phil is instrumental in connecting challenging cases with our network of experienced packagers.
Sundeep's department is completed by Samantha Lawson who now heads up Operational Support for the channel, and acts as a key liaison with the wider business on projects.
If you have a challenging case, let us know and we'll see how we can help get it across the line.
All content factually correct at the time of publishing.
Articles on our website are designed to be useful for our customers, and potential customers. A variety of different topics are covered, touching on legal, taxation, financial, and practical issues. However, we offer no warranty or assurance that the content is accurate in all respects, and you should not therefore act in reliance on any of the information presented here. We would always recommend that you consult with qualified professionals with specific knowledge of your circumstances before proceeding (for example: a solicitor, surveyor or accountant, as the case may be).
Lending decisions are subject to an affordability/creditworthiness assessment.
Any property used as security, including your home, may be repossessed if you do not keep up repayments on your mortgage or any other debt secured on it.