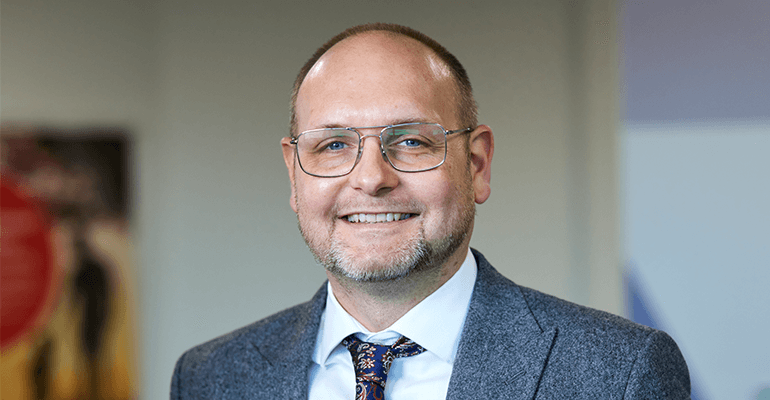 Roving Underwriter - Simon Baker-Smith
.
Can you introduce yourself?
Hello, I'm Simon Baker-Smith and I am a Roving Underwriter here at Together. Before I joined Together in 2005 I worked as a Broker at Freedom Finance. I learned a lot about the industry which definitely helps me in my day to day role.
What's your experience of working at Together?
I've been at Together since 2005, working as an Underwriter, developing and moving my way up to Senior Underwriter, Relationship Manager, Team Manager, and now as Roving Underwriter since 2021.
What can you share about your role at Together?
In my role, I cover a lot of miles all over the country, but being out and seeing our brokers is my favourite part of the role. I feel that the face to face relationship really helps build strong ties with our brokers, having that one on one time goes a long way to strengthen those relationships.
Can you talk about a recent case study of a customer you've helped?
Recently we had an application where the applicants needed £100k to finish building their dream home. As the property was not complete all other lender said no. After seeing photos of the property and the work required to complete the build we were happy to agree to proceed.
The property was worth over £1.4m, both applicants were good earners with a clean credit profile, it made common sense to help them finish building their home. We put the work into the case, reviewing planning permissions and self-build certificates. It was great to see the case submit and go straight to offer with no issues.
Tell us about the types of people you can help?
We see all sorts of applicants - from high net worth individuals looking to borrow for a holiday home, to a young couple looking to purchase their first home using the shared ownership scheme. Each application is unique and I always feel satisfied to see them complete.
What attracted you to working at Together and in particular financial services?
At Together it's the people, that's why I came back in 2008 after leaving for a brief time. There is such a family feel at Together. I work with people I have known for years and we have pretty much grown up together. We know all about each other's families, likes, dislikes, and that is why things work so well. Everyone trusts and values each other's opinion.
What's key to building (and maintaining) strong relationships with clients?
In my role it's accuracy and consistency. By working with brokers over time and providing a consistent, accurate service to them that builds trust with them and in turn brings in the business we want. I also love the face to face element of the role. This I feel really helps to build relationships better than over the phone or over a teams call.
Describe your job in three words
Challenging, Rewarding, Enjoyable.
Tell us something that not many people know about you
Before working in finance I worked in the TV/film industry as a sound engineer. If you watch the credits of The Royle Family series three you'll see my name pop up, if you're fast and can pause it in time!
What motivates you?
Getting it right for our brokers. These are people I have worked with just as long as my colleagues at Together and I have relationships with them in the same way. By providing the service to them to help with their packaging and submissions I see the end result when the cases get submitted and fly through to completion with no issues.
What does a typical week look like?
Monday is usually the school run followed by a day in the office working through referrals, queries and catching up with any emails/paperwork. Then I am out for the rest of the week visiting brokers, usually in Doncaster on a Tuesday, Cardiff or maybe Southampton Wednesday and Thursday, and then Warrington on a Friday. My week varies depending on where I'm needed but my key brokers are around the Cardiff area and also on the south coast.
All content factually correct at the time of publishing.
Articles on our website are designed to be useful for our customers, and potential customers. A variety of different topics are covered, touching on legal, taxation, financial, and practical issues. However, we offer no warranty or assurance that the content is accurate in all respects, and you should not therefore act in reliance on any of the information presented here. We would always recommend that you consult with qualified professionals with specific knowledge of your circumstances before proceeding (for example: a solicitor, surveyor or accountant, as the case may be).
Lending decisions are subject to an affordability/creditworthiness assessment.
Any property used as security, including your home, may be repossessed if you do not keep up repayments on your mortgage or any other debt secured on it.