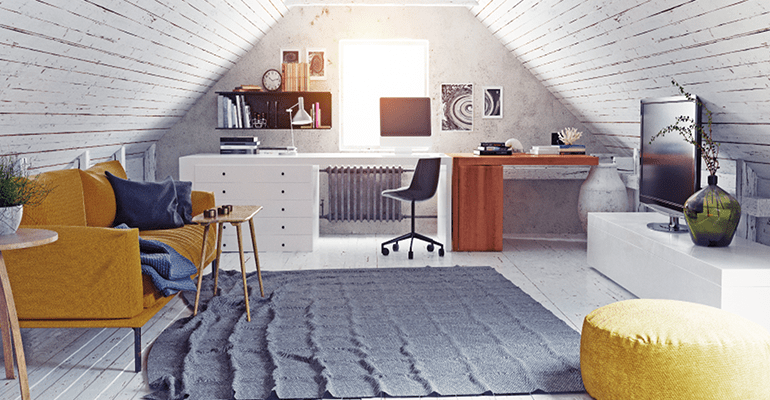 Save on Stamp Duty, by not moving at all
.
The Stamp Duty holiday has convinced many homeowners they need to move on in order to move up, while others have used lockdown as an opportunity to make home improvements. We've explored how renovating could add value to your property for today's needs, whether you're planning to move in the near future or not.
We've already discussed how much you could save by completing your move before the Stamp Duty freeze ends, which has now been extended to 30th June. But if moving seems like an unnecessary hassle, or perhaps you're already in your ideal location, there is another way to get your dream home for less.
A new survey has revealed that 53% of Brits are choosing to do up rather than sell up in 2021. And nearly a third of us would abandon our property purchase if we missed the Stamp Duty holiday cut-off. If you fall into either of these groups, it might be time to start planning how to make your current home work better for you, or how to maximise its value when the time comes to sell again.
What's driving the numbers?
First of all, why are so many of us longing for change? Notorious for being house proud, 40% of Brits have admitted to 'Zoombarrassment' over the appearance of their homes.
And it's hardly surprising that with most of the nation stuck indoors, the need for more living and working space tops the wish lists of both movers and improvers. Almost half (46%) of those opting to move claimed that more space was their top priority, and one in three of those staying put plan to create space by reworking a room.
Creating space
If you've got underused room in your attic or garage, these typical storage areas could provide the answer to your space conundrum. Truss roof supplier Pasquill revealed a 170% increase in Google searches around the rules and regulations for a loft conversion. Similarly, garage door manufacturer Roche Security found that Google searches for garage conversion doubled in 2020 through national lockdown, compared to the same period in 2019.
There's a number of reasons we think these options are becoming more popular:
If the latest Rightmove reports are anything to go by, gardens have become more important to us than ever. Perhaps more people are choosing to develop existing rooms instead, rather than extending and encroaching on outdoor space.
These projects may not require planning permission either, thanks to permitted development rights. But there are some limitations, so it's important to check with your local authority before you commit to any work. Some areas – such as conservation areas or national parks, and some types of properties – such as flats and maisonettes, have different rules. And of course, listed buildings will require special consent.
Before you get started, you'll need to assess whether your garage or roof space is suitable for conversion. Which? suggest a few simple tricks before you get the professionals in:
1) For a quick indication, take a look at your street and see if any houses of a similar style have completed the transformation.
2) Get your tape measure out and make sure you'll have enough room to fit that desk for your home office, or a bed for your additional bedroom. Your loft will need to measure 2.2m tall at a minimum, so check to see if the highest point fits this height requirement.
3) Consider the floor below your loft, and make sure you're happy to lose whatever space your new staircase might take up.
Adding value
If, like 27% of Brits, you're improving to add value to your property, these renovations could possibly offer the best bang for your buck. According to Money.co.uk, your typical garage conversion could add up to 20% onto the value of your home – or £46,371. Converting your attic came in second, at a potential increase in value of 15% at an average of £34,778.
This is potentially good news for those who intend to move but miss out on the Stamp Duty holiday. By renovating and selling at a higher price further down the line, they could increase their equity beyond what they might've saved on Stamp Duty.
However, keep in mind that most properties have a ceiling price (the maximum value your home could reach, regardless of the changes you make). Before planning any work, it could be helpful to speak to a local estate agent to see how much value you could add, and make sure you're not overspending.
It's important to remember that some projects might take longer than usual this year as builders have a backlog of work, and materials could be more expensive and take longer to get hold of. Moreover, 14% of those who made home improvements during the past 12 months went over budget. Make sure you've planned for unforeseen costs and delays as much as you can, and have some contingency built into your budget.
If you're looking to borrow to pay for your home improvements and you've already got a mortgage, remortgaging out of your existing deal may not be the best option – for example, if your employment or credit circumstances have changed. It might be worth considering a secured loan, which could potentially save you money over remortgaging. It has its own rate and terms, so you could borrow over a shorter period of time, and avoid paying Early Repayment Charges on your current mortgage.
When to move
It should be noted that more space isn't the only item on homeowners' wish lists. Rightmove's recent survey found that 63% of buyers wanted a bigger garden, and around a third wanted to live in a rural area (30%) or access to more green space (31%).
If one of these factors is driving your itchy feet, then it might be time to sell up after all. If you've already spotted your next home and you're keen to beat the Stamp Duty deadline, find out how we may be able to help.
All content factually correct at the time of publishing.
Articles on our website are designed to be useful for our customers, and potential customers. A variety of different topics are covered, touching on legal, taxation, financial, and practical issues. However, we offer no warranty or assurance that the content is accurate in all respects, and you should not therefore act in reliance on any of the information presented here. We would always recommend that you consult with qualified professionals with specific knowledge of your circumstances before proceeding (for example: a solicitor, surveyor or accountant, as the case may be).
Lending decisions are subject to an affordability/creditworthiness assessment.
Any property used as security, including your home, may be repossessed if you do not keep up repayments on your mortgage or any other debt secured on it.