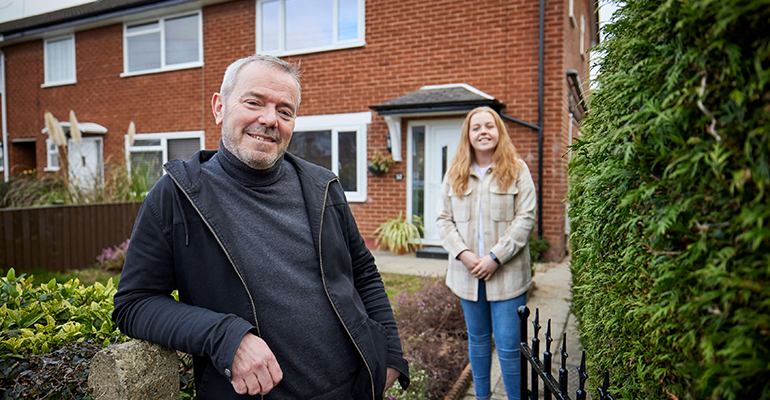 Scott Hendry's top 5 renovations from The Great House Giveaway
.
Channel 4's The Great House Giveaway returned for another series in May 2022 which is now available to watch on All4.
Each episode sees a property purchased at auction – with Auction Finance provided by Together – and given to a pair of strangers who then have six months and a tight budget in which to renovate and sell it. Any profit they make, they get to split and keep for themselves.
Together's resident auction finance expert Scott Hendry shares the episodes and property renovation projects he enjoyed most from this series, including the most transformative, those featuring the largest profits, and the most dramatic pairings!
#5 – Sarah and Paige
"Armed with a £12,000 budget, a six-month schedule and advice from presenter and property developer Simon O'Brien, Sarah and Paige were tasked with renovating a crumbling Victorian terrace in Stafford in The Great House Giveaway's first prime time episode.
"From the outset it was clear that Sarah and Paige would work really well together and they tried to take on as much work as they could themselves. Sarah and her partner Mark also made a good team – well, actually, Mark completed a lot of the work himself!
"They took the house back to brick and the pair managed to score all of the kitchen units and appliances, along with some extras thrown in, for the jaw-dropping price of £1,500. However, as the windows and doors were in drastic need of repair, they still ended up going over their allotted budget by £4,000.
"Nevertheless there was considerable interest in the property when it was put up for sale; their sheer hard work and determination gave them a huge profit of £48,000 and the girls were elated. It's a really lovely moment."
#4 – Gemma and Paul
"Next in my top five are plumber Paul and his renovation partner Gemma who got their hands on an auctioned property in Newcastle.
"With very different personalities the team mates had a few clashes along the way, but ultimately they found a way to work together for the majority of the project. However, around six weeks before the pair were due to hand over the keys to the finished renovation, Paul invited his friend (an estate agent) to value the property who was less-than-optimistic about their chances of making a profit.
"Sadly, Paul decided to leave just before the six months were up to focus on his plumbing business – he reveals he's been losing out on a lot of work after dedicating so much time to the project – but not before he finishes transforming the property's bathroom which I think speaks volumes for his good character.
"It's a real shame that Paul's friend spoke too soon because Gemma ends up walking away with a profit of £36,500! But it's still great news for Gemma. In the episode she reveals her dream of one day building her own small, sustainable home with solar panels and a composting toilet – so it's great this money will help her achieve this goal."
#3 – Aaron and Will
"In the new series we also met self-employed electrician Aaron and postgraduate student Wil in Llandudno, North Wales.
"As a coastal town popular with holidaymakers and second homeowners, property prices are often high and houses are in short-supply. After bidding on three properties with no success, the team were given a dated mid-terraced three-bedroom property in Llandudno which Simon secured outside the auction room.
"The pair quickly set about stripping out the old kitchen and replaced it with a bargain second-hand one. They also knocked down a wall on the ground floor to create a downstairs toilet and utility room, and created a family bathroom upstairs by dividing the master bedroom.
"Aaron drafted in a lot of favours from his trade network, whilst Wil relied on the help of friends and family to help out, and the pair were regularly referred to as a great team throughout the episode.
"Despite spending marginally over their budget, largely down to employing a property staging company to make the house more attractive to buyers, the pair ended up with an excellent profit of £40,607 after fees.
"Both Aaron and Wil expressed a strong desire to get onto the property ladder during the show, so I'm really pleased they'll be able to make that dream a reality in the near future."
#2 – Natasha and Gwion
"Despite lacking a lot of practical renovation skills, Natasha's enthusiasm was contagious from the outset. She hoped her series partner would bring the expertise required for their property flip. Enter Gwion, an apprentice electrician with a strong trade network, and it looked as though the pair would make an excellent team.
"When purchasing the two-bed property at an online auction, Simon O'Brien went slightly over his maximum bid, which meant the pair were given a budget of £15,000 to have any chance of making a profit. However Simon did suggest splitting the largest bedroom into a new bedroom and bathroom and turning the existing bathroom into a new bedroom, which would give the property three beds instead of two. This is often a great way for investors to improve their property's marketability and resale value.
"With such a huge task ahead of them for a first renovation project, it's a real shame that Gwion had to leave the series within the first few weeks, leaving Natasha to tackle the end-of-terrace in Chirk by herself.
"I really enjoyed this episode because it was great to Natasha's confidence grow and how many people were willing to offer their support; the neighbours helped her build the stud wall to separate the new bathroom, and we saw an appearance from builder Osian who was a renovator on series one of The Great House Giveaway.
"In the end, Natasha walked away with a profit of £13,000 and I'm really glad she'll be able to put this towards buying her first home."
#1 – Tom and Kasey
"My favourite episode of the series takes place in an old mining town in South Derbyshire surrounded by woodland – a very scenic and no doubt desirable area.
"We met a pair of lads called Tom and Kasey, both of whom were very keen to get on the property ladder with their respective partners. They were given a three-bed semi-detached property with a lot of potential, but the pair were nervous because it was made entirely from concrete – a building material which can sometimes lead to structural issues. But the house came in well under the allotted maximum bid which offered them an excellent starting advantage.
"Tom and Kasey shared a lot of trade skills between them and their close family members included electricians, plumbers, gas engineers, plasterers and decorators.
"In fact, Tom's dad flipped houses when he was growing up and the first-time renovator revealed he was really keen to learn more from him and follow in those footsteps. During the renovation, Tom's father was always by his side which reminded me of my relationship with my own son – he's started his own property investment journey after watching me flip houses for many years!
"I thought the pair would get on really well together but it seemed Tom was putting in more effort than Kasey throughout most of the episode. However, things still got done quickly which meant they had more time to market the property and could take advantage of strong demand and rising prices.
"The finished property received a great deal of interest and a bidding war ensued, giving the boys a profit of £38,000 after fees. It was lovely to see that Kasey agreed to give Tom a larger percentage given the additional work he'd put in.
"At the end of the episode, Tom says that flipping properties is in his blood and he can't wait for his next project. I for one am really pleased that we, together with The Great House Giveaway, have been able to help him pursue his property ambitions and newfound career!
Head over to our Great House Giveaway hub to discover more from the latest series
All content factually correct at the time of publishing.
Articles on our website are designed to be useful for our customers, and potential customers. A variety of different topics are covered, touching on legal, taxation, financial, and practical issues. However, we offer no warranty or assurance that the content is accurate in all respects, and you should not therefore act in reliance on any of the information presented here. We would always recommend that you consult with qualified professionals with specific knowledge of your circumstances before proceeding (for example: a solicitor, surveyor or accountant, as the case may be).
Lending decisions are subject to an affordability/creditworthiness assessment.
Any property used as security, including your home, may be repossessed if you do not keep up repayments on your mortgage or any other debt secured on it.