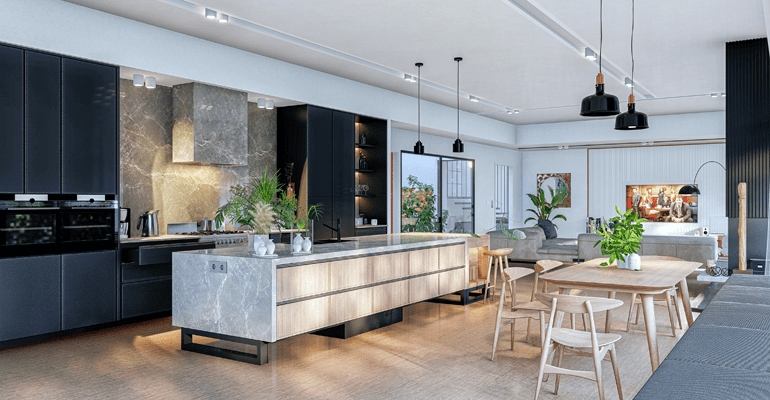 Second charge loans – the next trend in home improvement?
.
James Briggs, Head of Intermediary Sales for Personal Finance, discusses why second charge mortgages are becoming increasingly popular amongst high net worth customers.
Many clients have been keen to adapt and redesign their homes over the past two years to cater for new ways of living, and yes – home improvements are still a huge talking point in 2022.
"The pandemic continues to influence how homeowners are choosing to renovate their properties, but this isn't limited to designing practical home office spaces. Some of the most sought-after – and most expensive – home improvements for 2022 include redecorating (such as new flooring), garden landscaping, and installing a new kitchen or bathroom according to RatedPeople.com.
"With renovation budgets under pressure from both the cost-of-living crisis and soaring prices for building materials however, it's likely some Brits will be putting a pause on some of these bigger transformations – after all, a lick of paint goes a long way and we've shared some practical tips for renovating on a budget here.
"More affluent homeowners on the other hand, including self-employed professionals, may still have large home improvement ambitions this year and be looking for the right finance options.
"It may or may not surprise you to learn that many of these customers are increasingly turning towards second charge mortgages to fund their renovations.
"A second charge mortgage is sometimes referred to as a 'personal secured loan' or a 'homeowner secured loan'. Unlike remortgaging, a second charge mortgage runs alongside (but completely separate to) your client's existing mortgage, and is secured against the equity they have in their property.
"Often, clients will choose to take out a second charge loan over remortgaging because they have a favourable first-charge rate which they don't want to lose. This is particularly relevant at the moment amid rising interest rates even for affluent borrowers.
"Secondly, your customer might be part-way through a fixed rate deal and you could help them avoid getting hit with a high early repayment charge which might apply if they remortgage sooner
"Furthermore, perhaps your borrower will only need the additional funds to make home improvements for a shorter period of time – for example, if they are waiting for an investment payout or if they can repay the loan quickly using income from their business. In this case, it might not make sense for them to add this amount onto their long-term mortgage. A secured homeowner loan has its own separate rate and terms, which means they may pay back less compared to remortgaging by borrowing over a shorter period.
"Of course, there is another way to borrow money besides remortgaging, and your customer could apply for an unsecured personal loan with their bank. However, they will usually be restricted to borrowing up to £50,000 – typically with shorter repayment terms available.
"Second charge home loans on the other hand cater for borrowers who need access to larger loan sizes to complete high specification home improvements as lenders will have their home to provide security.
"Another common reason for taking out a second charge mortgage is that interest rates can be lower than unsecured loans (depending on the lender and your client's circumstances). If they are in a secure financial position and will be able to make repayments, a second charge loan could potentially save them money on interest.
"Second charge mortgages are also frequently used by borrowers to consolidate other debts into one more affordable payment. If your client has unsecured debt which is currently charging them a higher interest rate, they could use a second charge loan to pay off those debts so they only have one payment to focus on each month alongside their existing mortgage.
"As we've explored, these are some of the many reasons why second charge loans are becoming increasingly popular, and we've been seeing high demand over the last twelve months in particular.
For example, one client of ours recently borrowed £73,595 to carry out some home improvements – including installing a new kitchen and bathroom, and landscaping her garden – on her £425,000 detached home, whilst paying off some credit card debt of about £17,000.
"The self-employed businesswoman had a favourable rate on her mortgage with her bank and had originally contacted them to extend her borrowing. However, they turned her down because of her credit card debt.
"Having previously taken out a loan with Together to get her business off the ground, she contacted us to see what finance was available for home improvements. We were able to help her keep her low first-charge rate and pay off her unsecured debt automatically, allowing her to complete the refurbishment of her property and achieve the kitchen, bathroom and garden of her dreams.
"If you have a client who's looking to remortgage because they need to borrow for renovations, they may not realise that they have other options available without having to resort to unsecured borrowing like a personal loan.
"Second charge loans are not widely available through mainstream lenders and your client may never have heard of them. But a second charge loan mortgage can often provide the right option for people across the wealth spectrum and could be attractive to your client if knew more about them – depending on their circumstances of course.
"Here at Together, we'll work closely with you or your packager to understand their individual situation, and make a common-sense lending decision that's right for them.
We'll lend to the self-employed with just 12 months' trading – we require the last two SA302 documents, up to date business bank statements (last 3 months) or an accountants certificate.
We'll accept multiple income streams – including rental income, dividends and pension.
We've got no minimum time in current employment, if they have 12 months continuous employment.
We offer capital repayment and interest-only options.
"Our team would be more than happy to talk through your customer's options. Simply get in touch with us on 01619337101 or view our product cards."
For Professional Intermediary Use Only.
Lending decisions are subject to an affordability/creditworthiness assessment.
All content factually correct at the time of publishing.
Articles on our website are designed to be useful for our customers, and potential customers. A variety of different topics are covered, touching on legal, taxation, financial, and practical issues. However, we offer no warranty or assurance that the content is accurate in all respects, and you should not therefore act in reliance on any of the information presented here. We would always recommend that you consult with qualified professionals with specific knowledge of your circumstances before proceeding (for example: a solicitor, surveyor or accountant, as the case may be).
Lending decisions are subject to an affordability/creditworthiness assessment.
Any property used as security, including your home, may be repossessed if you do not keep up repayments on your mortgage or any other debt secured on it.