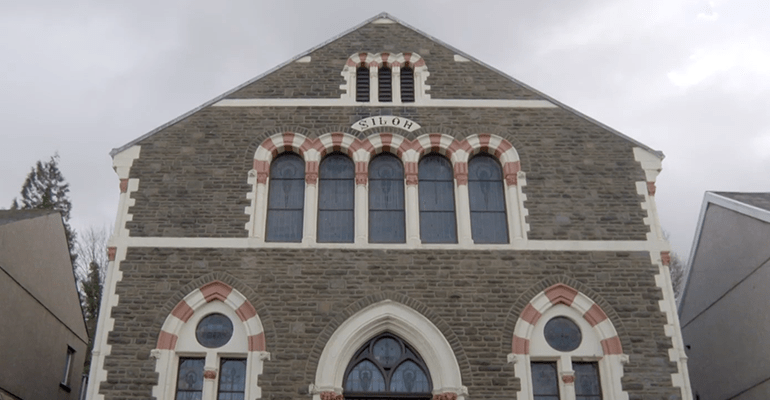 Seven old properties taught new tricks
.
2020 wasn't just 'the year we all stayed home', but the year we learnt to adapt as well. From finding new ways to learn, work and socialise virtually, to businesses completely altering their strategies, we've got transformation on the brain. But this time, we're taking a look at how some of Britain's old and quirky properties have found new ways to stay relevant.
Converted Chapel, Neath
We're kicking things off with a venture close to our heart. Back in October, we saw two Great House Giveaway contestants – and restoration novices – take on this partially converted 19th Century chapel.
An ambitious first project, Dafydd and Mair attempted to create one large home by adding a ceiling to separate the upper and lower level, while carefully retaining the Chapel's history. The vast amounts of space and high ceilings often found in buildings like this one make for an ideal residential conversion, and can be even more spectacular than more common alternatives such as barns.
Though they didn't manage to complete the renovation, the pair put in a lot of the structural work before putting it on the market. And with its stunning arch windows, beams and detailed mouldings, we're not surprised it was snapped up to be turned into somebody's dream home. We think if this project had been in the hands of a more experienced developer with the right contacts, it could even have been turned into a number of unique flats to sell or to let.
Read Dafydd and Mair's full Great House Giveaway story here
Former High School, Hope House in Bath
On the other end of the scale, it's no wonder this beautiful period building inspired a mammoth renovation of 10 townhouses and 44 luxury apartments.
Originally built in 1781 by architect John Palmer – who also designed the iconic Lansdown Crescent – the property started life as a private residence. After suffering severe bomb damage during the First World War, it served as a high school between 1926 and 2014, where former Bake Off judge Mary Berry initially learnt to cook.
The property works so well as a residential refurbishment once again due to demand for period features, its central location, and highly-desired spacious grounds.
Though expectedly a complicated project, the developers also had to contend with an unexploded bomb found on the former playground, seeing hundreds of nearby residents evacuated during the night!
Read more about the Hope House development here
Former Martello, Found Tower in Suffolk
Another piece of history reimagined, this impressive fortress was one of a series of towers built to defend against the threat of invasion from Napoleon's Forces in the 1800s. Now called Found Tower, the building has been converted into an extravagant and modern three-bed holiday home, while retaining its imposing exterior.
Once housing three canons, the highest floor now offers floods of light and panoramic views of Suffolk's natural beauty thanks to full height doors and windows. Situated on a peaceful stretch of coastline, the tower now functions as a holiday let, offering Brits the perfect luxury staycation, which we imagine will only increase in demand again once lockdown eases.
There are still a few neighboring martello towers that are yet to be converted. With the potential for high returns per night, perhaps another investor will be keen to create their own short-term rental property.
Learn more about Found Tower here
Revamped prison, Malmaison hotel in Oxford
Another unique project, this striking building began with splendor as Oxford Castle, before becoming the less-luxurious Victorian prison. After serving its time, it was purchased by Malmaison, who specialise in creating unique hotels from historic buildings.
Malmaison have managed to create 95 rooms using three former cells, combining two for each bedroom and one for the en-suite. Among other features, the original iron doors and steel staircases have been saved, and the old exercise yard and solitary confinement unit serve as places to eat and drink.
As it may be a while before we can get on a plane again, we think this quirky hotel in the centre of Oxford could provide another exciting local getaway – once it is safe to do so of course.
Learn more about Malmaison Oxford's revamped prison
Beehive Mill, Manchester
Another commercial development, Beehive Mill is one of Manchester's oldest surviving cotton mills, and has now been transformed by Urban Splash into a flexible shared workspace. The building has been repurposed a few times already since 1824, serving as a soap factory and even the popular Sankeys night club.
Old mills and factories such as this one – thanks to their large open spaces – often make popular office choices as they fit for modern collaborative working. While there are reports that office buildings could soon become redundant, many of us at home are certainly missing the buzzing workplace environment. Places offering desks to rent could become popular among small teams and entrepreneurs keen to escape their own four walls, and Beehive Mill have been clever to prioritise social and communal areas.
We also expect that more companies who are unwilling to take on the risk and expense of a long-term lease will look to occupy similar serviced offices in the future. With demand predicted to outstrip supply, converting more old buildings such as this one could be a great opportunity for another developer.
Read about the regeneration of Beehive Mill here
Chimney Pot Park, Salford
As fellow Mancunians, we're sharing another creative project by Urban Splash. Referred to as Chimney Pot Park, these simple, Corrie-style houses could easily have been demolished. But instead, have all been turned upside down!
Putting the living spaces on the top floor adds much needed light, space and modern charm. But the real heart of this project is community. Urban Splash designed private roof terraces which connect to one another, complete with plenty of greenery. With loneliness and mental health being one of the most pressing challenges from the Coronavirus pandemic, we think similar designs could become more sought after in the future.
Learn more about Chimney Pot Park's redevelopment here
Crowcombe Court, Somerset
And finally, we can't wait to see how business partners Samantha, Natasha and Stuart will continue to transform this stunning wedding venue in Somerset. We helped the team secure Crowcombe Court with a £1.35 million bridging loan back in 2019, after their initial lender pulled out.
Built in 1739, the listed property retains many of its important historic features, including original staircases and plasterwork, ornate fire surrounds and its grand ballroom. The owners plan to take advantage of its 10 acres of land to create a new outdoor ceremony space, as well as a new bridal suite and dressing room within the existing walls.
We think the property will provide the perfect setting for many dream weddings to come.
All content factually correct at the time of publishing.
Articles on our website are designed to be useful for our customers, and potential customers. A variety of different topics are covered, touching on legal, taxation, financial, and practical issues. However, we offer no warranty or assurance that the content is accurate in all respects, and you should not therefore act in reliance on any of the information presented here. We would always recommend that you consult with qualified professionals with specific knowledge of your circumstances before proceeding (for example: a solicitor, surveyor or accountant, as the case may be).
Lending decisions are subject to an affordability/creditworthiness assessment.
Any property used as security, including your home, may be repossessed if you do not keep up repayments on your mortgage or any other debt secured on it.