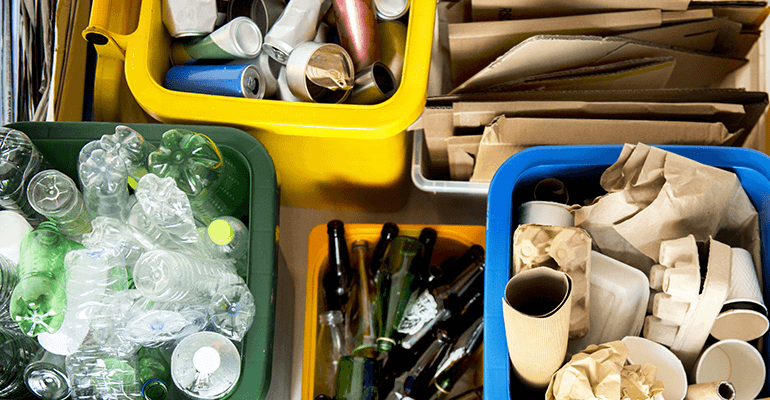 Sustainability: Reducing our waste and recycling initiatives.
.
We take our responsibilities to the planet seriously, and as part of our commitments we've put in place a number of initiatives to help us reduce our waste and play our part for the community.
We work closely with our supplier B&M Waste, who have been carbon neutral since 2011, to divert all waste from landfill. They recycle where possible and all residual waste is sent for energy recovery within the UK. Last year 30% of waste from our Lakeside building was recycled and 42% of waste from our Lake View building – both located at our Cheadle head office. Since 2018, we've sent zero waste to landfill.
In the Atrium, our on-site canteen, we provide colleagues with metal cutlery and porcelain plates and bowls to use over plastic. Furthermore we've replaced plastic drinks bottles with cans because, whilst we can recycle plastic, cans on average have much higher recycled content. We also pride ourselves on using local, sustainable and reliable suppliers, and as part of our sustainability commitment we recycle our waste oil and reuse our coffee grounds; colleagues are able to take these home to fertilise their garden soil by sprinkling it around their plants.
IMG
To do our bit for the local environment, our colleagues also receive two volunteering days per year which they can use to support charities or initiatives they are passionate about. Our latest Beach Clean took place in September 2022 where colleagues collected over 37kg of waste. This was made up of mainly microplastics from the sea which can have a dangerous impact on fish and other aquatic life, so a very good use of a volunteering day.
we also host our very own Together Swap Shops, during which colleagues can bring in the clothes they no longer wear and pick out preloved items they'd like to swap them with. We donate all leftover items to Oxfam (charity no. 202918) who reuse or recycle all donations, including damaged clothing and rags.
All content factually correct at the time of publishing.
Articles on our website are designed to be useful for our customers, and potential customers. A variety of different topics are covered, touching on legal, taxation, financial, and practical issues. However, we offer no warranty or assurance that the content is accurate in all respects, and you should not therefore act in reliance on any of the information presented here. We would always recommend that you consult with qualified professionals with specific knowledge of your circumstances before proceeding (for example: a solicitor, surveyor or accountant, as the case may be).
Lending decisions are subject to an affordability/creditworthiness assessment.
Any property used as security, including your home, may be repossessed if you do not keep up repayments on your mortgage or any other debt secured on it.