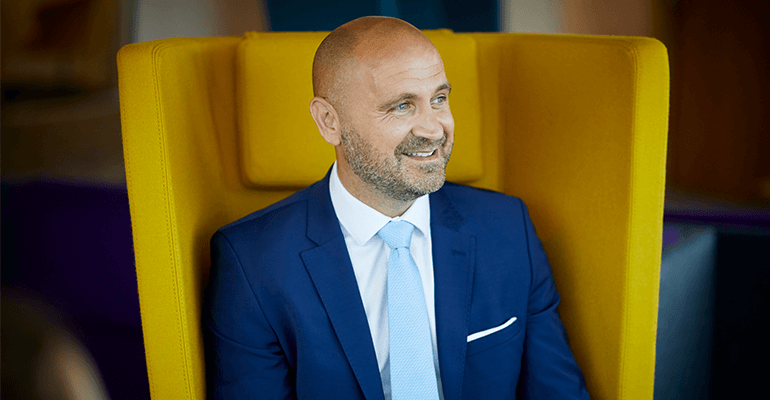 Sustainability: Social housing, social value and adopting the SRS with Alex Bodie
.
At the start of 2022 we launched our social housing initiative and we've continued to evolve the channel ever since. Alex Bodie, our Head of Social Housing, explains his passion for the sector and the work we're doing to ensure we can continue to support those who need it most.
Can you tell us a little about you and your role?
"A while back I was approached by two housing associations who were looking for funding. At the time we reviewed the application just like any normal case, but soon acknowledged that we didn't know much about the sector so we had to be cautious. This left me wanting to learn more about housing associations and the social housing sector, so I spent months researching as much as I could off the side of my desk.
"To cut a long story short, I developed a huge passion for the community element of the sector and after finding out as much as I could from various industry specialists, I decided to propose the social housing channel to our exec team. They were on board straight away and the initiative launched in January 2022."
What makes you so passionate about social housing and adding social value?
"The UK is experiencing a huge housing crisis as we speak. When we launched the channel just 12 months ago there were 1.2 million people on social housing waiting lists, in just 12 months and as of December 22, this number is more likely double.
"It's a very frightening statistic and I strongly believe that having a safe and secure property to call home is something that everyone should have the right to. Social housing is an essential tool for upward social mobility, as it provides families and communities with a strong foundation to build on. This aligns fully with our sustainability strategy and as a financial services company, it's hugely important that we do our bit."
Are there any projects we supported in 2022 that stood out and will make that all important difference?
"I'm really proud of everything the channel has delivered in the last year, but there is definitely one project in particular that stands out.
"We partnered with a company that was looking to provide a safe house for young vulnerable women who had been involved in drug related criminal exploitation from a young age.
"The funding we provided allowed the company to purchase a safe house in the countryside where the girls can spend the rest of their childhood. They'll have help from various different specialists to support them with everything they need to overcome their tragic experiences. Knowing we've helped provide such a safe haven proves the importance of the social housing initiative and reminds me of my passion for what we do."
Finally, can you tell us about our recent alignment to the Sustainability Report Standard (SRS)?
"The Sustainability Report Standard for Social Housing (SRS) is an environmental, social and governance (ESG) standard designed to help the housing sector measure, report and enhance its ESG performance in a transparent, consistent and comparable way.
"The SRS is adopted by housing associations, banks, lenders and other specialists in the sector. The more firms that commit to becoming an adopter, the more accurate the reporting will be, making it easier to understand both the problems and benefits within the social housing sector.
"We've now officially signed to become adopters of the SRS and this is a hugely positive step forwards to support the delivery of our wider sustainability strategy."
All content factually correct at the time of publishing.
Articles on our website are designed to be useful for our customers, and potential customers. A variety of different topics are covered, touching on legal, taxation, financial, and practical issues. However, we offer no warranty or assurance that the content is accurate in all respects, and you should not therefore act in reliance on any of the information presented here. We would always recommend that you consult with qualified professionals with specific knowledge of your circumstances before proceeding (for example: a solicitor, surveyor or accountant, as the case may be).
Lending decisions are subject to an affordability/creditworthiness assessment.
Any property used as security, including your home, may be repossessed if you do not keep up repayments on your mortgage or any other debt secured on it.