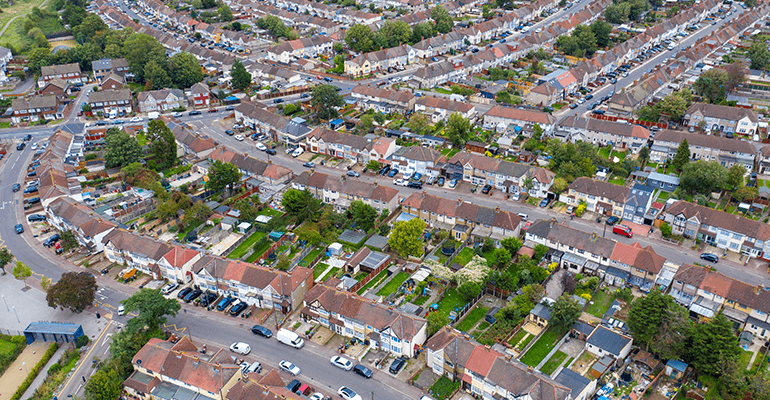 The areas in England worst affected by the housing crisis
.
People across the UK are struggling with rising rent and the mounting cost of living, and many simply cannot afford to buy in the current economic climate. Alex Bodie, Head of Social Housing at Together, discusses the areas in England most in need of affordable housing and what's causing the demand.
"It's no secret that Britain is in the throes of a housing crisis.
"According to a recent Sky News report, house building hasn't kept up with population growth in almost half of the local authorities in England over the last decade. The analysis has also revealed significant disparities between regions – the North West and a number of South East towns are reportedly the worst affected.
"The most acute shortages are in London and its surrounding local authorities, such as Barking and Dagenham. The borough has experienced the third highest population growth in the last ten years which has put significant pressure on housing supply.
"The population is rising faster than properties in the suburbs of other major cities like Manchester and Birmingham, and the proportion of vacant properties is very low. This is a trend across England – only 1% of residential properties are vacant which is far lower than most European countries – and is a major sign of a stressed housing market.
"Fewer empty homes may sound positive in that vital properties aren't going unused, but this has an impact on affordability. It means landlords have the negotiation power to increase rents because tenants have little to no other option, and sellers have more power over asking prices too.
"Overall, prices have increased everywhere in the last decade, but the rise has been over 50% in two-thirds of England's local authorities. The Sky News report shows that prices have increased most in areas where the population has grown faster than the number of homes, and in areas where the proportion of empty properties is lower."
Affordability and low-income households.
"According to the Office of National Statistics (ONS), just two regions in England have housing that is affordable for local renters on the lowest incomes. The ONS assessed monthly earnings and monthly rental costs for households across England, and classed 'unaffordable rent' as costing more than 30% of that household's monthly earnings.
"In 2020, low-income households were forced to spend more than 30% of their earnings in almost every region. The worst-affected areas again highlighted London, the South West and East of England, where the lowest-income households spent over 50% of their monthly income on the cheapest rent available. In the North West, only the very cheapest homes (less than £500 per month) cost low-income renters less than 30% of their income each month.
"With many households currently facing significant financial instability, the need for purpose-built affordable homes and supported housing has never been more pressing. Some of those more likely to be impacted by the housing crisis include:
Low income families or those whose current housing costs are unaffordable.
People and families needing safety or refuge.
Those who need rehabilitation.
Those in danger of homelessness.
Families living in poor conditions such as overcrowding.
"This is where providers of social housing can offer their support."
Social housing providers and the funding gap
"Social housing is a term given to safe accommodation – provided at affordable rates – to people with low incomes or particular care needs. However, a sizeable portion of small-to-medium sized housing associations are often overlooked by finance providers and/or don't have access to the preferable rates given to the big players.
"As a specialist property lender, we're helping both housing associations and private landlords take things into their own hands and add huge value to a sector that is crying out for investment. Whether you are providing properties direct to tenants or via a lease into a charity, care provider or CIC then we are committed to supporting you. This includes providers like HSPG.
"After working with 18 local authorities nationwide, HSPG has recently completed the acquisition and repurposing of 592 homes across the country for low-level supported housing – including 101 in the North West, one of the areas worst affected according to research.
"The 101 supported housing facilities included 28 in Cheshire West and Chester, 13 in Oldham, 12 in Wigan and 48 in Bolton. These homes will be leased out to housing providers and charities that aid those in need. The homes, which include houses and flats, have been fixed up with a minimum EPC rating of C, and we're delighted to have partnered HSPG on the delivery of this significant project by providing the funding they needed.
"We've worked closely with the Regulator of Social Housing to develop a unique proposition for this sector, and we're always exploring opportunities to fund these under-served smaller providers who can make a very tangible difference to communities across the UK.
"By doing our due diligence, we're able to bring the same understanding and expertise we offer for all other property transactions, and can deliver the same levels of certainty around speed, service and transparency that Together is known for."
If you're keen to learn more about social housing finance, we're here to help. Get in touch with our experienced team or watch our Q&A videos produced with Alex Bodie.
All content factually correct at the time of publishing.
Articles on our website are designed to be useful for our customers, and potential customers. A variety of different topics are covered, touching on legal, taxation, financial, and practical issues. However, we offer no warranty or assurance that the content is accurate in all respects, and you should not therefore act in reliance on any of the information presented here. We would always recommend that you consult with qualified professionals with specific knowledge of your circumstances before proceeding (for example: a solicitor, surveyor or accountant, as the case may be).
Lending decisions are subject to an affordability/creditworthiness assessment.
Any property used as security, including your home, may be repossessed if you do not keep up repayments on your mortgage or any other debt secured on it.