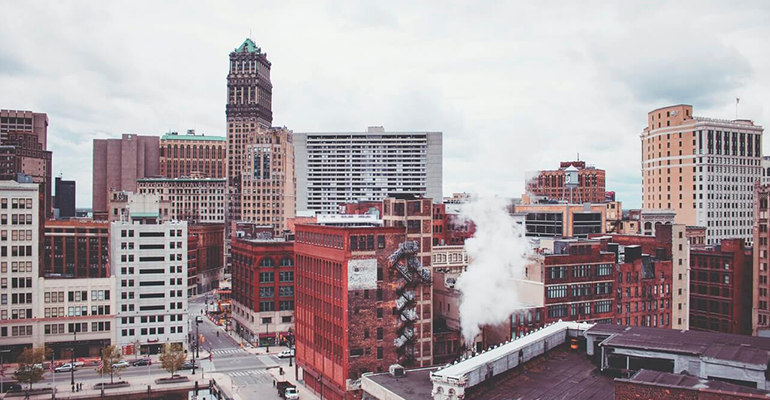 The Detroit of Britain? Inside Bradford's modern-day renaissance
.
If you're considering where to invest in property in the UK, Bradford may not be the first place that comes to mind. Over the last decade, the city has watched neighbouring Leeds continue to thrive, becoming a popular hotspot for students and the largest financial centre outside of London – while Bradford, the once industrial powerhouse, has seemingly been left to decline.
However, if we look at the trends shared between Bradford and Detroit's regeneration in the US, the Yorkshire city could be on the cusp of its own modern-day renaissance.
The Detroit of Britain?
Before Henry Ford founded the Ford Motor Company in 1903, Detroit was the nation's thirteen largest city. But by 1950, one in every six working Americans was employed by the automobile industry, and Detroit was its epicentre. The largest auto firms – Ford, Chrysler, and General Motors – were all based in the city, and Detroit had become the fifth largest city in the US.
The evolution of Bradford tells a similar story. At the turn of the 19th Century, Bradford was a small rural market town, where wool spinning and cloth weaving was carried out in cottages and farms. By 1841, there were over 100 mills in Bradford town and its borough, where an estimated two-thirds of the country's wool production was processed.
Less than 10 years later, Bradford had become the wool capital of the world, which led to the rapid expansion of the city. The town centre expanded and its old buildings were largely replaced by new, lavish Victorian architecture still in evidence today.
However, de-industrialisation caused both of these cities to decline. As their dominance in their respective industries dwindled, unemployment increased and once grand public spaces fell into disrepair. By the 1980s, gangs had taken hold of Detroit and Bradford was falling deeper into disrepair, hitting the headlines for riots and some of the worst areas of social deprivation in the country.
Despite reaching the lowest of lows, the story of Detroit is an inspiring one. The US City has gone through a renaissance of urban renewal in the last few years. The revitalization projects through the city's neighbourhoods and downtown have become a model for other cities to make their own comebacks. Because living costs are modest and jobs becoming plentiful, the creatives are the entrepreneurial adventurers who present themselves as fuelling the city's comeback, with big names including Amazon, Google and Microsoft showing their faith in Detroit's revival too.
And Bradford tells us a similar story. Physical evidence of Bradford's revival is the recent regeneration of Conditioning House, a true landmark Victorian woollen mill in the heart of the city. Originally opened in December 1902 as a wool testing centre, Conditioning House would check and control the moisture content of wool bales and textiles – a certification which would become recognised worldwide.
Funded by Together, the building was purchased by award-winning property developer Priestley Homes in 2016, and has since been transformed into a mixed-use development comprising 152 luxurious apartments, office space, a gym and a café. Original factory gates, internal doors and ornate stonework are among the many features that have been retained, which celebrates the heritage of Bradford as the City of Wool, while creating new hope for the future.
The city's also seeing plenty of investment in leisure and office spaces to cater to the creative crowd, with the likes of hipster hangout Sunbridge Wells trading in street food, plants, craft beer and artisan coffee, while co-working spaces like Assembly cater for creative entrepreneurs looking to grow their businesses. Plans to regenerate the city's 1930s Odeon into a not-for-profit arts venue called Bradford Live – due to open in 2022 – show investment stretching to arts and culture too. A sure-fire sign of a cultural renaissance to come.
Here's why you should be looking at Bradford for your next investment.
1) Investment in regeneration
There is already major regeneration investment taking place here, not least by developers such as Priestley Homes, but in every aspect of the city – with money being ploughed into the economy, local business and office spaces, retail, transport, and residential – encouraging more people and businesses to make Bradford their home.
The £260 million Broadway Shopping Centre opened in 2015 and is home to over 80 shops and restaurants. And since 2010, total investment in regeneration and infrastructure projects has hit around £1 billion.
2) Affordable property
Bradford is also renowned for its affordable properties. The average price for property in Bradford stood at £144,263 in November 2021, according to Zoopla, 61% lower than England's average which now stands at £271,000. For buy-to-let investors, the gross rental yield will be very attractive, too. Attracting students, young professionals and families, some properties in the BD1 area can offer a rental yield between 8-10%, while the national average stands at 3.3%.
3) A thriving local economy
There are over 16,000 companies in Bradford, ranging from small start-ups to nationally recognised brands such as Morrisons, Yorkshire Building Society and Hallmark Cards. A growing economy with an expanding population of businesses and workers demands more offices, houses and shops, and therefore demands investment.
In 2019, Bradford was named 'most improved' city to live and work in by PwC in 2019.
4) A young, well-educated, and fast-growing population
Bradford has a young population –the youngest in the UK in fact. It's growing too, and is set to increase by more than 10% over the next 20 years to 582,900.
Students most often rent apartments in Bradford. This automatically means that a significant student population at the University of Bradford represents a secure rental market for buying investors with a steady stream of tenant demand. Bradford's large and growing young population also makes it home to the workforce of the future.
Bradford has got a lot going for it, and shares some striking similarities with its US counterpart. It's got all the makings of a great 21st century city, where there's opportunities for investors to add value and make money, for people to live and experience up and coming areas, and for businesses to thrive when areas have life injected back into them.
Can saving historic buildings put life back into our towns and cities? Read Britain's Detroit for more.
All content factually correct at the time of publishing.
Articles on our website are designed to be useful for our customers, and potential customers. A variety of different topics are covered, touching on legal, taxation, financial, and practical issues. However, we offer no warranty or assurance that the content is accurate in all respects, and you should not therefore act in reliance on any of the information presented here. We would always recommend that you consult with qualified professionals with specific knowledge of your circumstances before proceeding (for example: a solicitor, surveyor or accountant, as the case may be).
Lending decisions are subject to an affordability/creditworthiness assessment.
Any property used as security, including your home, may be repossessed if you do not keep up repayments on your mortgage or any other debt secured on it.