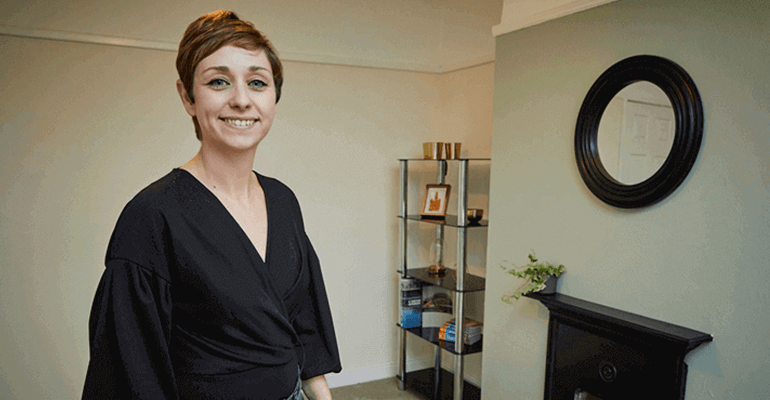 An Interview with Catherine from The Looking Glass Interior Design Studio
.
If 2020 were a book, it would be Lewis Carroll's Through the Looking Glass. A world in which everything you know is back-to-front, and every action seems to have unintended consequences.
So in spring and summer, many of us Brits found ourselves doing the opposite of what we expect: being paid to stay at home. And many of us used that time to further our national reputation for being house-proud; reports from earlier this year have revealed that the average Brit spent twice as long cleaning and tidying during lockdown than they normally would, and DIY sales have been leading the long, slow retail recovery.
You could argue that this is because many of us simply had more time on our hands, but (speaking from personal experience) we choose to believe it's more likely that 'familiarity breeds contempt'. Put bluntly, we're sick of the sight of our walls.
While we've been plotting how to redecorate dining rooms and guest bedrooms to make for more comfortable home-working and home-schooling spaces, one enterprising entrepreneur has been helping others to plot theirs.
Catherine Corkish is the brains behind appropriately-named interior design studio The Looking Glass, and took part in The Great House Giveaway, which appeared on screens in October 2020. We sat down with Catherine to discuss how she got this far, the challenges of growing her business in a pandemic, and the value of a great interior designer.
"I've always been fascinated with design, and studied for a degree in Interior Design when I was younger. Fast-forward a few years and I found myself working at a housing association as part of their sales team, which included designing showhomes that would be available for purchase through Shared Ownership.
"A couple of years ago I decided to properly give running my own business a go, so changed my job to give me more flexibility that I could work around – everyone in my family is self-employed, and I was the last one to take the jump, but they gave me the confidence to do it", she says.
Catherine continues to work as a property negotiator in Liverpool while growing the business, which she says gives her an advantage when it comes to designing for private clients. "When someone hires an interior designer, they're usually doing it so they can live in it – it's not just about what's going to add the most value," she explained. "But people always have one eye on return on investment, even if they're staying put. They want to know they're not spending more than they'll get back, so it helps to know what a potential buyer will value."
These are far from Catherine's bread-and-butter customers, though. Primarily she aims her services at developers who want to achieve off-plan sales with inspiring showhomes, although she works with leisure and retail businesses too.
"My first customer was a café bar, actually. I'm no chef and I wouldn't try to run a kitchen, so the owners wanted to approach a professional when it came to designing the interior of their new business.
"Obviously that market is a little quiet at the moment, so I've had to improvise; I've been doing Zoom consultations for people who want to give their house a mini-makeover, or need advice on staging their own home for sale. It's often about making best use of their existing furniture, planning the space better, and decluttering.
"It's not without its challenges, but we've found ways to work around it. I've posted samples directly to customers so they can see and touch them, get an idea of scale, and so on."
We ask if our experience of boredom with our interiors, having spent so long in them this year, is part of a wider trend that Catherine is witnessing. She nods.
"There was a real upswing in people redecorating during lockdown, particularly while people had more time when furloughed. But as time has gone on, I've seen a real shift in attitudes to our homes; I think we've all really learnt the value of the place we live, and we're thinking more deeply about how we fundamentally change our homes to suit our lifestyles – it's less about redecorating in the latest trend.
"Home-working is likely here to stay, at least in part, and I also believe we'll hold on to a lot of what was gained during this pandemic – like doing more of our socialising at home, either with friends or virtually. So people are looking to personalise their homes much more than they ever did before. I think we'll see this really take hold in 2021, and I can't wait to get involved and help people with that!"
Catherine's used her family connections to expand the services she's able to offer; for instance, she's partnered with her freelance graphic designer sister, Emma, to offer a scheme branding service that gives developments a consistent visual identity, from brochures to interiors.
When not writing witty blogs full of insightful interior design tips, Catherine's hands are rather full caring for her 11-week-old newborn. But she's not afraid to get her hands dirty when it comes to delivering her designs, Catherine says, as viewers of the Great House Giveaway will have seen.
"How involved I get depends on what the client wants. I can, if they want, simply supply a concept and bit of direction, which is what I do with my mini-makeover package. I find those clients who like to be hands-on prefer me to just give them the drawings and a 'shopping list' of items, which is a great collaborative way of working – they'll often source their own pieces alongside my recommendations, making for a more personalised space.
"Alternatively, if they're happy to delegate to me, I can just as happily see a project right the way through from initial concept to dressing with finishing touches, and a final clean. I have trusted suppliers I work with for furniture, wall and floor coverings, lighting and bespoke pieces of artwork, so we can be a one-stop shop for our customers.
"If I'm part of the process early enough, I can even suggest structural changes. Obviously I can only go so far before needing to introduce an architect or structural engineer, but I have these contacts and I'm happy to project manage that side on behalf of a client if they're open to big ideas like that.
"Having worked in property for so long, I've got a good understanding of how the finances of a really large-scale project might work – so if I'm speaking to a client, I can confidently discuss the practicalities of remortgaging to borrow more, or taking out a secured loan, if what they're aiming to achieve calls for an extension or building work. To be honest, I think anyone going to the expense of a major project should hire an interior designer, to really get the most of the space.
"I know hiring an interior designer can seem daunting at first, which is why I offer a range of design packages to suit all requirements and budgets. It's all designed to make the process fun and accessible, rather than intimidating - as it should be!"
Follow The Looking Glass on Instagram: @the_looking_glass_interiors
All content factually correct at the time of publishing.
Articles on our website are designed to be useful for our customers, and potential customers. A variety of different topics are covered, touching on legal, taxation, financial, and practical issues. However, we offer no warranty or assurance that the content is accurate in all respects, and you should not therefore act in reliance on any of the information presented here. We would always recommend that you consult with qualified professionals with specific knowledge of your circumstances before proceeding (for example: a solicitor, surveyor or accountant, as the case may be).
Lending decisions are subject to an affordability/creditworthiness assessment.
Any property used as security, including your home, may be repossessed if you do not keep up repayments on your mortgage or any other debt secured on it.