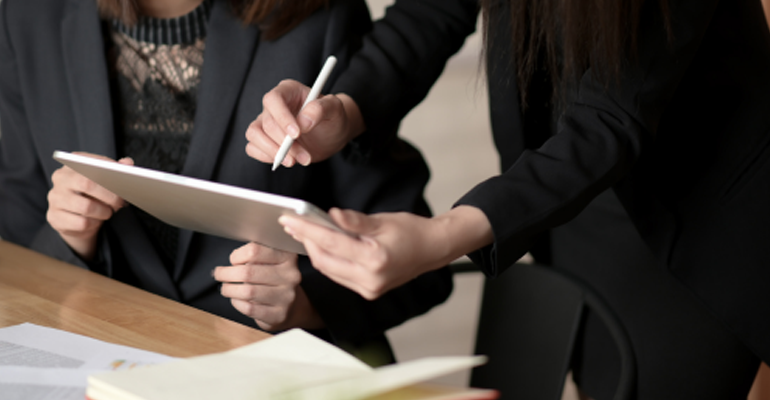 The specialist lending industry in 2023
.
We asked our intermediary partners to share their insights and predictions for the year ahead, including the biggest opportunities for the industry and their businesses, and the potential challenges that borrowers and brokers might face.
Tanya Elmaz, Director of Intermediary Sales – Commercial Finance, and James Briggs, Head of Intermediary Sales – Personal Finance, discuss the results.
Challenges and opportunities.
Despite an increasingly challenging market, many brokers said they are feeling optimistic for the rest of the year; 82% are confident or somewhat confident about the market over the next 12 months, and 63% are feeling very or extremely confident about their company's outlook.
Our survey* revealed that 65% of brokers believe the biggest challenge will continue to be the impact of rising interest rates. This was followed closely by the cost of living crisis (60%) and customers not being able to get the finance they needed (37%).
However, they believe the opportunity will arise from more customers fitting into specialist lending criteria and needing to seek advice from specialised brokers and lenders, with 97% of brokers expecting to see a rise in customers who may need specialist lending.
Of these customers, they expect to see the majority of business coming from:
Remortgages (63%)
Self-employed (61%)
Those with impaired credit (53%)
Buy-to-let customers (37%)
Later-life borrowers (18%)
James Briggs says:
"More so than ever, the role of the broker is going to be incredibly important in supporting customers and helping them find the right product to suit their needs.
"As a nation we're currently grappling with the cost of living crisis, rising interest rates, upcoming changes to EPC regulations (for landlords) – the list goes on. Whilst rates are gradually stabilising on the high street, many major lenders have tightened their criteria (preventing countless clients accessing the borrowing they need).
"While overall transaction volumes may soften in 2023, the specialist market share is set to grow, as this sector has the ability for a more flexible, individual approach to reviewing applications.
"This is consistent with predictions we made back in June 2022 following our research** into the residential mortgage market. We found that:
The UK residential mortgage market is set to grow 56% to £400bn in the next eight years.
Specialist residential mortgages are set to rise from £5bn to £16bn by 2030.
The proportion of specialist mortgages will treble in size with an estimated half a million mortgages dependent on the growth of the specialist mortgage provision.
"The challenges facing the UK have exposed the 'one-size-fits-all' approach of mainstream lenders, with many credit-worthy, responsible clients struggling to access the finance they need.
"This re-emphasises the hugely important role of the mortgage intermediary and packager, and means there are strong opportunities for them to grow their businesses and reach more clients than before."
Areas for growth in 2023.
While 2023 may be a challenging year, economically and politically, it doesn't mean that opportunities will cease. According to our research, 70% of brokers expect bridging lending to be a significant growth area over the next 12 months.
Tanya Elmaz says:
"Those wanting to purchase property or secure funding on their existing property will make the necessary adjustments to maximise on new and different opportunities. And bridging finance with its speed and flexibility provides the perfect specialist lending solution.
"Lack of housing stock is unlikely to change so, coupled with continued affordability challenges, the use of regulated bridging to fund onward purchases before current homes are sold will remain very feasible in the regulated space.
"In the unregulated environment, investors will continue to seek bridging finance as they look to maximise yields on their properties or portfolio's – particularly on HMO (Houses in multiple occupation) and MUB (Multiple Unit Blocks). Refurbishment will continue to be a popular strategy, not only to maximise return on investment, but also to improve properties for the pending EPC regulations coming into effect for landlords from 2025."
Furthermore, 60% of brokers told us they expect to write more secured loan or second-charge business this year than in 2023.
Some of the most common reasons cited included the cost of living crisis and the need for homeowners to consolidate and pay off existing debts. Also, the increasing costs of mortgages could mean those already locked into lower rates will prefer to take out a second charge loan if they need to borrow more.
James Briggs says:
"With some lenders continuing to tighten their lending criteria amid the cost of living challenges, second-charge loans can give customers some flexibility, as typically the ability to borrow at higher income multiples compared to a re-mortgage or further advance.
"Many clients can benefit from them, including those who need to capital raise mid-way into a fixed period. At Together, we also assist many clients whose circumstances have changed since taking their current first-charge. For example, a relationship may have broken down, their employment status may have changed, or they may have experienced a blip in their credit record due to economic factors.
"A second-charge could prove a way of re-organising clients' finances by consolidating debt and releasing extra funds, while protecting their first-charge rate, rather than remortgaging the full amount remaining on their first charge mortgage."
What can lenders do to help brokers?
We also asked our partners to share what lenders could do to help brokers navigate the changing market and better support their clients. Some of the feedback included:
Taking a holistic view of a customer's situation and affordability and having flexible criteria.
Providing detailed feedback on the quality of packs coming through and advice on how to improve them.
Having great communication, being able to get in touch with the right person, and providing clarity around service, products and affordability.
Tanya Elmaz says:
"Ultimately, to be able to offer exceptional customer service to borrowers, lenders and brokers need to work in partnership. This means lenders need to ask the right questions and understand the customer's situation, their credit profile, their income and the loan purpose, and have a flexible approach to it. And brokers need to provide as much information as possible on day one that is accurate and in date.
"We work really closely with our intermediary partners to ensure this happens, and thanks to our experience over many decades, we're able to make common-sense decisions and be more accessible to borrowers who don't fit traditional lending criteria. When both parties play their part, and are committed to giving and receiving constructive feedback, outstanding service should always be the outcome."
A calm optimism.
Despite the challenges facing the market, there is a sense of calm optimism that there will always be opportunities. The expected rise in second-charge mortgages bridging loans brings brings opportunities for both intermediary businesses and specialist lenders alike, and whilst the market dynamics may be changing, the customer needs are growing.
Tanya Elmaz says:
"The current situation in the UK is likely to bring challenges for some clients and opportunities for others, and the specialist lending sector – with its flexibility and expertise – is critical to supporting them as they navigate the next 12 months and beyond.
"At Together, we're working closely with our network of packager partners to connect these clients to the funding they need; we have dedicated teams of Specialist Account Managers and Business Development Managers who specialise in complex personal and commercial finance cases, and our experienced underwriters are empowered to make straightforward, common sense lending decisions for every individual's circumstances."
Get in touch
All content factually correct at the time of publishing.
Articles on our website are designed to be useful for our customers, and potential customers. A variety of different topics are covered, touching on legal, taxation, financial, and practical issues. However, we offer no warranty or assurance that the content is accurate in all respects, and you should not therefore act in reliance on any of the information presented here. We would always recommend that you consult with qualified professionals with specific knowledge of your circumstances before proceeding (for example: a solicitor, surveyor or accountant, as the case may be).
Lending decisions are subject to an affordability/creditworthiness assessment.
Any property used as security, including your home, may be repossessed if you do not keep up repayments on your mortgage or any other debt secured on it.