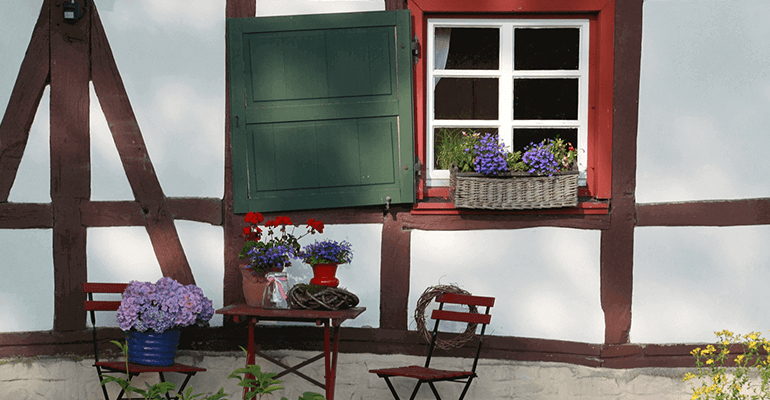 Things you didn't know about renovating a listed building
.
There's something incredibly romantic about breathing new life into an old building and restoring it to its former glory. But renovating a listed building can be challenging, slow and expensive, so it's not something to be taken lightly.
Before you buy that rundown chapel or period townhouse, here are a few things you'll need to think about:
It's not just the outside you need to preserve
Every listed building comes with a different set of requirements, so make sure you know what they are before you take the plunge.
One thing is true, though: there's no such thing as a partially-listed building. So if you believe that if it's Grade II-listed that it's just doors, windows and walls you need to worry about, you're wrong. Listings, whatever grade, refer to the whole building – including permanent fixtures like cornicing, tiles and masonry – and may well include additional features like garden walls, railings and gates.
2% of properties in the UK are Grade II-listed, and while not as strict as Grade I or II*, every single one will be different – so check the fine print before you sign on the dotted line.
Getting permission is much more complicated
You'll need to engage the Conservation Officer at your local council early on, to get an idea of what they'll expect from your renovation.
While some alterations might fall within standard planning permission, listed buildings come with the additional red tape of Listed Buildings Consent. You'll need to work closely with your Conservation Officer to get approval on any changes you want to make. They're likely to want to specify what materials are used and how work is carried out, so don't expect decisions to be made quickly.
And don't ever think you can do the work hoping no-one will know. It's a criminal offence to alter a listed building without consent so however difficult it might seem, it's always best to follow the rules.
The listing may cover outbuildings too
One of the principles of Listed Building Consent is that "any pre-1948 building that was in the curtilage of the principal building at the date of listing (or possibly at 1 January 1969 for list entries that pre-date) is protected, provided it is fixed to the land and is ancillary to the principal building."
In other words: if the outbuilding was built before 1948, is within the land boundary and is permanent – it's probably covered in the listing.
If you uncover period features, you have to keep them
It's hard to believe that there was a time when period features were deemed old-fashioned and undesirable – so they were covered up. Bizarrely, there's little to stop you from covering up period features in a listed building; you simply mustn't remove or change them without permission.
While it's quite unlikely in this day and age that you'd want to box in a period fireplace or wooden beams, there's a far greater chance that you'll uncover them – especially if your property hasn't been renovated since the 60s or 70s.
While they may have been hidden for years, you can't just rip them out or paint them if you do find them: you'd need consent.
Cheaper modern materials are unlikely to cut it
While you can generally make savings on standard renovations with budget paint, MDF and plastic baths, such modern inventions are unlikely to fit the aesthetic of the average listed building. The Conservation Officer can be very specific about finishes and materials used and, in some cases, this may mean employing the services of skilled craftspeople using premium materials to get the finish they demand.
You'll need a generous contingency in your budget
Not only can you not get away with cheap modern materials, older buildings tend to spring a few surprises on you along the way. As with any renovation, you need to work out what you think you need to spend, then keep some money aside to account for unforeseen jobs and issues.
You may find that finishing touches are more expensive than in a standard build – for example, stained glass windows, woodwork and ironwork sourced from artisan suppliers.
Some lenders won't mortgage some listed buildings
Many mortgage and auction finance lenders have strict rules on the kind of property they'll finance, and many listed buildings – namely timber-framed or thatched properties – fall outside of these because they're of 'non-standard construction'.
In addition, older properties may need major structural work like underpinning or damp proofing, which could scupper or at least significantly delay a purchase. So it's worth shopping around for a sympathetic lender who understands what you're trying to achieve.
All content factually correct at the time of publishing.
Articles on our website are designed to be useful for our customers, and potential customers. A variety of different topics are covered, touching on legal, taxation, financial, and practical issues. However, we offer no warranty or assurance that the content is accurate in all respects, and you should not therefore act in reliance on any of the information presented here. We would always recommend that you consult with qualified professionals with specific knowledge of your circumstances before proceeding (for example: a solicitor, surveyor or accountant, as the case may be).
Lending decisions are subject to an affordability/creditworthiness assessment.
Any property used as security, including your home, may be repossessed if you do not keep up repayments on your mortgage or any other debt secured on it.