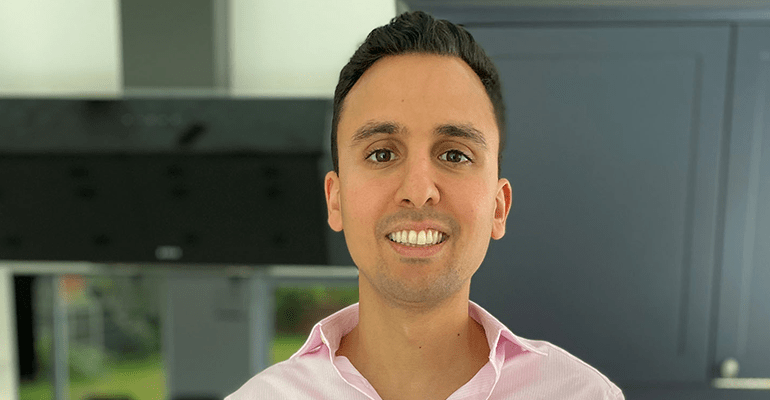 "We can make our money go further" – investor Saif Derzi shares his top tips
.
At Together, we work with property investors of all shapes and sizes. If you're wondering how to make your first 'flip' a success, or how to grow your portfolio, we've asked one of our regular customers to share his advice.
Saif Derzi is the founder and Chief Investment Officer at SDGB Properties, a business which has bought and sold a whopping 84 properties in the last three years. They develop and hold single-family homes, supported living and student accommodation; and more recently, they help others to manage their own renovations and properties.
Saif has three top tips for growing your portfolio:
Identify your target area
When starting out, it's important to identify the right area for your new investment. If you're planning to keep hold of the property for a while, you'll want to consider how house prices are likely to increase – is it in an up-and-coming area?
You'll also need to think about the type of buyer or tenant the area is likely to attract. This will help you prioritise the features which will add the most value to your target market; for example, a larger garden or a kitchen extension.
It's a good idea to start in an area that's close to you – not only for convenience, but hopefully you'll have a better understanding of its amenities and the more desirable streets. Once you've gathered your local knowledge, you'll be more confident in making a quick offer once the ideal property pops up on the market.
We started in the city we live in, which is Lincoln. Then we slowly started to branch out into other parts of Lincolnshire, before exploring Yorkshire, Nottinghamshire and Derbyshire when we'd built our experience.
Use debt to stretch your equity
At SDGB, our experience has made us pretty smart when it comes to finding the most effective finance options. With a loan from Together, we know we can make our money go further – using our cash as the deposit for multiple houses, rather than buying one property outright. Let's use an example with £100,000 in cash:
Instead of purchasing one property at £100,000 with what we've got in the bank, we'll buy four properties worth £100,000 each with a £300,000 loan from Together. Using the 3% average capital appreciation figure year on year, we'll get four times the increase in house price and revenue from renting the properties out, than if we'd purchased just the one.
So even factoring in the interest on our loan, we're up on our investment. This is how we've been able to grow our business so quickly.
Buy properties at a discount
There's little point buying at market value if you're after an investment property. Once you've factored in costs such as Stamp Duty, interest on your loan repayments, and any work you need done to the building, you might struggle to break even once you sell it on – let alone make a profit.
Or if you're planning to keep the property after renovations have completed, you'll have more difficulty refinancing or remortgaging it at a higher value, meaning you can't get any cash out or lower your LTV.
As an investor, your ideal purchase should be a fixer-upper that needs some improvements. The changes might be cosmetic, like modernising a kitchen, or they might involve structural work – such as splitting a house into flats or an HMO. Regardless, your goal is to unlock value in the property for its future owners or tenants. Ask yourself, does the property have a problem that I can solve, that others couldn't or wouldn't?
Here's a real-life example:
An agent approached SDGB when a sale had fallen through on a property due to a problem with a structural wall, which meant it would be considered unmortgageable by many lenders. As such, we agreed a lower purchase price on the premise we could complete within two weeks.
Our relationship with Together, who we counted on to be flexible on both the condition of the property and our quick timescale, allowed us to buy the property at £24,000 less than it was bought three years prior. We'll have our bridging loan for up to 12 months, so we can complete the repairs on the structural wall before refinancing the property at a new, hopefully higher, value.
Together's tip:
You might be able to find your ideal project at a property auction. With many taking place online at the moment, now might be your chance to explore what's on offer by checking your local auction house's website. Or, you can download our guide to buying under the hammer here.
Fancy learning more?
Over the last few years, Saif has helped many others to build and scale their property businesses with advice and inspiration. You can find out more by following SDGB Properties on Facebook and Instagram.
All content factually correct at the time of publishing.
Articles on our website are designed to be useful for our customers, and potential customers. A variety of different topics are covered, touching on legal, taxation, financial, and practical issues. However, we offer no warranty or assurance that the content is accurate in all respects, and you should not therefore act in reliance on any of the information presented here. We would always recommend that you consult with qualified professionals with specific knowledge of your circumstances before proceeding (for example: a solicitor, surveyor or accountant, as the case may be).
Lending decisions are subject to an affordability/creditworthiness assessment.
Any property used as security, including your home, may be repossessed if you do not keep up repayments on your mortgage or any other debt secured on it.