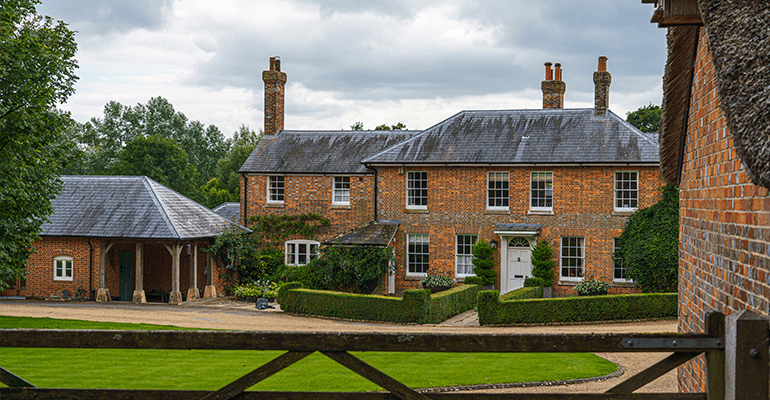 Why property's still worth investing in if you're high net worth (and how you can do it)
.
With ongoing volatility in the housing market, it may seem like property isn't a savvy investment right now. But putting your money in bricks and mortar can still be a solid investment with the right plan and the right financing.
Here are three ways you could make money from property, even in challenging times (and how specialist lenders can help you achieve your property portfolio goals).
#1. Cash in on falling property prices
With many lenders predicting the sharpest fall in house prices since 2009, now could be the perfect time to bag a bargain. Borrowing is also falling as potential buyers hold off on making a purchase, which could mean more room to make a deal with sellers.
If you're in it for the long term, whether that's buying a home to live in or properties to add to your rental portfolio, there are likely to be plenty of bargains to be had in the coming months. Together Premier can help high net worth individuals seize opportunities with finance options like regulated bridging, whether that's to secure your dream home at a bargain price before you've sold your current property, or to snag a rental deal without having to cash in on other investments.
#2. Buy properties some lenders won't touch
Most lenders make decisions based on a standard list of criteria, which can rule out certain properties. Got your eye on a listed building or a property with non-standard construction? Want to invest in a site with multiple uses – for example, a residential property with land and a commercial building, or an annexe for your ageing parents? Many high street lenders are likely to turn you down, even if you have a high net worth.
Specialist lenders like Together can fund purchases of non-standard properties however, and can support you in development projects too. Each application is judged on all your individual circumstances, so we can help you take your vision and make it a reality. Plus our concierge service for high net worth individuals means every package will be tailored perfectly to you.
#3. Make the most of the home you have
If you love where you live but need more space, you might not need to move. Staying put and adding space or upgrading what you've already got can not only enhance your life on a day to day basis, but it could add significant value to your property too.
Need a home office to help grow your business, or a home gym to help you make the most of your time? Together can help you pay for improvements to make your property development dreams a reality. And it doesn't have to mean re-mortgaging right now. We can help with second charge and bridging loans to cover the costs in the short-term, so you can stay locked into your current mortgage deal, if it's a good one.
Together offers a concierge service for high net worth individuals through our Together Premier service, so can guide you through every step of the process.
Need support with funding a property purchase or home improvements? Together Premier offers individuals a concierge service of high net worth mortgages providing an offer tailored perfectly to you. Contact Together to find out how we can support your ambitions.
All content factually correct at the time of publishing.
Articles on our website are designed to be useful for our customers, and potential customers. A variety of different topics are covered, touching on legal, taxation, financial, and practical issues. However, we offer no warranty or assurance that the content is accurate in all respects, and you should not therefore act in reliance on any of the information presented here. We would always recommend that you consult with qualified professionals with specific knowledge of your circumstances before proceeding (for example: a solicitor, surveyor or accountant, as the case may be).
Lending decisions are subject to an affordability/creditworthiness assessment.
Any property used as security, including your home, may be repossessed if you do not keep up repayments on your mortgage or any other debt secured on it.