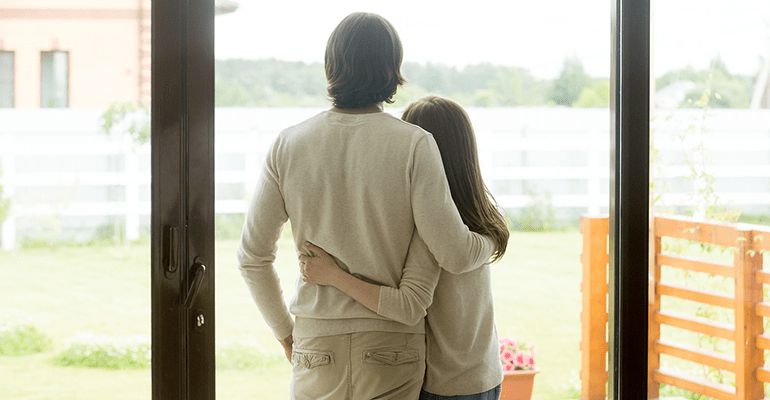 Your tenants rights and responsibilities
.
As a landlord, it's important you understand your tenants' rights to ensure you're meeting all the requirements and not exposing yourself to any kind of legal action.
In return, there are a few things they take responsibility for. And you may decide to outline some other responsibilities in the tenancy agreement (like notifying you if they're going on holiday for more than 14 nights, or a clause about running a business from the property). But from a legal perspective, these are the minimums you can expect from one another.
We've gone into more details about your rights and responsibilities as a landlord here.
They have the right to expect the property is safe
That means a property that is safe, secure, and in a good state of repair. Necessary work should be done promptly, and items that need replacing (through wear and tear, or a fault) replaced quickly.
Issues with the hot water supply, heating, guttering, sanitary installations (e.g. shower, toilet, etc.), gas supply, and electricity are all your responsibility as a landlord. Issues with the windows (like missing keys) fall at your door, too.
Any issues with the structure of the property are also your responsibility. This includes rising damp, or any problem that's allowing water in from outside (e.g. a leaking roof, cracked walls, rotten window frames etc.).
You must also provide a gas safety certificate after each annual inspection, and you must insure the buildings against fire, flood and other risks.
Finally, you must ensure any furnishings provided are compliant with the Furniture and Furnishings (Fire) Safety Regulations 1998.
They're responsible for keeping the property ventilated
If they're complaining of damp or there's evidence of mould, but there's no obvious cause, it may be because of condensation. Condensation is not your fault and is easily rectified by providing a regular flow of fresh air in the property (e.g. through an open window).
They're responsible for any damage they cause
So if they smash a window with a football, for instance, it's their job to pay for it (although you're responsible for making sure it's done). They're also responsible for minor maintenance, like changing blown light bulbs.
If there's a dispute about the damage (e.g. they say it's wear and tear, but you suspect they've caused it), it may be more expensive to dispute it than to swallow the cost. Better yet, you may want to invest in landlord's insurance that will take care of this for you.
They have the right to live undisturbed
So you should never change the locks without informing them, or without providing a set of keys.
And you must provide at least 24 hours' notice before any visit (by you or appointed workmen). Any such visit must be at a reasonable time of day, unless it's an emergency.
They're responsible for their own safety
Up to a point. You, the landlord, are responsible for providing things like smoke alarms and carbon monoxide detectors – but responsibility for regular testing falls to them.
They're also responsible for making sure exits and escape routes remain clear and accessible (but you're responsible for ensuring exits and escape routes exist in the first place).
They're responsible for bills
Your tenant must ensure the running of the property while living there, so should contact utility providers, provide meter readings, and make prompt payment. They're also responsible for other bills not included in the rent, such as a TV licence.
If they don't (and run up debts), you can't deduct from their deposit to pay them. The debt is theirs to pay; but a default against the address could impact your ability to remortgage that property in future.
They're responsible for cleaning
Including:
Throwing away rubbish and recycling.
Drains clogged by hair or other items.
Communal areas of the building.
You share responsibility for pests and vermin
You're responsible for dealing with vermin living in the walls, or infestations like a wasps' nest in the roof.
They're responsible for keeping the property clean and properly disposing of rubbish, to prevent the introduction of flies and ants.
They're responsible for proving their right to rent
At least if you're in England.
You'll need to see documents for everyone living at the address, not just those on the tenancy agreement. Every tenant must provide evidence, including British citizens.
Essentially, any current passport from the UK, Ireland, or another EU country (plus Switzerland, Norway and Iceland) is acceptable, and this should cover most situations.
If your tenant's passport is from somewhere else (such as the U.S., India, South Africa etc.), you can also accept this if it's endorsed with indefinite leave to remain. This indefinite leave may be worded in several ways, including 'right of abode', 'exempt from immigration control', or 'no time limit'.
Otherwise, they may have a time-limited right to rent. In these instances, any tenancy agreement should be scheduled to end on or before the date of expiry listed in their passport.
A full list of documents you can accept is available here, including a guide for British people who don't have passports.
All content factually correct at the time of publishing.
Articles on our website are designed to be useful for our customers, and potential customers. A variety of different topics are covered, touching on legal, taxation, financial, and practical issues. However, we offer no warranty or assurance that the content is accurate in all respects, and you should not therefore act in reliance on any of the information presented here. We would always recommend that you consult with qualified professionals with specific knowledge of your circumstances before proceeding (for example: a solicitor, surveyor or accountant, as the case may be).
Lending decisions are subject to an affordability/creditworthiness assessment.
Any property used as security, including your home, may be repossessed if you do not keep up repayments on your mortgage or any other debt secured on it.