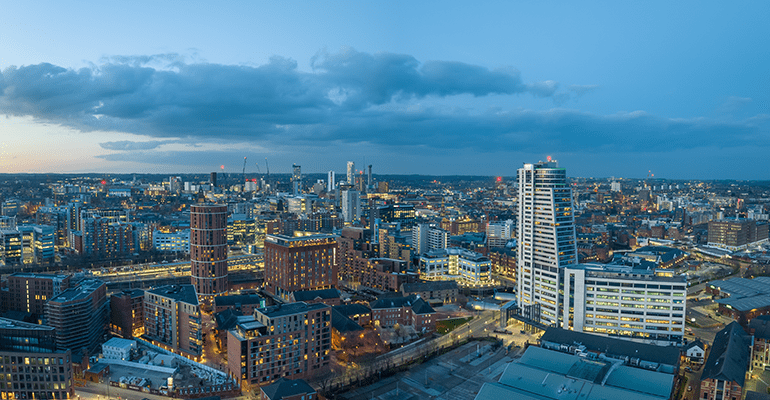 Brownfield bonanza: £53bn of previously developed land in Yorkshire could deliver 175,000 new homes
.
Yorkshire has an estimated £53.2billion of brownfield land ripe for the development of new homes, according to new regional analysis.
The study, carried out by specialist property lender Together using valuation data from development site sourcing specialists Searchland, shows the potential for 175,602 new homes.
The Government has signalled its intention to prioritise building on disused, previously developed land rather than concreting over the Green Belt, with Prime Minister Rishi Sunak launching a £1billion fund earlier this year.
But despite this support, cost increases, viability challenges and access to private finance remain a barrier for brownfield development projects, according to a Together spokesperson.
Michael Devanny, corporate relationship director for Yorkshire, said: "Our analysis into Yorkshire's brownfield land highlights the immense potential for the region. With over £53 billion worth of untapped resources, there is a unique opportunity to breathe new life into Yorkshire's communities.
"Previously developed sites tend to come with more complex issues. For example, remediation, particularly for old, industrial land can prove challenging, which means that mainstream lenders may shy away from looking to provide funding to kick-start smaller brownfield renovation projects.
"However, we believe it's time for developers and investors with a clear vision to come together with funding partners to provide innovative urban regeneration schemes which can really revitalise Yorkshire's landscape."
The lack of available new homes - and where to build them - will be a key battleground in the run-up to the next general election. New research has revealed that the Government is already missing its own targets by about 80,000 new dwellings a year, according to the Home Builders Federation.
Ministers have been warned that new homes will have to be built in even greater volumes than the current target of 300,000 per year in England to keep up with the rate of home-building in other developed countries.
Mr Devanny said that the regeneration of brownfield land in Yorkshire's cities could go some way to meeting this future housing need.
He said: "There are already some incredible projects underway to rejuvenate previously developed land. We have the £500million South Bank scheme in Leeds, for example, which is designed to extend the city centre by making the best use of brownfield land.
"The regeneration of some of Sheffield's disused industrial areas has also been impressive with whole new communities springing up at Kelham Island over the past few years and plans for similar urban regeneration at Attercliffe, just outside the city centre.
"These kinds of schemes can - and should - be replicated in other areas of the county to really maximise the potential of available land."
He added: "At Together, we recognise the need for lenders who are flexible enough to meet the financing requirements of developers and can work quickly to secure the brownfield land needed to achieve their ambitions, while addressing Yorkshire's housing shortages."
Mitchell Fasanya, Co-Founder and CEO at Searchland, said that while brownfield development was no "magic bullet" to solve the national housing crisis, it could offer opportunities for developers to provide good quality, affordable homes in Yorkshire.
He said: "Brownfield regeneration can be a complicated and expensive process and so it can often be overlooked. The other issue it poses is a somewhat lopsided level of availability from one area of the country to the next. For example, some towns and cities are home to just a handful of sites, while others boast thousands.
"However, Yorkshire certainly falls into the latter in this respect and with such a dire shortage of homes in Yorkshire's towns and cities, Brownfield sites could certainly provide part of the solution.
"Central to the Government's Levelling Up agenda to deliver growth across the regions is to provide the homes people want, where they're needed, with house-building and regeneration seen as a key driver of future prosperity.
"Our data shows that there are opportunities out there for developers to meet this aim by re-using unloved and abandoned wasteland. However, what we need is a co-ordinated and common-sense approach from funders, developers, and local council planning departments if we're going to address the issue of housing supply on a large scale."