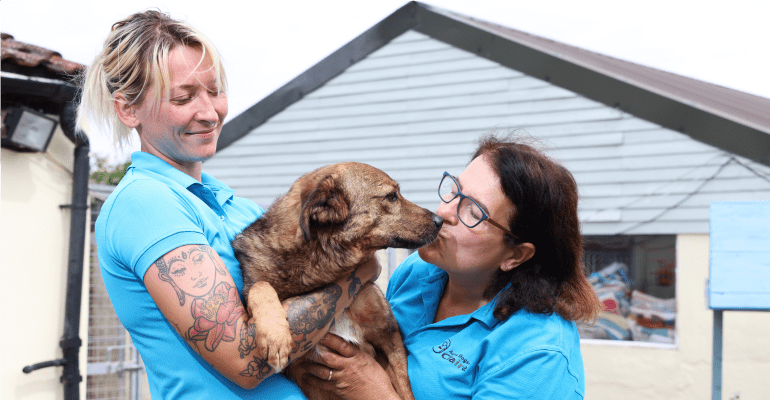 Housing Charity Secures Funding for Headquarters
.
A Gloucestershire mum has transformed a rundown kennel and cattery, and is now 'living the dream' as she prepares to expand thanks to funding from specialist lender Together.
Claire Fern opened Elmview Boarding Kennels with her business partner Lauren Hunt 12 months ago. When they got the keys, Claire said that they faced an uphill battle to transform the place, as it had been neglected and run down in previous years.
Now, thanks to the funding they have been able to transform the kennels into a pet home-from-home, and are expecting to be fully booked throughout the summer.
Claire and Lauren have already spent £60,000 on renovations, the majority of which was insulation, new energy efficient windows and insulating the outside of the buildings to reduce heating costs.
The pair have always had a love for animals, and opened Aura's Dog Rescue UK five years ago after a trip to Romania, where they found themselves compelled to help in the dog rescue effort there. After meeting a local woman named Aura (who became the charity's namesake), they helped her to completely empty the dog shelter she was running from her home.
Since then, Claire and Lauren have continued to rescue and care for abandoned, neglected and abused dogs from across the UK. Due to size of the stray dog crisis in the UK, which Claire says has been fuelled by lockdown, Aura's Dogs have had to stop rescuing from Romania. The kennels mean that they can now offer the rescue dogs an even better quality of life whilst they wait for their forever homes.
Claire said: "We mainly wanted safety and security for rescue dogs. They've had an incredibly hard life and we wanted to be able to give them an environment in which to thrive.
"We're still renovating the kennels, but we've already improved them so much. Lauren lives on site at the kennels to provide round the clock support and I live just a few minutes down the road.
"Owning the kennels is really an opportunity of a lifetime – we never thought we'd find somewhere so close to home that we could buy. Before running these kennels, neither of us had any real business experience, but the past 12 months have been a dream. We can't wait to keep doing what we're doing and helping dogs from across the country find their forever homes."
Claire and Lauren found the initial lending process complex, as they both had no prior business experience, and very little in the way of figures to demonstrate how much the kennels would earn.
Together provided an initial short-term 'bridging' loan 12 months ago for the purchase of Elmview.
The Cheshire-base finance group, which has a £6bn loan book and provides personal and commercial loans, agreed to provide longer-term funding after reviewing the success of the business over the past year. Claire received the new loan of nearly £400,000 at the end of May.
She explained: "There were times where we wondered what on earth we were doing, but Together made it so much easier. They guided us through a really complex initial purchase and helped us sail through the second.
"Their experts thrived off our energy, and really understood our vision for Elmview."
Claire now plans to use the funding from Together to continue to renovate the kennels, and wants to eventually expand dog rescue, which will include the addition of six new kennels for Elmview, which will help Aura Dogs through the season.
Claire added: "The boarding kennels tend to be quieter in winter, so we're keen to use the kennels to house some of the rescue dogs during that time. We'll only charge the rescue minimal rent, just enough to cover costs."
Claudia Calladine, Head of Affiliates at Together said: "Supporting businesses like Claire's is a key part of what we do here at Together.
"We were able to give her the initial short term loan, and then when she proved that the kennels were proving to be a great success, we were more than happy to extend her term to allow her business to continue to thrive."