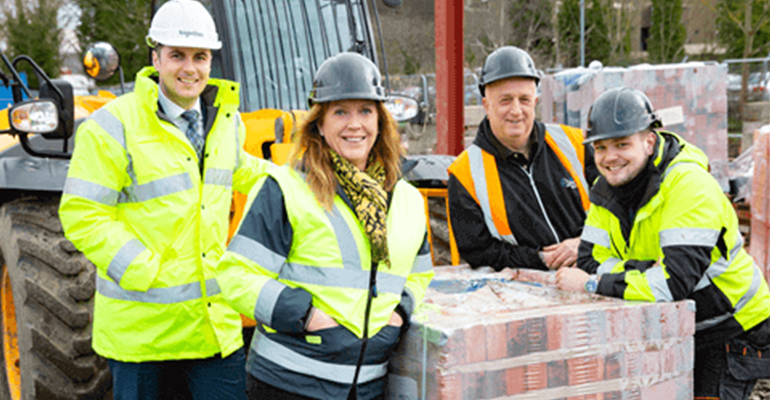 Ex-Dragon buys into son's development dream
.
Former Dragons' Den star Jenny Campbell has revealed her latest investment – in a £2.6million housing development with her son.
The 58-year-old TV personality – who sold her ATM company YourCash for £50million – has launched a business partnership with Tom, 27.
However, multi-millionaire entrepreneur Jenny, who spent two seasons on the BBC's flagship reality business show, admitted they had initially struggled to access to the quick finance they wanted to complete the project.
Jenny, a former banker, said: "We went to two high street lenders but it was hard to get the finance we wanted quickly. They had very formal processes and a 'tick box' approach to follow before they'd release the funding.
"What we were looking for was a more hands-on approach from a lender who wanted to understand our business and our plans for the scheme, as well as build a long-term relationship with Tom as a funding partner for future projects."
Jenny, who was born in Hyde, Greater Manchester, and Tom launched their property business two years ago, partnering with builder Collin Russon, under the name Russon-Campbell Developments.
They bought a plot of land with family money but were looking for a commercial partner to provide funding to complete the housing scheme.
Cheadle-based specialist lender Together agreed to provide a £1.22m facility for the project, which is due to be completed in 2021.
Real estate graduate Tom, said: "This finance has helped us seize a great opportunity. It's been a dream of mine to build houses since as long as I can remember. My great-great grandfather and his father were in the construction trade and I've been really inspired by that.*
"The business partnership with my mum is working really well and we are already looking at other projects to take on after we've completed the current housing development."
Jonathan Sally, lending director at Together, reviewed the proposed new build development of two detached and three terraced homes in Oundle, near Peterborough.
He said: "When this case came to us, we saw huge potential. Jenny has a fantastic business reputation and we were very confident that this, backed up by Collin's experience and Tom's passion, will make the project a roaring success."
Ex-Dragon Jenny left Manchester High School for Girls aged 16 to take up her first job counting cash in a bank. She attended night school, gaining banking qualifications, before moving to London.
In 2010 she led a buy-out of Hanco ATM Systems, later re-named the company YourCash, and sold it to US business Euronet in 2016.
Jenny, a former businesswoman of the year, joined Dragons' Den in 2017 alongside Peter Jones, Deborah Meaden, Tej Lalvani and Touker Souleman, investing her money in five companies.
Although we endeavour to lend within the shortest possible timescales, this is not always achievable in 100% of cases.