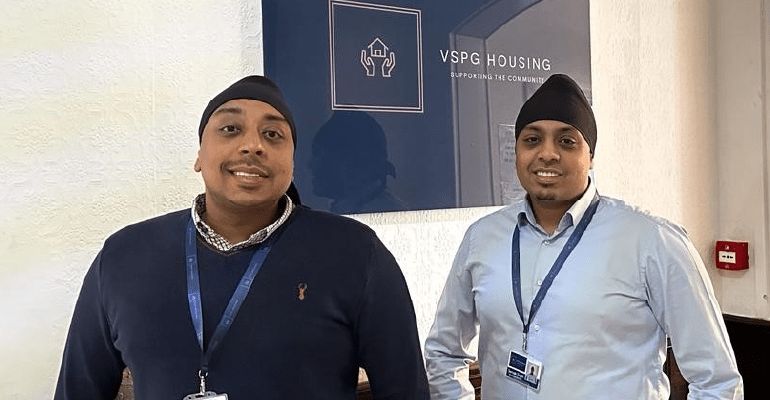 Helping Manchester's most vulnerable into a home
.
Two entrepreneurial brothers have committed to improving the lives of hundreds of Manchester's vulnerable adults with ambitious plans to grow their social housing company using finance from Cheadle-based lender Together.
Business partners Ron and Servak Singh have big plans for social housing in Manchester, and are buying properties to house those in need. Currently, they provide 138 single bed spaces, and in excess of 50 family homes; a number which is continually increasing.
These range from 1-6 bed family homes, as well as a number of bespoke homes specially designed for families with assisted living needs. They are also in the process of opening further sites to provide more bed spaces in Manchester.
Inspired by the brother's plans, specialist lender Together, which provides personal and commercial loans and has a loan book of £6.4 billion, set up a funding line with them to help support their growth.
Ron Singh said that their ambition was to "see an end to homelessness in Manchester".
He said: "To be able to operate in this industry is incredibly rewarding; our goal is to combat the homelessness crisis. Fortunately for us, we have been able to grow the business, and with this growth we are able to create more bed spaces for vulnerable adults and families. We are now looking to bring 500 additional beds to the area by the end of 2024.
"Currently, vulnerable adults are often being housed by councils in B&Bs, which is not only expensive for the taxpayer but also doesn't provide any stability for occupants. We strongly believe that everyone needs a home, not just a bed. This is where our social housing projects come in.
"Together's finance has played a huge part in our plans. We have an excellent working relationship with their team and have worked on a number of projects together. By partnering with them, we hope to achieve our ambitious targets for help Manchester's most vulnerable."
The brothers initially founded the overall VS Property Group in 2017; a family owned and operated business with strong links to communities across Greater Manchester. It offers services to its clients, including buying, selling and renting as well as property management.
Based in Central Manchester, they have over 6 years of experience in the local property market. Ron and Servak first became involved in the social housing sector in 2017, setting up VSP Maintenance – a business which offers social housing maintenance to companies in the sector, and Rtech Group which provides social housing furniture across UK.
In 2021, they founded VSPG Housing, which purchases and refurbishes properties that are then given to families in the local authority.
Mr Singh said: "To be able to operate in this industry is incredibly rewarding. We want to see an end to homelessness in Manchester, and if we can grow our business whilst helping others it is the best situation for everyone."
Government data has shown that there has been a severe drop in social housing lettings offered in Manchester over the past decade; a situation mirrored across England. In line with this, Manchester reportedly has the worst rate of homelessness in the North-West, with 7,450 people living rough.
Alex Bodie, Head of Social Housing at Together, said: "Watching the success of the brothers' company, which continues to grow whilst doing such amazing work for the community, is truly inspirational.
"We are proud of what they have achieved across the property market; to be able to build a business that does real good for the community is amazing.
"As a business invested in providing affordable properties they have demonstrated what can be achieved; helping those most in need to into safe, stable accommodation. We will continue to support their projects, and we're excited to see what's next on the horizon for them."