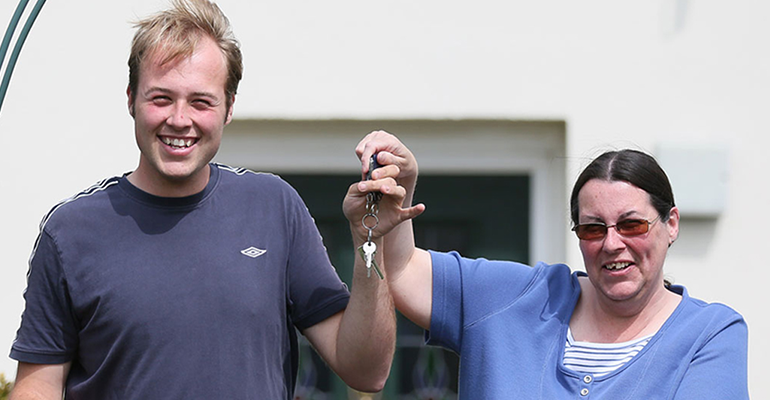 I'm 21 and managed to get on the housing ladder – by getting a mortgage with mum
.
David Hider was rejected for a mortgage by mainstream banks because he'd just started a new job but was helped to achieve his home-owning dream.
A young man managed to buy his £46,000 ex-council house by taking out a mortgage – with his mother.
David Hider thought they'd never be able to own the house where they'd lived for 11 years after he was turned down for a home loan by a string of banks and building societies.
The 21-year-old only needed £24,470 home loan but he'd just started a new job, so didn't have enough evidence to prove his income, despite him working full-time since he left school.
He also wanted to purchase under the Government's Right to Buy scheme, making his situation even more complicated – and meaning it would be difficult, if not impossible, to get a mortgage from most lenders.
On top of that, he hoped to buy the 1960-built prefab council house with mum Tracey, 47, who is currently looking for work.
David said: "I don't know anyone my age who has bought their own house. A lot of my mates are at university but when I started work, I knew that I wanted to buy my own home as an investment for the future for me and my mum.
"We've lived there for years and we'd been paying all our money to the council in rent but had nothing to show for it, so I decided to look for a mortgage.
"I went all over the place; Newcastle Building Society, Lloyds, TSB, Halifax and Nationwide but none of them wanted to know, because of my age, the unusual type of house and because my mum is claiming jobseekers allowance."
David, who works at a community interest garden centre in Sunderland, Tyne and Wear, had almost given up hope. He put his search on ice for a couple of months. But his home-owning dream kept resurfacing.
David came across our website following an internet search and spoke to one of our in-house mortgage advisers, who found that David had been working consistent, full-time hours at his new job and that the mum and son had never missed a rental payment for their council house. The adviser also included Tracey's jobseekers' allowance in the application.
The house was valued at £46,000, but having built up a Right to Buy discount over the years they only had to pay £34,288. David and his mum then paid a deposit of about £10,000 and Together agreed to provide a £24,470 mortgage secured against their council house in Stanley, County Durham.
David and him mum are now paying around a £1,000 less per year than they had been paying in rent.
He said: "The process took about four months from start to finish because they needed to look into my background – and my mum's - and they needed documentation from my employer like payslips and my employment contract."
Tracey, added: "It's a nice little house and it is worth the money. Now it's somewhere that we can really call our own home and it's something for the future."
For more information about right to buy, visit our Right to Buy page.