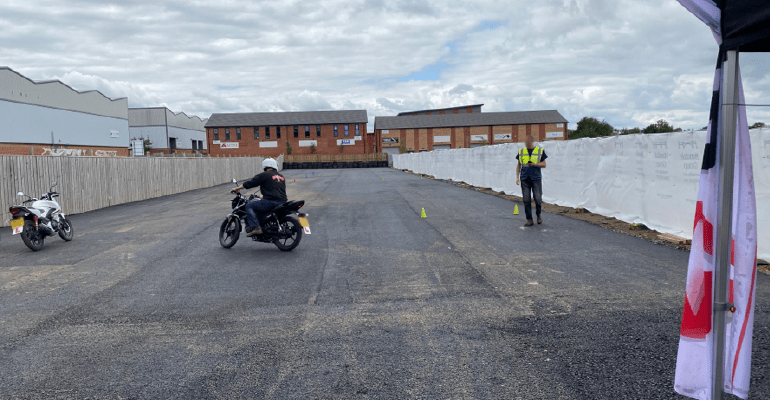 Jobs boost on the horizon after motorcycle training company moved to new HQ
.
The North-East's largest motorcycle training company has secured its future by acquiring a new headquarters – creating up to six new jobs.
Ace Motorcycle Training, based in Durham, has opened its doors in Mandale Business Park after receiving £250,000 from specialist lender Together.
The established business was founded by former police and army veteran Jimmy Rimmer nearly a quarter of a century ago and has become the region's largest independent Driving Standards Agency Approved training body (ATB).
But the training school faced permanent closure after plans were approved for a new retail park at its former site, which is now part of Elddis Business Park.
After a difficult search for a new premises, Jimmy was able to find an ideal location next to their current centre. Unfortunately, he found it challenging to source the finance needed to purchase the site.
Jimmy said: "We found ourselves in a really worrying situation. We had a limited time to find a new site, but even when we did we encountered hurdles. Lenders, including our bank of over two decades, refused to help. In the current economic climate they seemed to have lost confidence in lending, despite us being able to demonstrate our profitability and assets.
"We were facing closure; which meant the loss of many jobs and the important service we offer the community."
Jimmy said that Together, which provides commercial and personal finance and has a loan book of £6.2billion, "took into account our assets and property" when assessing the situation.
He said: "Together really took an in-depth look at our company. They saw how successful we are and looked at our personal assets which are worth nearly £1m – something that other lenders we reached out to failed to do."
Taking a bespoke approach to assessing the viability of Ace Motorcycle Training the lender moved quickly to provide the finance he required.
As a result, the company has now set up shop in the new, improved site, ensuring it can continue to operate and ultimately take on more instructors as it grows.
The new centre offers a motorcycle courses for all abilities, from riders learning for the first time to those looking for advanced tutorship. Some of the training on offer includes the Compulsory Basic Training (CBT) Course, the Full Motorcycle License Course and the Advanced Motorcycling Course.
It also has an experienced team of mechanics who provide local bikers with repair services, and sells new and used motorcycles.
Matt Boggan, Business Development Manager at Together, said how "incredibly rewarding" it was to be able to help a "successful and much loved local business" like Ace Motorcycles.
He said: "Durham was set to lose a key business, affecting those looking to train in the area as well as costing a number of jobs. A local, independent business, Ace is an important part of the community, and it would have been a real shame to see it close.
"Jimmy and his team were facing a difficult situation. Having been let down by a number of other lenders, they needed fast and flexible finance. We were able to provide this, securing the loan against his personal property.
"Thankfully, with our support they were able to move to the new, improved training site. This extension will help learners and instructors across the region, and we look forward to seeing them grow."
Ace was introduced to Together by Andy Davidson of commercial finance brokers, Red Sky Corporate Services.
Andy Davidson, Managing Director at Red Sky said: "We were committed to source the right funding solution for this long-established Durham business and were confident that Together would be able to meet the tight deadline the situation dictated."