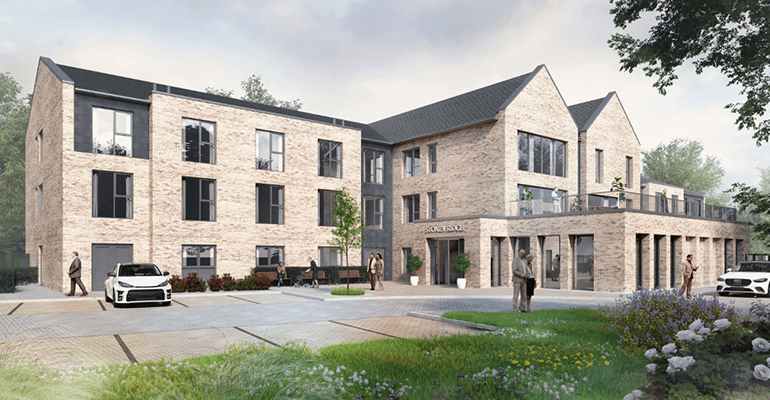 Together provides bridging loan for luxury lifestyle care home
.
SPECIALIST lender Together has provided a finance package paving the way for a new care home in Yorkshire – a luxury complex with a cinema, spa, and champagne bar.
The 72-bed home, which will stand on the site of the now demolished Stoney Ridge Hospital in Bingley, will also feature rooftop terraces, a celebration suite, a visitor cafe and private dining for residents and guests.
Together provided the facility for award-winning Morrison Community Care Group (MCC) to build the impressive new facility to add to its portfolio of luxury living complexes, which already includes four properties in Scotland and Ireland.
Stoney Ridge Care Home is the group's first foray into England and will create up to 130 jobs, the group said.
Geoff O'Brien, Corporate Relationship Director at Together, said: "Having seen the quality of accommodation provided by the MCC Group and their proposals for the Bingley site, we were delighted to support their latest acquisition.
"This will provide a top-class facility with some great features such as a champagne bar and celebration suite. It will also be open to external local community groups, who will be able to use the facilities and provide companionship to care home residents to combat feelings of isolation among the residents.
"MCC's values also chime with our own commitment to making finance work for developers and care providers to create a truly sustainable community. That's why we're pleased to have agreed a bridging loan for the purchase of this disused site, allowing MCC to create what we believe will be an incredibly valuable community asset.
"Our finance has helped to create supported housing places to help more of the UK's growing elderly population lead healthy and fulfilling lives."
The new care home - which was granted planning permission in October - will boost the care group's expansion plans to provide high-quality accommodation for 2,000 residents across the UK by 2025.
Once complete, the Bingley facility will provide residential, nursing and care for people living with dementia. Work is expected to start in the next six months and the major project is expected to be completed in 18 months, said a spokesperson for the Glasgow-based care home developer.
Paul Sokhi, owner and Managing Director at Morrison Community Care Group, said: "The group has a long-standing reputation in the design and development of care homes. We are one of the UK's leading providers because we are passionate about providing the very highest standard of living and service possible, having successfully done this in Scotland for over 30 years, we are now excited to bring our expertise to England.
"With 13,000 patients currently estimated to be in NHS beds in England that don't require to be, we are delighted to announce that the Group has expanded into England.
"We look forward to bringing the Morrison Community Care product of sustainable quality care environments to the people of Bingley and beyond, where residents can enjoy safe quality time while enjoying the many amenities such as cinema. Champagne bar, spa, bistro and private dining room"
The original Stoney Ridge Hospital was built in the late 19th century as a centre to treat patients with contagious diseases. It later provided day services for people with learning disabilities until it was closed down by Bradford District Care NHS Foundation in 2017. The crumbling two-storey building was later demolished.
For more information, click here.