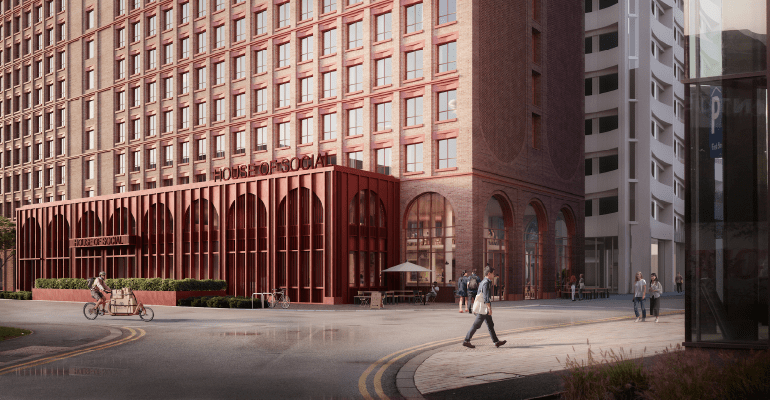 Vita Group Acquires Plot on Manchester's First St
.
Property developer Vita Group has purchased a plot on Manchester's First Street with the help of funding from specialist lender Together. The deal will help provide the city's three universities with more student housing.
The residence, which will for part of Vita's 'House of Social' project, will have 100 cluster apartments with 576 student bedrooms split across a mixture of five and six-bedroom houses.
The ground floor will be open to both residents and the general public as the building will be brought to life with a food hall. Featuring a central bar, it will create approximately 400 covers, with five independent kitchens.
Ritchie Watson, Together Corporate Lending Director, said: "First Street is already such a bustling area of Manchester, and the perfect place for this type of development.
"The new bar and kitchens will complement the many other establishments in the area, whilst the apartments will continue to encourage students to come to live and study in this great city.
"We were thrilled to be brought on board by Vita Group to provide funding for this huge development, and this deal will further strengthen our relationship with them."
Mark Oakes, Vita Group chief commercial officer, said: "First Street is one of the city's most exciting destinations with huge investment going into the redevelopment of the area.
"House of Social will complement this vibrant neighbourhood, adding to the great offering which already exists."